Things to See & Do in Largs
As you'll probably know, Largs is a cracking wee seaside town on the west coast of Scotland.
Coming from someone who was born and raised here, it took a bit of travelling, living in a city and returning to Largs a few years later, before truly appreciating how lucky I am to live here.
We're surrounded by wonderful west coast countryside, the Clyde river, and have spectacular views across the Isle of Arran and Isle of Cumbrae.
We've even got a promenade lined with palm trees, so when the sun is shining, it's a tropical paradise. Okay… maybe that's pushing it a bit, but there's no denying the natural beauty of Scotland's west coast and our hometown of Largs.
So, to help you plan your next visit here, let's take a look at some of our favourite Things to Do, Walking Routes, Places to Eat and Places to Drink. Hopefully, this will give you some inspiration…
---
Fancy a Unique Stay just across the water from Largs?…
We've JUST launched bookings for our One-of-a-kind Cabin Concept in Millport, Isle of Cumbrae.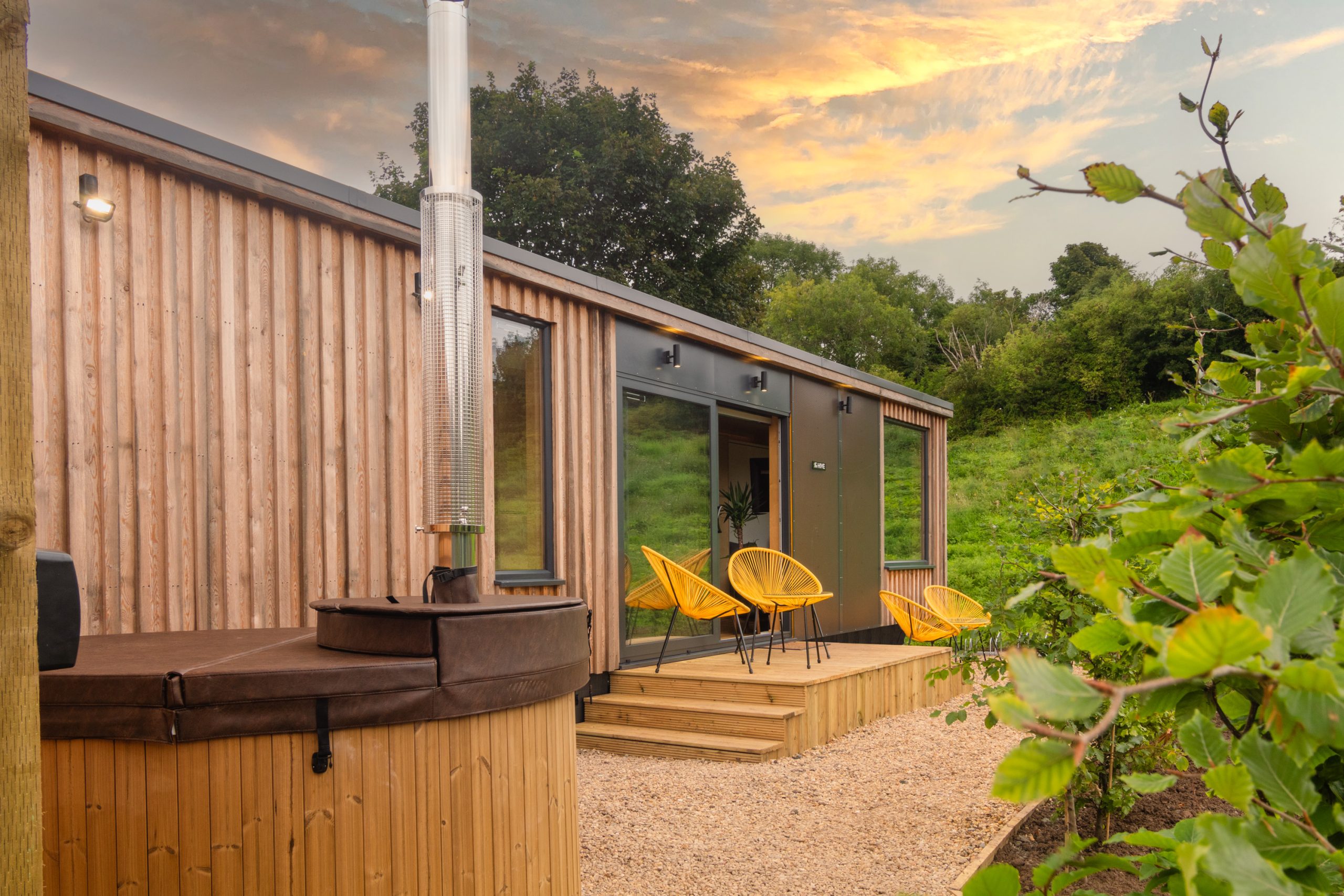 Welcome to the next generation of self-catering accommodation in Scotland.
We think of our one-of-a-kind Cabin Concept as a crossroads where quirky interior design meets eco-consciousness, in a stunning island setting.
Bookings are now OFFICIALLY LIVE! 🚀
---
Feel free to skip right through:
---
THINGS TO DO
Visit the Largs Pencil Monument
The Pencil monument stands at about 70 feet tall and towers over the Largs coastline. It was built in 1912 to commemorate the Battle of Largs (1263) when we defeated the Vikings of Norway on the shorefront.
Largs has since become famous for its Viking connections and has been given the nickname 'Viking Town'.  You'll find all sorts of Viking references throughout the town, from the Viking Chippy to the 'Vikingar!' leisure centre.
Largs even host an annual Viking Festival to give people a glimpse of what life was like in a 13th Century Viking Village.
The Pencil can be found along at the end of the prom, near the Largs Marina.
---
Visit Magnus the Viking
Another reference to the town's Viking roots – Magnus the Viking. Magnus was given his spot on Largs prom in 2013 which marked the 750th anniversary of the Battle of Largs (1263).
You'll find this big guy right across the road from the world-famous Nardini's. In fact, you can't really miss him as you're walking along the prom.
It's a great photo opportunity and you might even find him dressed up depending on the season. He's been spotted wearing football scarves, santa hats and has even been wearing his facemask throughout lockdown.
---
Visit the Largs Marina
Along at the edge of town, you'll find the Largs Yacht Haven which hosts all sorts of fun for water lovers. Whether you're a boat owner or someone who's just visiting, there's plenty to keep you entertained.
The marina offers private boat tours from the likes of Clyde Charters or Sea Clyde Private Charters which is an amazing opportunity to see the surrounding islands from a different perspective. You'll find all sorts of wildlife on these tours including dolphins, seals, sea birds and porpoises – so keep those eyes peeled!
The marina also is home to a contemporary bistro offering great coffee and light lunches called Bosun's Table as well as a quality restaurant called Scott's. Whether you're looking for a coffee pit-stop or a night of dinner and cocktails, the marina has you covered.
---
Thinking of booking a boat tour?: You should check out Daniel's 'Voyage to Wee Cumbrae' blog where he talks about his recent boat tour with Clyde Charters to the uninhabited island of 'Wee Cumbrae'.
---
Visit Kelburn Castle & Country Centre
Now, this is probably my favourite place to visit in Largs – Kelburn Estate. You'll find it on the outskirts of Largs, an additional 15-minute walk out from the marina.
Kelburn is great fun for all ages, whether you're a family looking for a day out, or a couple looking for an adventure. You can expect woodland walking routes, waterfalls, a beautiful walled garden, and a (very) eye catching castle.
The psychedelic mural was painted on the castle in 2007 by Brazilian street artists and its brought some serious colour to Kelburn Estate ever since.
For children, you'll find lots of play areas including the outdoor Adventure Course, Secret Forest, Wild West Saloon and the indoor Playbarn.
Kelburn is also famous for its many unusual trees, two of which have been recognised by the Forestry Commission in the Top 100 most important 'heritage' trees in Scotland.
There's all sorts of fun to be had, so grab those walking boots and get ready to explore the wonders of the enchanted forest. Once you're finished, you can stop off at the on-site café for some food and refreshments.
---
Inverclyde Sports Centre
Feeling active? Well maybe this will be up your street.
Largs is home to the state-of-the-art Inverclyde Sports Centre which offers a wide range of activities for both members and guests. There are basketball courts, tennis courts, football pitches, fitness studios, a golf course, and a gymnastic hall.
If you're visiting in a small group, you might be interested in trying their gym, tennis, badminton, table tennis, golf-training, archery or maybe even one of their fitness classes!
Check out their website and make enquiries here.
---
Visit Geraldo's
Geraldo's is Ayrshire's 1st ever 5-Star Tourist Shop and you'll find it a short 2-minute walk away from the ferry slip.
Primarily this family-run business sells some seriously tasty ice cream (which is produced on-site), but it's also the perfect place to pick up a nice souvenir!
They specialise in handmade chocolates, gift hampers, and a range of unique and unusual gifts that change throughout the seasons. You'll also find a wide range of premium spirits from all across the country.
Why not check out their range of Arran Whiskys or Scottish Gins? Of course, you'll also find that they stock Millport's very own 'Nostalgin' from the Isle of Cumbrae Distillers.
---
Visit Millport, Isle of Cumbrae
Whether you're going on a day trip or a full-on island retreat, the Isle of Cumbrae is a must visit! At only an 8-minute ferry from Largs pier, Cumbrae is known as "Scotland's Most Accessible Island".
If you're looking to plan a trip to the island, we've written the 'Ultimate Guide' to the island. Check it out:
Millport just happens to be where we've JUST launched our One-of-a-kind Cabin Concept.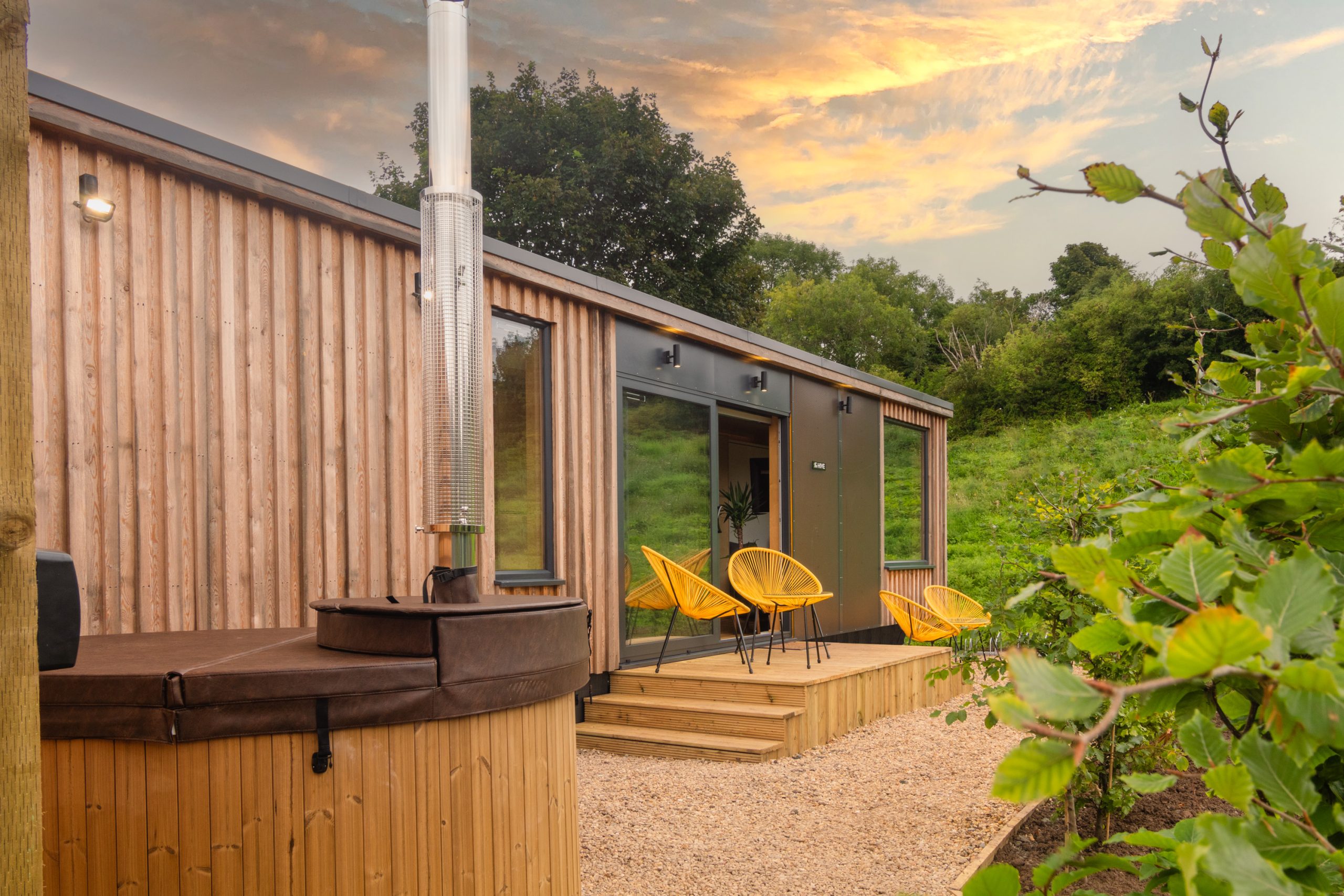 Welcome to the next generation of self-catering accommodation in Scotland.
We think of our one-of-a-kind Cabin Concept as a crossroads where quirky interior design meets eco-consciousness, in a stunning island setting.
Bookings are now OFFICIALLY LIVE! 🚀
---
Walk Along Largs Prom
This one is a must do if you're visiting Largs for the first time – a walk along the prom.
The Largs promenade stretches from Aubrey Park to the Largs Marina and it takes 45-minutes to walk the full length. The seafront boasts incredible views across the River Clyde and towards Bute, Cumbrae and the Isle of Arran.
Using the Largs ferry terminal as a starting point, a quick turn up the coast will take you to a lovely, pebbled beach as well as the promenade lined with palm trees. Here you can also see 'Magnus the Viking' or grab an ice cream from Nardini's.
Most of the walk, however, can be found by heading south. As you make your way over to the marina, make sure to take in those views. There's plenty of nice spots to stop including the many colourful benches, large grass areas, parks, and a lovely sandy bay.
Make sure to keep an eye out for the Largs War Memorial and the Pencil Monument along the way!
Here's the route:
---
Our Top Tip: If the weather is nice, take a walk along to the marina around lunchtime and enjoy a half-way stop at Scott's to refuel. Get yourself a seat outside, enjoy some lunch and wash it down with a cold pint – superb. I'd recommend Classic Fish & Chips or the Beef Burger with Chilli & Parmesan Fries.
---
THE BEST WALKING ROUTES
Already walked the prom? Not to worry, Largs boasts loads of great walking routes with some stunning views of the coast, using the ferry terminal as a starting point. Here are my favourties:
The Gretta Falls Walk
The Gretta (Greeto) Falls is a fantastic walk towards the hills at the back of Largs town. You can expect amazing views over the coastline and the Gogo river which runs through the valley of the hills.
It's a really popular walk for families and dog walkers and you'll find some lovely streams and waterfalls at the top.
The walk to the waterfall takes around 1 hour from the foot of the hill and you can simply follow the wide path (there's a distinct road which has been made for hydo construction works).
On a nice day it's a lovely place to visit and you can even go for a dip in the water if you're feeling brave enough. Here's me taking the plunge:
If you do fancy a dook, please make sure you stay safe in the cold water. You can do this by taking the advice of Scottish Fire & Rescue and cluing yourself up on water safety.
Lastly, here's your route from the Largs ferry slip:
---
The Largs Sundial Walk
A walk 'up the Sundial' offers superb panoramic views of the coastline and pretty much the full town of Largs. It's also a great opportunity to walk through some of the local parks which you'll find along the way.
From the ferry slip, it's a 20-minute walk along the prom and up towards Anderson Park. It's worth a walk through here on the way, especially if it's springtime as the cherry blossom trees will be out in full force!
Continue across the road to Douglas Park. Follow the road through to the back of the park and keep the tennis court to your right-hand side. From here, you can follow a path up the back of the hills.
This part of the walk takes an additional 30 minutes, with some pretty steep hills and stairs, but it's all worth it when you reach the sundial at the top.
Check out that view (not Daniel, although he's looking not too bad):
Also, here's your route:
---
Top Tip: Leave nothing but footprints!
Let's keep Scotland's landscapes litter free. It should go without saying, but if there's not a bin nearby, do the right thing by taking it with you. Also, please use recycling points where available.
---
Knock Hill Walk
Climbing up to the Knock Hill summit is the most challenging out of all the Largs walking routes, but it also offers the best views. At 268 meters above sea level, Largs and the Firth of Clyde has never looked so good. It's also the best way to see the wonderful Isle of Cumbrae, in all its glory.
This walk starts from the seafront and continues up past the Routenburn golf course. From there, the route soon leads onto the side of the course. Once you get to the top it's pretty spectacular, here's a quick video I took:
On the way back down, you can chose to complete the entire 'Knock Hill Circular' walk or you can come back the same way you came.
Some of the terrain on this part of the walk is pretty boggy, especially in the winter time, so walking boots are required!
Google maps were pretty useless for making a route for this one but it's pretty well explained online already. You can read the full description and download your walking route here.
---
Quad Rocks Walk
A walk up to the Quad Rocks offers another impressive view over the full town of Largs, the coast, and over to Arran, Bute & Cumbrae, just from a different perspective. Just check out that view!:
The rocks are a popular spot for rock climbers or those who are looking for a hike with a smashing view.
From the ferry up to the Quad Rocks themselves, it'll take you about 1 hour in total. The first 30 minutes is through the town and to the car park at the back of Inverclyde Sports Centre.
From the electric car charging point head up the hill, but stick by the river to the right. Don't take the new pathway to the left (although that's a great walk too!). Keep right and you'll shortly come across a gorge where you can cross the river. Continue following the blazen trail, you'll see the Quad Rocks and you can storm right up there, climbing a couple of fences as you go. This terrain here is pretty steep and uneven in parts, so it's another one where walking boots are recommended!
---
While I have you…
My cousin, Daniel, and I are setting up our very own 'Alternative Eco-Cabin' business on the Isle of Cumbrae.
If you're looking out from Largs, Cumbrae is the wee island just across the water – only an 8-minute ferry away!
Check out The Concept and join our journey below.
Sign Up:
---
THE BEST PLACES TO EAT
Feeling hungry? Largs is packed with amazing places to eat. Whether you're after a lovely restaurant, a quality takeaway or some seriously good pub grub, the town has it all.
So, let's get right into it.  In no particular order, here's all the best places to eat in Largs…
---
Room
What: Modern restaurant and cocktail bar.
Where: 48-52 Gallowgate St, KA30 8LZ
Room is an award-winning family-friendly restaurant, located just off the seafront in Largs.
Whether it's the Katsu chicken curry, their famous enchiladas, or a make-your-own-pizza for the kids, there's something for everyone here, with tastes influenced from across the globe.
It also has a really modern bar and seating area, in case you're only interested in drinks. You can expect a wide range of premium spirits and tasty cocktails.
---
The Three Reasons
What: Pub serving quality food.
Where: 14 Gallowgate St, KA30 8LX
You only need one reason to go here. The top-quality pub grub. The fact they are #1 of 26 restaurants in Largs on TripAdvisor says it all, really.
Being from Largs ourselves, The Three Reasons is our personal favourite. Stuart always has an exciting guest ale on too.
---
Allegria
What: Family-owned Italian Eatery
Where: 86 Gallowgate St, KA30 8LZ
Allegria is a fantastic, family owned Italian restaurant which you'll find located on the Largs seafront. It's got lovely, modern interior and it's one of our favourites in town.
You can expect a warm welcome at Allegria and incredibly tasty food which is "prepared with love and passion". Nice one.
---
Koh-I-Noor
What: Indian restaurant serving fresh curries.
Where: 43 Main St, KA30 8AE
If you fancy something a bit different, this might be the shout. Koh-I-Noor is a proper good Indian restaurant which is certain to satisfy all your curry and pakora needs.
Fresh ingredients, traditional curries, and just an all-round quality restaurant – would recommend!
---
Tintos Tapas
What: Spanish tapas bar.
Where: 1 Boyd Street, KA30 8LD
Tintos is an authentic Spanish Tapas Bar which has a good few venues across Glasgow and the West of Scotland, including our very own in Largs.
The restaurant is quite small so it's a nice, snug atmosphere and I guarantee the food will not disappoint. You can expect all the Spanish traditional food and drink like paella, patatas bravas, prawn dishes, Spanish meats, sangria and cocktails.
They also do half price tapas every Tuesday from 5pm!
---
Fish Works
What: Quality fish & chips, sit-in and takeaway.
Where: 3 The Promenade, KA30 8BG
If you think of a day trip to Largs, you think ice cream, coastal views and, probably most of all, fish & chips. You'll find tons of chippy's in Largs, some better than others, but in my opinion, Fish Works is the best of the best.
The produce is completely fresh, sustainably sourced, and delivered daily. Expect top-quality Scottish seafood with the best views of Firth of Clyde.
You'll find classics like fish & chips but also twists on the traditional like fresh langoustine tails, calamari, seasonal fish, and good old-fashioned fish finger butties.
---
Nardini's
What: Ice cream parlor and cafe.
Where: 2 Greenock Road, KA30 8NF
Probably the most well-known and loved establishment in the town of Largs – Nardini's Cafe.
There are world-famous ice cream sundaes, continental sandwiches, fish teas, and proper Italian coffee & pastries. It's considered "Scotland's Most Famous Cafe" for a reason and you won't be disappointed if you visit.
---
Toni Macaroni
What: Italian Restaurant.
Where: 2 Greenock Road, KA30 8NF
Real Italian food. 'Tony Macs' has become an institution for classic Italian food, with 17 locations across Scotland.
You'll find this located in the same building as Nandini's, towards the back of the ice cream parlour.
Here you can expect quality pizza, pasta, burgers and all sorts of Italian classics. You won't be disappointed.
---
Our recommendation: Can't choose what to eat at Tony Macs? Go 'Jimmy Style' by eating half pizza and half pasta,  just bring someone to share with!
---
Scott's 
What: Quality bar & restaurant.
Where: Largs Yacht Haven, KA30 8EZ
As mentioned, Scott's can be found in the heart of the Largs Yacht Haven, right next to the waterfront.
The restaurant itself is really modern and is a great option for breakfast, lunch or dinner. They serve some fantastic seafood, steak and traditional Scottish breakfasts in the mornings.
They have plenty of outdoor seating, making it the perfect place to sit outside on a nice day. There's also outside heating in in case it gets chilly.
---
THE BEST PLACES TO GO FOR A DRINK
As soon as you come off the ferry, you'll see a big Wetherspoons pub next to the slipway. What we want you to do is, well… walk right past it.
Largs is packed with quality bar/restaurants and pubs and we'd love for you to support the local businesses when possible!
If you're looking for a modern cocktail bar in the middle of town, check out Room or Lounge. You could also take a stroll out to Scott's at the marina for a cocktail. Fancy a wide selection of beers combined with some of the best pub-grub in town? Then check out the Three Reasons.
Now, let's have a look at your other options:
---
Ye Olde Anchor Inn
What: Cosy, traditional and very friendly pub.
Where: 36 Gallowgate Street, KA308
This place has a lot of character and is a local favourite – the Ye Olde Anchor Inn. It's a traditional pub which can be found a couple of minutes walk from the ferry slip (quite handy if you need to stagger back to Cumbrae afterwards).
It can be described as snug and charming. You'll find that it can be very lively and have a fantastic atmosphere at the weekends. You'll often find live music playing including someone on the accordion.
---
JG Sharps
What: Family-run pub with beer garden.
Where: 34-36 Nelson Street KA30 8LW
JG Sharps is a traditional, family-run pub which is located a short walk from the Largs seafront.
They've got a great selection of beers, wines & spirits and they'll often have live sports on the TV. Our favourite part, however, is the beer garden out the back – a brilliant spot for a pint on a warm day!
---
Drouthy Neebors
What: Nice pub playing live sport.
Where: 80 Main Street, KA30 9AL
Formerly known as McCabes, Drouthy Neebors is a family friendly sports bar and restaurant. They have a nice wee beer garden and a wide range of tasty pub grub.
It's also very handy if you're coming to Largs via the train, as it's right next to the station!
---
The Waterside
What: Pub with a variety of live music.
Where: 14 Bath Street, KA30 8BL
Looking for a pub with some live music? Well, The Waterside might be the one for you.
They provide all sorts musical entertainment at the weekend, including Karaoke on Fridays and live bands on Saturdays. They also have a variety of music on Sundays, from traditional Scottish music to Jazz. 
---
So, there you have it…
All the best things to do & see, walking routes, places to eat and places to catch a drink in the town of Largs.
As promised, there's plenty of more fun to be had across the water, just make sure you check the times for the last ferry! We can't have you stuck on the mainland…
Here's the Cal Mac Largs–Cumbrae Ferry Timetable.
Looking for more fun across the water? Check out:
---
Fancy a Unique Stay on The Isle of Cumbrae?…
We've JUST launched bookings for our One-of-a-kind Cabin Concept in Millport.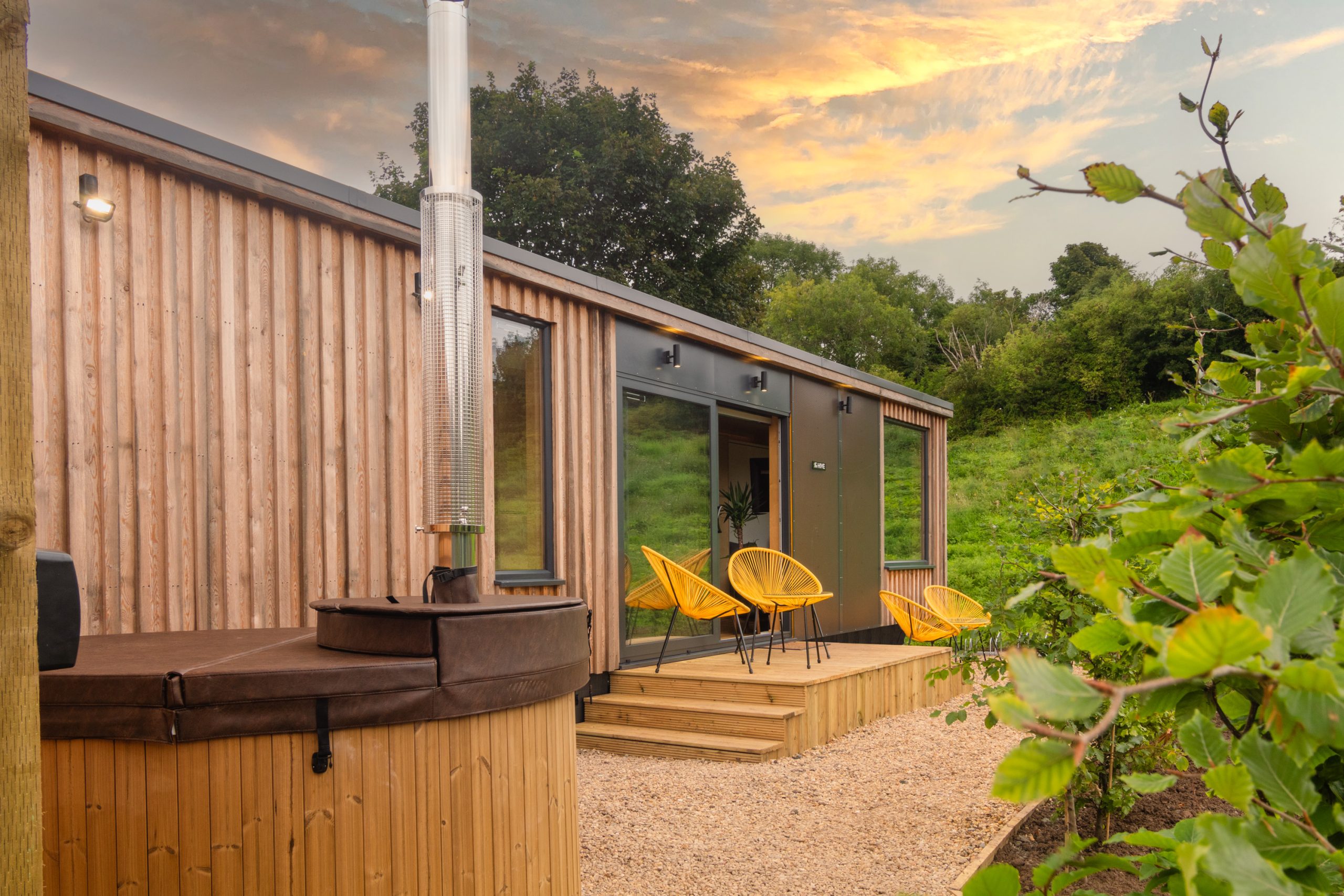 Welcome to the next generation of self-catering accommodation in Scotland.
We think of our one-of-a-kind Cabin Concept as a crossroads where quirky interior design meets eco-consciousness, in a stunning island setting.
Bookings are now OFFICIALLY LIVE! 🚀
Back to Menu ⤴️