The beautiful Isle of Cumbrae is home to a small island town called Millport. The island itself comes in the form of a 10-mile loop and is located just off the coast of North Ayrshire. It is incredibly scenic, packed with things to do and is a hidden gem when it is comes to exploring Scotland.
If you're thinking about planning a trip to the island, well… you've ended up in the right place.
One thing is for sure, island life should always be simple and stress free. Should you be spending hours and hours of your life planning your island getaway? No chance. You've got better things to spend your time on.
To make life easy for you, we've taken the time to combine everything you need to know about planning a trip to Millport on The Isle of Cumbrae, all in one place.
Whether it's food recommendations, things to do, places to stay, the best walking routes or even scoping out a beer garden  – it's all in here!
We like to call this one: The Ultimate Guide to Millport, Isle of Cumbrae.
---
Got a quick question you need answered?
It's probably covered in this:
Also, feel free to skip through:
---
So, let's get right into it…
How to get there 
At a short 8-minute ferry away from the mainland, The Isle of Cumbrae has been given the nickname "Scotland's Most Accessible Island".
The ferry leaves from Largs, a seaside town on the North Ayrshire coast, which is only a 1-hour train journey from Glasgow.
The ferry costs only £3.50 and one leaves every 15-30 minutes in the summer – an island escape has never been so easy!
See the Cal Mac Summer 2021 Largs – Cumbrae Peak and Off-Peak timetables here and Ferry Fares here.
---
Getting to Largs Ferry Slip
Fire KA30 8BG into your trusted Google Maps. That'll take you right to the Largs ferry slip where you can grab your tickets.
It's only 40-minutes from Ayr, 1-hour from Glasgow, or 2-hours from Edinburgh.
Taking public transport? Well, there are also easy train links to Largs through Scotrail or bus links through the 585 Stagecoach and the 901/904/906 McGills services.
---
The Cumbrae Ferry Timetable
Generally, the ferry leaves every 15-30 minutes. There's also no pre-booking, just show up and purchase tickets at the office. Jump on the ferry and you'll be on Cumbrae 8-minutes later.
Here is the Cal Mac Summer 2021 Largs–Cumbrae Ferry Timetable and Ferry Fares.
---
Getting to Millport Town from the Cumbrae Ferry slip
You've got a few options here – bus, bike or car:
To be honest, we'd always recommend leaving your car on the mainland. Traveling about Cumbrae is as easy as it comes.
The bus always meets the ferry on the arrival and costs only £2 for a single ticket. You'll be in Millport 10 minutes later. Check out the Cumbrae Bus Fares.
If you've got the bike, you can cycle to the town in 25 mins. After all, Cumbrae is known as a 'cyclists paradise'.
---
It's as easy as that!
For further advice on transport links, ferry costs and timetables – check out our full blog:
---
Things to See & Do
For what the island lacks in size, it makes up for in adventure.
Here are some suggestions on things to get up to:
Cycling Around The Whole Island
You won't find many islands in the world that come in the form of a perfect 10-mile circular cycling route. So get that helmet on and hit the road!
You'll find a couple of different cycling route options on the island, but the best is just to cycle right the way around. The views are incredible and it'll take you 1 – 2 hours.
Clockwise or anti-clockwise though? That's the big question.
Scott Ferris of Mapes would always recommend going around anti-clockwise. That way, you avoid the Ferry traffic that heads straight to the town, and you can relax on the long way round the north and west sides of the island.
This way, you can stop in at the Fintry Bay Cafe halfway(ish) point for an ice cream and a juice, giving you that well-needed, and deserved, energy boost through the final stretch towards Millport town.
It also means you have a shorter trip back to the ferry after a long day of exploring the Unique Things to See & Do in Millport!
Looking to rent a bike? There are a few bike hire options in the main town, such as Mapes Cycles.
For more info & alternative routes, check out our Guide to Cycling in Millport, Isle of Cumbrae.
---
The Glaidstone Viewpoint
360-degree panoramic view around the island? Now you're talking.
You can find the Glaidstone at the very top of the island, which is at a height of 417 feet (127m) above sealevel. To put that into perspective, a Munro is anything over 3,000 feet – so it is certainly not the tallest peak in Scotland, but a fair hike nonetheless!
Saying that, it's well worth the jaunt up to the top as the views across the River Clyde are unreal. You can find the Glaidstone as part of the Inner Circle Walk and it takes about 40 minutes to reach the island's peak, walking from Millport town.
Once you're up there, you'll see the neighbouring Clyde islands of Wee Cumbrae, Arran, and Bute, and back across to the mainland coast of North Ayrshire. On a clear day, it's nothing short of spectacular and you might be able to see as far south as Ailsa Craig.
Load up the route to the Glaidstone on your Google Maps app Here.
---
Watersports in Millport Bay!
The Isle of Cumbrae offers brilliant opportunities to enjoy getting out on the water! Millport is incredibly popular with the likes of Stand Up Paddleboarding, Sea Kayaking, Snorkelling, and day Sailing.
Why not rent a kayak from 'On Yer Bike' and explore Millport bay?
With the sparkling water and beachfront lined with palm trees, you'll feel like you're exploring an island paradise. You can paddle along the beach and out to the 'The Eileans' which are the two, small islands in the bay.
Top Tip: Make sure to stay safe whilst enjoying watersports! Millport Bay is sheltered and protected. As you head further out, you're exposed to elements such as currents and wind, as well as other boats. Check out the likes of the Scottish Canoe Association and RNLI for safety tips, as well as the Met Office for the weather.
Want to know the best part? You can find seals that live on The Eileans most of the year! They're amazing to watch from the kayaks so make sure to paddle out and pay them a visit.
Kayaking in Millport is suitable for almost all ages and the shop says, "as long as you can swim, anyone can hire our Kayaks". Life jackets are included with the hiring.
---
Cumbrae Rocks
The Isle of Cumbrae is home to a collection of quirky rock formations which can be found dotted around the island.
While you're exploring the coast, see if you can spot all three 'Cumbrae Rocks' – Crocodile Rock, Lion Rock, and Indian Rock.
The most recognisable out of the trio is the 'Crocodile Rock' which has been around for over 100-years! It is also considered to be one of Scotland's "quirkiest, best-known landmarks".
The Lion Rock can be found on the east side of the island and is known for its iconic shape. The geological formation is called a Dyke and the rock was weathered down during the last ice age to look how it does today.
Lastly, we have The Indian Rock. This wee guy is a bit harder to spot and was painted during the 1920's. Since then, he has been perched up in the forestry on the west side of the island.
Check out our Cumbrae Rocks blog for more information.
---
Isle of Cumbrae Distillers
Less of an outdoorsy type? Why don't you pay a visit to our good friends at the Isle of Cumbrae Distillers.
This well-loved community venture was started by a unique team of 5 international woman. This makes them one of the only all-female distilling teams in Scotland! Indulge yourself in a tasting session and a tour of the island's very own gin distillery.
The team named their flagship gin "NostalGin" as it embodies the heritage of Millport as well as the Scottish Island experience.
They've also just launched their brand new 'Croc Rock Gin'! Check it out:
---
The Cumbrae Sensory Trail
The Sensory Trail takes you around Cumbrae's 10-mile coastline, giving you the opportunity to delight in the island's nature, wildlife, sandy bays and pebble beaches, sea life, and beautiful scenery.
There are five Sensory Point Markers on the trail where you can just pause in peaceful and calming surroundings. They look like this:
These are at five coastal locations around the Island namely, Farland Point (1), Ballochmartin Bay (2), White Bay (3), Fintry Bay (4), and Sheriff's Port (5).
With the help of the audio guide below, you can see, taste, smell, touch and listen to aspects of Cumbrae and relax and unwind through this enjoyable and invigorating sensory experience.
You can cycle, walk or drive around the Trail. All markers are near the roadside, apart from Farland Point, which is a short, but level walk.
Look out for the ball at the top of the Sensory Point Markers – touch all five and take with you the gift of luck from the Islanders!
Introduction
1. Farland Point
2. Ballochmartin Bay
3. White Bay
4. Fintry Bay
5. Sheriff's Port
---
Wildlife Spotting
Fancy yourself as an aspiring David Attenborough? Well, you're in luck.
The island is a paradise for nature-lovers and wildlife watchers with over 125 species of birds, seal colonies, porpoises, and basking sharks.
Around Cumbrae's coast, it's quite common to see grey seals and harbour porpoises. If you're lucky, you may even be lucky to see Minke whales, basking sharks, and common dolphins.
View this post on Instagram
Top Tip: You can often see porpoises from the ferry over to the island, so keep an eye out!
A great place for fishing and spotting wildlife is down at Farland Point. Check out how to get there by reading our Best Walking Routes on the Isle of Cumbrae blog.
---
The Wedge
The Isle of Cumbrae is home to what was crowned "The Narrowest House in World".
The front of 'The Wedge' only measures 47 inches and it has a place in the Guinness Book of Records for being the narrowest ever recorded home. Well… it did until a house in Warsaw, Poland, named the 'Keret House' stole the title in 2008, at 32 inches wide.
So, Millport's Wedge has now claimed the title of 'Britain's Narrowest House'.
The house gets wider as you move towards the back and is uniquely shaped like a wedge of cheese, hence the name.
Despite the tight squeeze, The Wedge boasts beautiful sea views and it's right in the middle of Millport town – so no complaints on location!
Unfortunately (as it's someone's home) you can't actually go inside, but make sure you keep an eye out for this bizarre, wee house when you're in town!
---
The Cathedral of the Isles
Another Guinness Book of Records holder! Well… technically not, but The Cathedral of the Isles is actually the UK's smallest cathedral – another wee claim to fame. (See what I did there?)
You can find the Cathedral tucked away in the trees just behind the town of Millport. The grounds and building itself are beautiful, so it's definitely worth the 5-minute stroll up from the shorefront to see.
Across the road, you'll find the Garrison House which has lovely gardens to walk through, as well as the Cumbrae Community Gardens. You can find a good spot for a picnic here on a nice day!
---
The Jacks Alt-Stays Experience
You didn't think we'd leave ourselves out, did you?
At Jacks Alt-Stays, we offer guests our unique 'Alternative Eco-Cabin Experience'.
Our Eco-cabin concept is the next generation of tourist accommodation in Scotland.
Each cabin comes with its very own theme and story. You can expect clever interior design and a one-of-a-kind artist's wall mural, created by our good friend and top-class artist, Katie Forbes. Not only this, but we're creating a totally unique and fully immersive sensory experience.
The Eco-Cabins will be built locally using sustainable materials and will be powered by 100% renewable energy. We'll also have 10 trees planted for every booking made through our partnership with Ecologi.
Within walking distance from the beachfront and main town, the cabin is the perfect hub for exploring the Isle of Cumbrae and has everything you need to keep entertained. Whether it's board games or cosy Netflix nights, we've got you covered.
We're launching our cabins at the end of the year! So why not sign-up below to be the first to hear about our plans and free-stay giveaways?
Sign up:
---
Wee Cumbrae Day Trip Tour
Fancy exploring an uninhabited island? Well…
Clyde Charters have gained permission to land day trip passengers onto the magnificent place that is Wee Cumbrae.
At the moment charters are only setting off from Largs Marina, but we're currently talking with Clyde Charters to arrange a Millport pick-up!
There are lighthouses, castles, cairns, caves, and abandoned forts. This is a must-see place for hillwalkers, bird spotting, photographers, and all other outdoorsy types.
You'll also have an opportunity to see lots of amazing wildlife on this tour, including Cumbrae's own resident dolphin!
Why not read Daniel's blog about his experience going on the Clyde Charters Voyage.
---
Golfing on Cumbrae
I challenge you to find a golf course with a better outlook than at the Millport Golf Club. Seriously, what a view:
This special golf course is often described as a 'hidden gem' by visiting golfers and it's one of the best ways to take in the surrounding beauty of the island.
Meander around the well-maintained course as you enjoy stunning views across to the Isle of Arran, Bute, and the Ayrshire coast.
During the summer season, full catering and bar facilities are available. Visitors can also organise catering packages including breakfast, lunch, and dinner.
Don't fancy the full 18-holes? Not to worry, there's always crazy golf on the Millport promenade.
---
Millport Calender Events
If you're lucky enough to visit on one of the many event weekends, you're in for a treat. From the Classic Car event in early May, to the Scooter Rally in late August, these are some pretty unique events you'll find on Cumbre.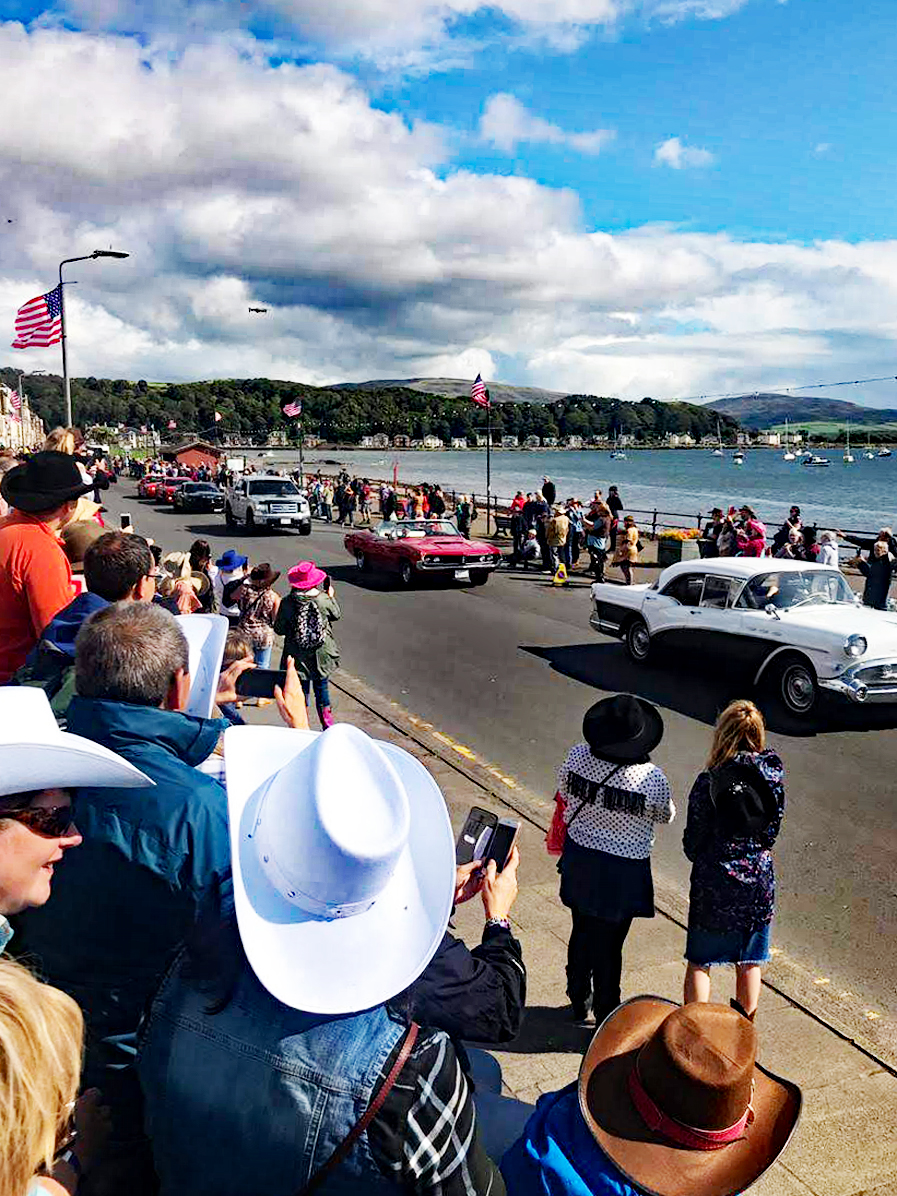 The Island's flagship event is the Country and Western Music Festival in September where thousands of revelers descend onto the island in fancy dress for live country music, lively bar atmospheres, and fun activities for kids.
If you're more of the artistic type, the Cathedral of the Isles runs a Classical Guitar Retreat, a brand new Opera Retreat Festival in 2022, and you'll find several "plein air" painting events.
---
Walking Routes
On The Isle of Cumbrae, you'll find five main nature walks, all of which are equally spectacular.
Whether it's a hike up to the Glaidstone for 360" panoramic views or a long stroll around the full outer circuit, there's plenty opportunity to take in the beauty of the island.
So, ditch the car on the mainland, stick on the FitBit,  and get those boots strapped up. Here are the best walking routes on the island, complete with pre-loaded Google Maps route buttons.
---
The Outer Circuit
As it says on the tin – the whole way round.
Cumbrae is known as a cyclist's paradise, and this route is exactly why. There's nothing stopping you from braving the walk round though! This main Cumbrae walking route will take you around 3 hours and 15 minutes on foot.
Click here to open the Outer Circuit route on your Google Maps app.
Cumbrae is essentially a big 10-mile loop, but it's certainly no chore to venture the whole way round, with the wonderful coastal views to be taken in on all sides.
Clockwise or Anti-clockwise? That is the hotly debated question! Some say clockwise is the best. Some say anti-clockwise. I say, if you're walking, do whatever you want – you're going the full way round anyway.
Our Top Tip – Always walk on the right-hand side of the road so you can see oncoming traffic. The locals are well used to walkers & cyclists and are great at giving you enough space, but always err on the side of caution and step in, just in case!
Here's a few things to keep an eye out for along the way!:
Oh, also this might come in handy… Here are all of the public toilet locations around the Outer Circuit.
---
The Inner Circuit
A trek around Cumbrae's inner circle. Be sure to stop off at the island's highest point – The Glaidstone viewpoint – for 360-degree panoramic views around the Clyde.
Click Here to open the Inner Circuit route on your Google Maps app.
The panoramic views from the top are absolutely breathtaking. You'll look over to the Isles of Arran, Bute, Cumbrae's little brother 'Wee Cumbrae', and of course, back over to Largs on the North Ayrshire coast. On a clear day, you'll even see as far south as Ailsa Craig!
If you're up for a challenge, complete both the Inner and Outer circuits in one day!
Our Top Tip – This route is perfect for dog walkers. Just be careful of what's coming around the bend and pop your furry friend on the leash when passing the many farms' cattle.
---
The Targets Route
Up close and personal views of Wee Cumbrae.
Click Here to open The Targets route on your Google Maps app.
This is a nice easy one if you're in need of a short burst of fresh sea air to perhaps cure a NostalGin hangover from the night before.
---
Top Tip: Leave nothing but footsteps!
While you're out enjoying the scenery, keep our island litter free. It should go without saying, but if there's not a bin nearby, do the right thing by taking it with you. Also, of use recycling points where available.
---
The Farlands Point Route
Easy on the legs with stunning sea views. This is one for the wildlife watchers!
Click Here to open the Farland Point route on your Google Maps app.
Head right along Millport's Victorian promenade, past Kames bay, and keep going a little further. If you hit the Field Studies Centre (FSC) you've gone too far.
Our Top Tip – Cumbrae is home to over 125 species of birds, seal colonies, porpoises and basking sharks. The Farland Point route is definitely one for the wildlife watchers! Look out for Oystercatchers in the skies, limpets and barnacles in the rock pools, grey seals, and our very own resident dolphin and porpoises in the ocean!
---
The Fintry Bay Route
It's pretty much Illegal to do this route and not stop in for an ice cream at the Fintry Bay Café.
Click Here to open the Fintry Bay route on your Google Maps app.
From the town, head up to the Millport Golf Club and join the woodland walking route from there. At the most elevated point you'll see a spectacular view of Arran's 'Sleeping Warrior'. I took this photo last time I was up there:
Follow the path down to the gate at the road and turn right towards the turning point at Fintry Bay. Grab your obligatory ice cream, and head back south towards Millport town via the pavement on the coastal road.
---
Places to Drink
Looking for somewhere to wet the whistle? Don't worry, we've got you covered.
Something we always get asked is "well, where's the best pub in Millport?" and to be honest, it's not an easy answer.
Even though Millport is only a wee town on a wee Island, there are a number of brilliant options for bars, pubs and beer gardens. Here a few of your choices…
---
The Millport Pier Hotel
Where: Quayhead Street, KA28 0AP.
What: A Harbour-side hotel and bar with beer garden and sea views.
The Millport Pier Hotel is a welcoming bar and restaurant which can be found next to the pier (funnily enough). You can expect a wide selection of alcohol as well as locally sourced, freshly cooked food.
Our favourite thing about The Millport Pier Hotel is the outside beer garden. It's a wee sun trap on a nice day and the views across the water are superb – would recommend.
---
The Newton Bar
Where: 1-2 Glasgow Street, KA28 0DJ.
What: A family-friendly pub serving food by the sea.
The Newton Bar is a fantastic bar/restaurant and certainly worth a visit when you come to the Isle of Cumbrae. Visitors always praise the food, and some say it's the best on the island.
You can expect a great drink selection, quiz nights, a winning atmosphere and really friendly staff. It's dog friendly too! What's not to like?
---
Frasers Bar
Where: 7 Cardiff St, KA28 0AS.
What: Pub Grub and a wide range of beers.
Here you'll be greeted with lovely staff, great service and a nice local atmosphere.
If you're a craft beer enthusiast, then this might be the one for you. Check out the expansive selection of craft beers and local ales.
Sunny weather? Superb, there's a lovely wee beer garden out the back door. Pouring with rain? Not to worry! There's a roaring fireplace inside to warm up. The best of both worlds.
Frasers bar is definitely one of the best pubs in Millport – never a disappointment!
---
The Twa Dugs
Where: 16 Stuart St, KA28 0AJ.
What: A cosy pub with a brilliant atmosphere.
The Twa Dugs is a dog-friendly pub (hence the name) and can be found near the seafront in Millport town. It's a small, one-room bar but it's lively at the weekends. In a Covid-free world, you could expect great entertainment including live bands and karaoke.
It's known for its terrific service, friendly staff and it's popular with the locals. You won't be let down by a visit to The Twa Dugs.
Top Tip: The Twa Dugs is known for a good whiskey, so it's one to visit if that's your thing!
---
Leaning towards a G&T? All of the local bars serve the brand new and locally distilled 'NostalGin'. Best served with tonic, bramble liqueur, and ice.
You can read more about the NostalGin Distillery and tours in our "Unique Things to See and Do in Millport" blog.
---
The Tavern Bar
Where: 36 Glasgow Street, KA28 0DL
What: A friendly bar with great entertainment.
The Tavern is a very welcoming bar with lovely owners. When the world allows, there's all sorts of entertainment, from bingo to karaoke.
They also tend to play football and other sports on the TV, including the Champions League – why not give them a message on their Facebook Page to check first?
Sunny weather, why not have a pint out the back? It's our favourite beer garden on the island!
---
Places to Eat
---
Places To Stay
From budget hostels to eco-cabins, there's all sorts of accommodation available on the Isle of Cumbrae.
Whether you're looking for rural or something a bit more modern, there's something for every type of traveler on the Island.
Here are 13 places you can stay in Millport, Isle of Cumbrae:
---
The Bothy – Private & Exclusive Cottage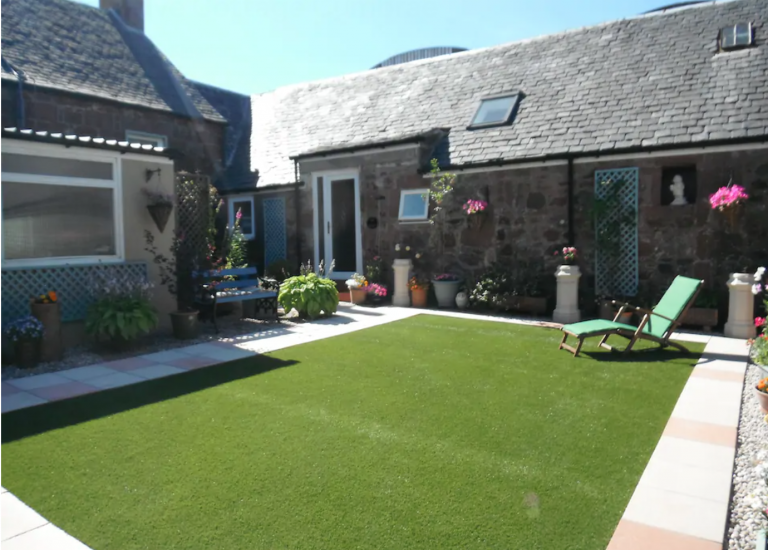 Figgitoch Farm is situated on the beautiful Isle of Cumbrae with fantastic views of the Firth of Clyde. It's the perfect place for relaxing, walking, cycling, golfing, painting, or just chilling out. The bothy is a quant farm cottage which has been lovingly restored to a high standard, complete with a private garden and patio.
You can find The Bothy on Airbnb.
---
The College Guest House
The College is a Visit Scotland 3 Star Guest House. It is located next to Britain's smallest cathedral, The Cathedral of The Isles. Both were built at the same time in 1851 by the architect William Butterfield. The College was originally built for students of theology in the Scottish Episcopal Church.
The College was refurbished recently and now allows visitors to enjoy a unique combination of modern luxury and homemade meals in a building full of history and character.
You can find The College Guest House website here
---
Seal View
This ground floor villa has stunning views over the sea and is only 100 yards from the sandy beach with tropical palms fronting the promenade and yachts moored out in the sheltered bay. From here you can explore the charm of a seaside town with cafés, shops, bars, and bistro.
You can find the Seal View Villa on Airbnb.
---
Millport Beach Apartment
A newly furnished and decorated 2 bedroom flat on the seafront.  With spectacular sea views, this second floor flat has two double bedrooms, a large living area, a separate kitchen, and a bathroom with shower.
It's right above The Ritz Cafe, 1 min walk from Quay Head bus stop. On the second floor, the property is well equipped with little luxuries like Egyptian cotton 600 thread count bed linen and big fluffy towels. Perfect for families and couples.
You can find the Millport Beach Apartment on Airbnb.
---
Jacks Alt-Stays – Alternative Eco-Cabins
Well… not quite yet, but soon!
We're launching our unique Alternative Eco-Cabin experience in late 2021. The concept combines quirky interior design, eco-consciousness, the great outdoors, and stunning scenic views, with all your mod cons thrown in too.
We're talking hot tubs, wood-fired stoves,  and cosy Netflix nights – all in a stunning island setting and powered by 100% renewable energy. Each cabin has its own story, interior theme, and one-of-a-kind wall mural.
The cabins are perfect for couples and small families seeking a premium, relaxing island retreat. They're also located a short walk from Millport town.
Check out our Next Generation Tourist Accommodation Concept and be the first to hear about our official launch!
Sign Up
---
Croc Rock Studio Apartment
The Croc Rock Studio is a delightful wee ground floor apartment which has fantastic views across to Millport Bay. Look out the window from your comfortable armchair and enjoy amazing views towards the sea and beach.
The carefully designed studio has lots of thoughtful touches and is a place for peace and tranquility. It has also been described as the perfect place for artists and writers. There's no TV, however you can expect art supplies, super quick broadband, books and games. Plenty to keep you entertained!
Also if you're a responsible pet owner, then you're in luck – "nice dugs are welcome!".
If you'd like to book, you can message the lovely owner, Suki,  on the Croc Rock Studio Facebook page.
---
Millport Pier Hotel
The Millport Pier Hotel has undergone a total refurbishment to the Bar, Restaurant & Kitchen areas. A new wrap around beer garden offers outstanding views over the Newtown bay and a beautiful view south over Wee Cumbrae and Arran The Bar/Restaurant will offer a locally sourced freshly cooked menu with a range of fine wines, Scottish & International beers.
You can find the Millport Pier Hotel on Google.
---
The Nest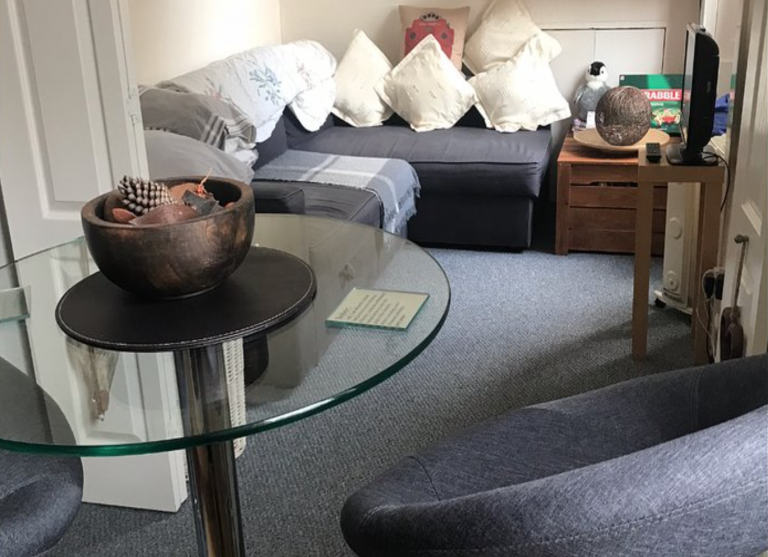 A Holiday studio apartment near to the golf club. The Nest is a small 1st-floor bedsit reflective of Millport's original accommodation, though lucky enough now to have an inside toilet!
This is one for the digital detoxers! No internet, no sky tv, no gas central heating, no washing machine! Just a place to rest called The Nest, after enjoying the beautiful peaceful island.
You can find The Nest on Holiday Lettings.
---
Top Tip: If you're looking for more options, check out the "Millport 'Staycation' Accommodation" group on Facebook. The group is for both advertising and finding holiday accommodation in Millport, Cumbrae!
---
Heaven above the Haven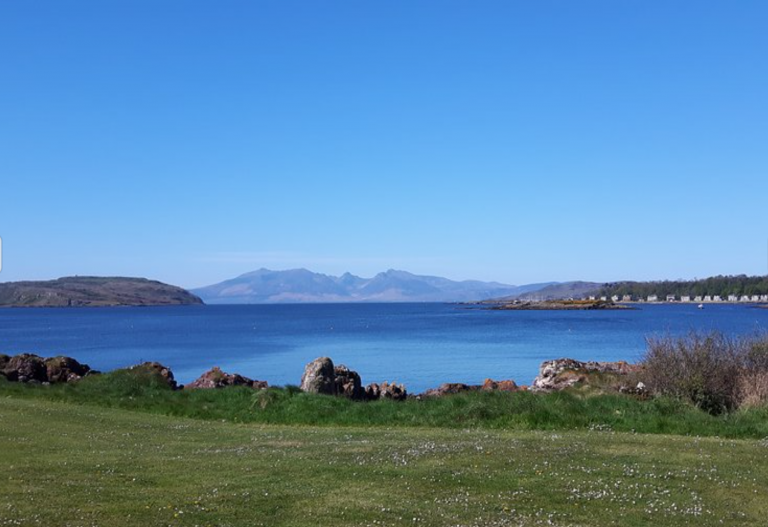 This is truly a little piece of Heaven in Millport. A three-bedroom flat sleeping 6 with stunning sea views overlooking the Firth of Clyde, across Millport Bay and towards the Isle of Arran in a peaceful and tranquil location at the edge of the town.
Ideally located just a short walk from the sandy beaches of Kames Bay and either a 15-minute walk or short bus journey to the shops of Millport town, Garrison House, and the famous Ritz Cafe.
You can find Heaven in Millport on Holiday Lettings.
---
Cosy Corner
This Apartment features a private garden and is close to the beach. Complete with wood burning stove, the apartment has 1 bedroom, a flat-screen TV with satellite channels, an equipped kitchen with a microwave and a fridge, a washing machine, and 1 bathroom with a shower. Pets welcome.
You can find the Cosy Corner on Booking.com.
---
Beside the Bay
This beachfront apartment was originally part of a small grocer's shop and is grade C listed. The building dates from the 1830s and has been carefully stripped back inside to provide a compact, quirky space to enjoy.
A kitchen/ living room with a cosy wood burner looks out to Kames Bay, and on a summer morning, with the window open, you'll be able to hear the waves and the call of the seabirds.
You can find Beside the Bay on Booking.com.
---
Millport Holiday Park
Millport Holiday Park is a friendly, family orientated Static Caravan Park & Touring Site. It has a private play park, a games room, a coin-operated laundry & a coin-operated shower block. It is situated only a 5-minute walk from the main seafront of Millport and just a 2-minute walk from the Golf Club. It boasts fantastic views across the Firth of Clyde to Argyle, Bute & Wee Cumbrae. No dogs. Linen hire costs £15.
You can find Millport Holiday Park on Millport.org.
---
Rose Cottage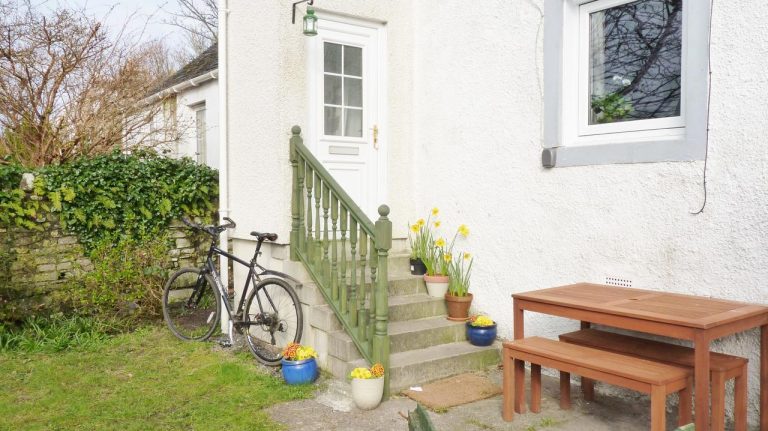 This is a unique and quirky cottage. Accessed from the road by a few stone steps, the cottage is tucked away behind other buildings, making it a quiet and peaceful haven. It has its own private garden, and we welcome up to two dogs- no extra charge!
You can find Rose Cottage on Booking.com.
---
Things to See & Do in Largs
Great news! There's plenty of more fun to be had across the water…
Let's check out all of the best things to get up to:
---
Visit the Largs Pencil Monument
The Pencil monument stands at about 70 feet tall and towers over the Largs coastline. It was built in 1912 to commemorate the Battle of Largs (1263) when we defeated the Vikings of Norway on the shorefront.
Largs has since become famous for its Viking connections and has been given the nickname 'Viking Town'.  You'll find all sorts of Viking references throughout the town, from the Viking Chippy to the 'Vikingar!' leisure centre.
Largs even host an annual Viking Festival to give people a glimpse of what life was like in a 13th Century Viking Village.
The Pencil can be found along at the end of the prom, near the Largs Marina.
---
Visit Magnus the Viking
Another reference to the town's Viking roots – Magnus the Viking. Magnus was given his spot on Largs prom in 2013 which marked the 750th anniversary of the Battle of Largs (1263).
You'll find this big guy right across the road from the world-famous Nardini's. In fact, you can't really miss him as you're walking along the prom.
It's a great photo opportunity and you might even find him dressed up depending on the season. He's been spotted wearing football scarves, santa hats and has even been wearing his facemask throughout lockdown.
---
Visit the Largs Marina
Along at the edge of town, you'll find the Largs Yacht Haven which hosts all sorts of fun for water lovers. Whether you're a boat owner or someone who's just visiting, there's plenty to keep you entertained.
The marina offers private boat tours from the likes of Clyde Charters or Sea Clyde Private Charters which is an amazing opportunity to see the surrounding islands from a different perspective. You'll find all sorts of wildlife on these tours including dolphins, seals, sea birds and porpoises – so keep those eyes peeled!
The marina also is home to a contemporary bistro offering great coffee and light lunches called Bosun's Table as well as a quality restaurant called Scott's. Whether you're looking for a coffee pit-stop or a night of dinner and cocktails, the marina has you covered.
---
Thinking of booking a boat tour?: You should check out Daniel's 'Voyage to Wee Cumbrae' blog where he talks about his recent boat tour with Clyde Charters to the uninhabited island of 'Wee Cumbrae'.
---
Visit Kelburn Castle & Country Centre
Now, this is probably my favourite place to visit in Largs – Kelburn Estate. You'll find it on the outskirts of Largs, an additional 15-minute walk out from the marina.
Kelburn is great fun for all ages, whether you're a family looking for a day out, or a couple looking for an adventure. You can expect woodland walking routes, waterfalls, a beautiful walled garden, and a (very) eye catching castle.
The psychedelic mural was painted on the castle in 2007 by Brazilian street artists and its brought some serious colour to Kelburn Estate ever since.
For children, you'll find lots of play areas including the outdoor Adventure Course, Secret Forest, Wild West Saloon and the indoor Playbarn.
Kelburn is also famous for its many unusual trees, two of which have been recognised by the Forestry Commission in the Top 100 most important 'heritage' trees in Scotland.
There's all sorts of fun to be had, so grab those walking boots and get ready to explore the wonders of the enchanted forest. Once you're finished, you can stop off at the on-site café for some food and refreshments.
---
Inverclyde Sports Centre
Feeling active? Well maybe this will be up your street.
Largs is home to the state-of-the-art Inverclyde Sports Centre which offers a wide range of activities for both members and guests. There are basketball courts, tennis courts, football pitches, fitness studios, a golf course, and a gymnastic hall.
If you're visiting in a small group, you might be interested in trying their gym, tennis, badminton, table tennis, golf-training, archery or maybe even one of their fitness classes!
Check out their website and make enquiries here.
---
Visit Geraldo's
Geraldo's is Ayrshire's 1st ever 5-Star Tourist Shop and you'll find it a short 2-minute walk away from the ferry slip.
Primarily this family-run business sells some seriously tasty ice cream (which is produced on-site), but it's also the perfect place to pick up a nice souvenir!
They specialise in handmade chocolates, gift hampers, and a range of unique and unusual gifts that change throughout the seasons. You'll also find a wide range of premium spirits from all across the country.
Why not check out their range of Arran Whiskys or Scottish Gins? Of course, you'll also find that they stock Millport's very own 'Nostalgin' from the Isle of Cumbrae Distillers.
---
Walk Along Largs Prom
This one is a must do if you're visiting Largs for the first time – a walk along the prom.
The Largs promenade stretches from Aubrey Park to the Largs Marina and it takes 45-minutes to walk the full length. The seafront boasts incredible views across the River Clyde and towards Bute, Cumbrae and the Isle of Arran.
The good news is, you're already on the route as you exit the Isle of Cumbrae to Largs ferry. A quick left turn will take you to a lovely, pebbled beach as well as the promenade lined with palm trees. Here you can also see 'Magnus the Viking' or grab an ice cream from Nardini's.
Most of the walk, however, can be found by turning right as you come off the ferry. As you make your way over to the marina, make sure to take in those views. There's plenty of nice spots to stop including the many colourful benches, large grass areas, parks, and a lovely sandy bay.
Make sure to keep an eye out for the Largs War Memorial and the Pencil Monument along the way!
Here's the route:
---
More To Do in Largs…
You're spoiled for choice in Largs with lots to explore.
Check out our extended Largs blog for information on walking routes, places to eat & places to drink:
---
So, there you have it…
The Ultimate Guide To Millport, Isle of Cumbrae!
Hopefully with this guide you'll spend less time planning your trip, and more time enjoying yourself.
Throughout this guide, there are links to our full blogs which have lots more information, suggestions and recommendations. In case you missed them:
We hope you have a belter of a trip!