The Coig – Five Routes. One Great Adventure.
With our roadmap out of the pandemic now in place, things are starting to look a bit brighter. Travel is now well and truly back on the agenda for the summer, but I don't think anyone will be jetting off internationally any time soon. Time for a staycation? I think so.
This is the PERFECT opportunity to rediscover the hidden gems we have right on our doorstep. And what better way to do that than a good old road trip!
Being located in Ayrshire ourselves, we are lucky to have all five of The Coig routes right on our doorstep. And, what's stopping us from planning our summer road trip adventure, right now?
Well, while we dream of our summer staycation adventures, let me take you on a digital adventure around The Coig's five routes. I'll be covering the length of each route, our recommended things to do and see, as well as places to eat and stay along the way, so buckle up and enjoy the ride.
---
*NOTE: As lockdown eases, we will move back into a tiered system. Please comply with the Scottish Government's latest guidance around travel and transport*
---

First of all, what exactly is The Coig?
Well, who best to explain other than The Coig, themselves?
They say;
"Gaelic for 'five' – The Coig is a series of five touring routes around Ayrshire, the Clyde Coast and Clyde Islands of Arran, Bute and Cumbrae. Each route is designed to showcase the area's natural beauty, outdoor adventure, history, heritage and nature. Perfect for everything from day trips to longer breaks."
I couldn't have put it better myself, to be honest.
---
What are The Coig's five routes?
Feel free to skip right through.
---
Our Take on The Coig
When you hear of a 'road trip in Scotland', you'd be forgiven if the North Coast 500 sprung to mind. In fact, Adam wrote a blog on this very route.
Now, as fantastic as the NC500 is, there are many lesser-known, but equally spectacular routes to explore our wonderful land of Scotland, from the South West Coast 300 and the Argyll Coastal Route, to The 'Harry Potter Tour', Island Hopping, and the very route I'm about to explore today, The Coig.
The Coig is such a fantastic option for a Scottish adventure, given all of the routes are within 1 or 2 hours of Glasgow. The best part is, you can knock the routes off over one, two, or three weekends, rather than having to commit to 7-14 days at once, as you do on the NC500.
The Coig's Cumbrae route also happens to be where we're launching our Alternative Eco-Cabins in autumn 2021! Check it out here.
---
How Long Does The Coig Take?
Just like any other road trip, you can do it as fast or slowly as you like. If there's one thing we'd recommend, it's to take your time.
You could rush around in a few days, if you really wanted to, but what's the point in that? Take it easy. Soak in the incredible views, and enjoy all of the unique things to see, do and eat, that each route has to offer.
---
Before we set off… Watch this Guide to Road Trips in Scotland
---
ROUTE 1: THE SHIRE
Distance: 138 Miles
Time: 1 – 2 days (at least 5 hours drive time)
For: Scottish History Buffs, Foodies, Road Trippers
Check out The Coig's Interactive map of Route 1: The Shire
The Shire route takes you right down the scenic Ayrshire coast, as far south as Ballantrae, and is packed with history and cultural heritage. This one is definitely for the history buffs, with many connections to William Wallace and Robert the Bruce. Further, you'll find the grand Culzean Castle perched upon the Ayrshire cliffs, overlooking the Firth of Clyde, as well as the birthplace of legendary Scots Poet, Rabbie Burns, whose work was widely inspired by the people and places of The Shire.
Our Top 3 Things to Do & See on The Shire Route
#1 – Explore Culzean Castle & Country Park | Maybole
Now in the care of the National Trust for Scotland (NTS), Culzean (pronounced 'Cul-ane') Castle and Country Park is described as "Robert Adam's cliff-top masterpiece rises above a world of woods, beaches, secret follies and play parks". I was lucky enough to stay the night in here a while back and it truly is a unique experience, offering a glimpse into how the Kennedy's lived over the decades and centuries.
Check out designer Robert Adam's dramatic centrepiece staircase and the enormous collection of flintlock pistols and military swords displayed in the lobby. With  260 hectares of grounds, there's plenty space to explore, so leave plenty time for a visit. Fun fact: Culzean was a favourite retreat of President Dwight D Eisenhower's after WWII.
Entry is £5.95 for an adult,  £4.25 concession, £13.50 for a family, or free with an annual NTS membership.
#2 – Visit Robert Burns' Birthplace Museum | Murdoch's Lone, Alloway
Also looked after by NTS, this cottage in Alloway is where 'Scotland's favourite son', Rabbie Burns spent the first few years of his life. It offers a unique insight into Burns' early life in his hometown. The museum houses more than 5,000 Burns artifacts including his handwritten manuscripts.
Prices are £11.50 for an adult, £8.50 concession and £20-£27 for a family.
#3 – Check out the Irvine Maritime Museum | Harbour Rd, Irvine
At the Irvine Maritime Museam, you'll discover vessels such as MV Spartan, Scotland's last Scottish-built puffer, the harbour tug Garnock, and SY Carola, a steam yacht built in 1898. It's a great lesson in Scotland's maritime history if that's your cuppa tea.
You'll also find Scotland's 'Cathedral of Engineering' – a former Linthouse shipyard building. The museum also has it's own indoor and boating ponds if you fancy scooting around a model boat for a while. Sounds like fun!
Adults are £8.50 and kids go free (up to 3).
Here's everything else:
Irvine Beach | Irvine Maritime Museum | Shells, Scoops n Shakes | Troon Beach | Troon Yacht haven | Lady Isle (uninhabited island) | Ayr Beach | Robert Burns' Birthplace Museum | Burns Monument |  Dunure Harbour | Dunure Castle | Culzean Castle & Country Park | Trump Turnberry | Turnberry Lighthouse |  Ailsa Craig Viewpoints
Our Top 3 Places to Eat on The Shire Route
#1 – GRO Cafe | 142 Harbour Street, Irvine
GRO Coffee brings coffee shop culture to Irvine Harbour. It's become an instant hit with its crazy deserts that leave you no choice but to post on the 'gram. Seriously though, go on their Instagram page then tell me you're not hungry.
GRO's aim is to take the simple and do it very well, from the very best old school sandwiches to our superb in-house bakery to phenomenal brunch dishes, looking always for the best quality ingredients, suppliers, and even equipment.
#2 – GG's Coffee Shop @ The Gaels |  Marine Drive, Irvine
GG's Coffee Shop is a destination for all the family and offers a tasty menu throughout the day, great coffee and cake, relaxed seating and coffee shop, games' suite and golf simulator and large screens for live sports.
Bonus: GG's are pet-friendly!
#3 – Si! Bar & Restaurant | Kilwinning Road, Irvine
One of Ayrshire's most stylish and contemporary venues. Si! is Irvine's venue of choice, whether for a casual dining experience with family and friends or if looking to enjoy a drink and a catch up.
Si! is a popular restaurant and bar with a city centre look and feel. Great menu choice and delicious dishes.
Our Top 3 Places to Stay on The Shire Route
If you're travelling in style, you're in luck. The Shire route offers some pretty spectacular options to recoup, so you're ready to hit the road again the next day.
#1 – Donini Apartments | Ayr/Prestwick/Troon
Indulge yourself in our spacious, modern apartments and villas with professionally designed interiors all with latest tech facilities. Donini Apartments make sure you're fully equipped with premium hotel linen, quality fluffy white towels and luxury Elemis toiletries and their absolute guarantee is to be on hand 24 hours per day, ensuring your every need is catered for. That's you are provided with your very own concierge. Apartments in Ayr, Prestwick and Troon.
#2 – The Salt Lodge | Troon
The Salt Lodge at Troon Yacht Haven offers contemporary, comfortable and flexible accommodation in a unique coastal setting overlooking the harbour. Their one and two bedroom suites offer flexible, stylish living spaces, with a kitchen and dining area, and the option of great food and drink at the adjacent restaurant, Scotts.
#3 – The Gailes Hotel | Irvine
Nestled in the heart of Ayrshire, indulge at the brand new Si! Spa at The Gailes, explore the great outdoors with the many beach walks and Ayrshire cycle paths nearby. The Gailes also has dog friendly rooms. The family owned Gailes Hotel is renowned for its welcoming staff and exemplary service to ensure guests enjoy a most memorable stay.
---
You are here. Feel free to skip through:
---
ROUTE 2: THE SHIEL
Distance: 55 Miles
Time: 1 Day (at least 1 hour 25 minutes drive time)
For: Adventure Seekers, Outdoorsy Types, and Foodies
Check out The Coig's Interactive map of Route 2: The Shiel
You don't get much more breathtaking coastal scenery than this. Whether it's the snow-tipped mountains of Arran dominating the skyline, or the calming sounds of the many woodlands, lochs, and waterfalls up the hills, The Shiel is the ultimate playground for Outdoorsy Types.
The Shiel is also the gateway to the Clyde Islands of Arran, Bute, and Cumbrae, all of which are The Coig routes in their own right.
Our Top 3 Things to Do & See on The Shiel
#1 – Take a Voyage to Wee Cumbrae 
Fancy exploring a completely uninhabited island? Well… Clyde Charters have gained permission to land day trip passengers onto the magnificent place that is Wee Cumbrae.
There are lighthouses, castles, cairns, caves, and abandoned forts. This is a must-see place for hillwalkers, bird spotting, photographers and almost all other outdoorsy types. On your way over, look out for Cumbrae's own resident dolphin!
I actually took the trip back in November. Check out my  Voyage to Wee Cumbrae blog.
#2 – Visit Kelburn Castle & Country Centre
At Kelburn Country Centre you can expect woodland walking routes, waterfalls, and a (very) colourful castle. It is great fun for all ages, whether you're a family looking for a day out, or a couple looking for an adventure.
Grab those walking boots and get ready to explore the wonders of the enchanted forest. Once you're finished, you can stop off at the on-site café for some food and refreshments.
#3 – Take a stroll along Largs Promenade
The Largs Promenade is picturesque, to say the least. As soon as the sun makes an appearance, people throng in their thousands.
Watch the Millport ferry go back and forth as you take a relaxing stroll along the seafront, soaking in the Clyde island views and fresh sea air. A stop in at Nardini's world-famous Ice Cream Parlour is an absolute must. In fact, not doing so while visiting Largs prom should be illegal. Watch out for those pesky seagulls though! They have a particular liking for vanilla 99s with flakes…
Here's everything else:
Ardrossan 12th Century Castle |Portencross Castle | Seamill beach | Fairlie Castle | Nardinis Ice Cream | The Pencil Monument | Largs Marina | Haylie Chambered Tomb | Kelburn Castle & Country Centre | Secret Cold War Bunker | Loch Thom | Rye Burn Walk | Lynn Falls
---
Looking for more to do on The Shiel?: Try checking out Adams blog on 'The Best Things to See and Do in Largs'.
---
Our Top 3 Places to Eat on The Shiel
#1 – Room | 48-52 Gallowgate Street, Largs
Room is an award-winning family-friendly restaurant, located just off the seafront in Largs. Whether it's the Katsu chicken curry, their famous enchiladas, or a make-your-own-pizza for the kids, there's something for everyone here, with tastes influenced from across the globe.
#2 – The Three Reasons | Main Street, Largs
You only need one reason to go here. The top-quality pub grub. The fact they are #1 of 26 restaurants in Largs on TripAdvisor says it all, really.
Being from Largs myself, it's by far my personal favourite in the town. Stuart always has an exciting guest ale on too. They're not an official The Coig Partner (Shh! 🤫) but I couldn't resist including them in my Top 3.
#3 – Geraldo's | Main Street, Largs
This one is not so much a sit-in restaurant like the others, but rather a gift shop and sweet treats takeaway place. Geraldo's is Ayrshire's 1st and only 5-Star Tourist Shop based in the beautiful seaside town of Largs.
They are family-run and produce their own award-winning ice cream on-site and specialise in handmade chocolates, premium spirits, gift hampers, and a range of unique and unusual gifts that change throughout the seasons.
Our Top 3 Places to Stay on The Shiel
#1 – Seamill Hydro | Ardrossan Road, West Kilbride
Seamill Hydro is ideally located just seconds from the beach and dominated by stunning views of the Isle of Arran. The Hotel is family-owned and operated and boasts a comprehensive range of family-friendly facilities and services.
Featuring the Hydro Leisure Club including indoor heated pool and air conditioned gym and Beauty Therapy facilities.  Their fantastic restaurants The Orangery Restaurant and Aura Bar, offer a welcoming setting for a relaxed snack or formal meal.
#2 – The Waterside Hotel |  Ardrossan Road, West Kilbride
The Waterside Hotel is the newest hotel in the SimpsInns group after opening in 2015. This is a truly wonderful setting along the water's edge in West Kilbride with panoramic views across the Firth of Forth over to the Ilse of Arran.
The Waterside has 23 bedrooms in total and a full range of accommodation choices; from standard and deluxe rooms to the junior and spa suites. The Spa Suite is simply sensational with private lounge area, spa and sauna plus a private balcony to soak up those unspoiled views.
#3 – Knock Old Castle |  Largs
Luxury hotels not quite cutting it?… How about a 14th Century castle?
This castle is the perfect retreat for a luxurious gathering with family, where you can relax with your feet up around the wood burner.
Knock Old Castle dates back to the 14th-century and has been fantastically resurrected by the current owner into a truly unique, whimsical, fairytale castle. In what has been a 5 year long project, this detached castle has been lovingly restored. Local craftsmen have utilised their skills, imagination and expertise to make this property into something that will amaze every guest.
From the quirky doors and interior, where no straight lines will be found, to the sauna in the tower, and the painted ceiling in the keep, to the stunning views over the sea from the glass domed lookout, and not forgetting the sheep grazing on the wild flower roof. Old Knock Castle will be sure to exceed every expectation.
---
You are here. Feel free to skip through:
---
ROUTE 3: THE ARRAN
Distance: 70 Miles
Time: 1 – 2 Days (at least 2 hours 45 minutes drive time)
For: Foodies, Whisky Enthusiasts, & Outdoorsy Types
Check out The Coig's Interactive map of Route 3: The Arran
Arran is 20 miles long, 56 miles round, and is known as 'Scotland in miniature'. True to its nickname, it has something for everyone. The short 55-minute ferry trip over from the North Ayrshire coast takes you to a land of history, wildlife, and leisure facilities.
Ferry Tickets are only £8.00 return for a foot passenger and £31.90 return for a car. Arran also features in our Scotland's Most Accessible Islands blog.
You could rush around in a day, but I'd definitely recommend staying AT LEAST one or two nights. Here's what The Coig Ambassador, Lee McKenzie has to say about it:
Our Top 3 Things to Do & See on The Isle of Arran
#1 – Visit the Isle of Arran Distillery (Or distilleries now!)
Lochranza distillery was founded in 1995 at the north end of the island. They JUST opened a sister distillery at Lagg in the south, where they make a very unique style of peated single malt.  At both sites, you can book tours, tasting sessions, buy a whisky cask, and stop for lunch in the cafe. It's a must-do for any Whisky enthusiast!
#2 – Climb to the top of Goatfell!
Feeling up for a challenge? Admire stunning views and rugged mountain landscapes from the Isle of Arran's highest point. At 874 metres (2,866ft),  the mountain, along with nearby Brodick Castle, is now owned by the National Trust for Scotland. The name is believed to mean 'Goat Mountain'. The views from the peak are absolutely worth the climb… as long as you get a clear day.
#3 – Visit the Arran Cheese Shop
Located within Home Farm Visitors Centre, about one mile north of Brodick, the Arran Cheese Shop boasts a range of Arran and Scottish cheeses, a host of other Arran food products, and a large viewing window that allows you to see into the dairy and watch the cheese makers at work. Here, you can sample the delicious cheese before setting off to explore the island. The cheese goes hand in hand with Arran's own Wooley's Oatcakes – trust me! Nearby, you'll find Arran Aromatics and the Arran Brewery.
Here's everything else:
Goatfell | Glen Rosa Walking Route | Brodick Castle, Gardens & Country Park | Arran Brewery | Arran Cheese Shop | Wooleys Oatcakes & Bakery | Arran Aromatics | Arran Gin Co | Brodick Highland Games |  Mogabout Safari | Auchrannie: The A-Spa | Holy Isle | Whiting Bay | Pladda Lighthouse | Lagg Distillery | Kings Cave, Blackwaterfoot | Machrie Moor Standing Stones | Arran Distillery | Lochranza Castle
Our Top 3 Places to Eat on the Isle of Arran
#1 – eighteen69 | Auchrannie, Brodick
Scottish Tapas bar. Say no more. Located within the Auchrannie resort.
#2 – The Brodick Bar & Brasserie | Alma Road, Brodick
Great food, relaxed atmosphere, in an idyllic setting with a warm family welcome. Fresh Scottish Produce that doesn't hurt the wallet. Located just off Brodick's main stretch.
#3 – Stag's Pavillion | Lochranza
Opposite the golf course in Lochranza, and just across the road from the Arran whisky distillery. Expect traditional home-cooked food with a continental flair, all freshly prepared.
Deer roam freely around the valley enjoying the peace, freedom, green grass. Occasionally, they'll even pose for a photograph.
Our Top 3 Places to Stay on the Isle of Arran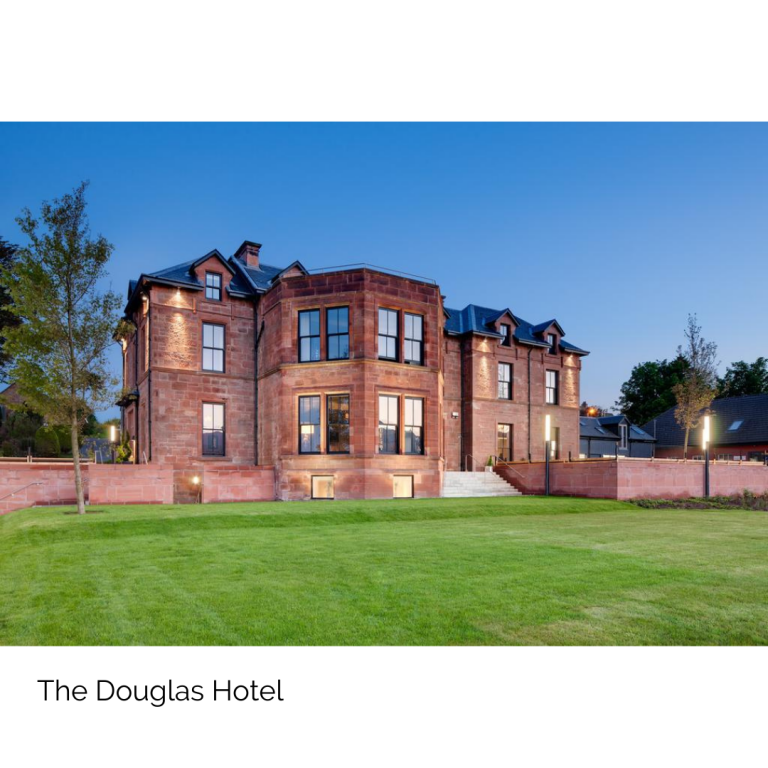 #1 – The Douglas Hotel | Brodick
The Douglas Hotel is the focal point of the village of Brodick and an ideal base for the discerning traveller. Offering a personalised level of service in luxury & comfort, the knowledgeable Douglas Team can assist with access to the abundance of activities available on Arran, whether they be sporting, cultural or historical.
Super friendly and already multi-award winning, no expense has been spared in creating the unique feel of home away from home whilst adding a touch of modern luxury.
#2 – The Auchrannie's Couples Lodges | Brodick
These 5 star, family-friendly lodges are perfect for those who are looking for a luxurious self-catering holiday. The modern lodges have stunning decor are fully self-catering with plenty of thoughtful extras.
There is a choice of two or three bedroom deluxe or executive lodges.  All of our lodges are 5 star, although some of the executive lodges offer added extras including integrated music systems.
I must say, they can be a wee bit steep in price though!
#3 – Oakbank Farm | Lamlash
Bungalow, Apartments, Cottages and Lodge with stunning sea views. Oakbank Farm Self Catering is a secluded converted farm steading set in 3 acres of private grounds on the edge of the Lamlash Village on the beautiful Isle of Arran.
Just a few hundred metres from the coast and within easy walking distance of the village, it's spectacular scenic views and relaxed atmosphere make it the ideal self-catering choice.
---
You are here. Feel free to skip through:
---
ROUTE 4: THE BUTE
Distance: 22 Miles
Time: 1 – 2 Days (at least 1 hour drive time)
For: History Buffs, Artsy Types, Seafood Lovers
Check out The Coig's Interactive map of Route 4: The Bute
The Isle of Bute holds many hidden treasures throughout its charming island villages and stretches in between. The island has many links to iconic Scottish architect, designer, watercolourist and artist, Charles Rennie Mackintosh. The annual Bute Highland Games draws in the masses, for a day of traditional Scottish fun, games and pipe band contests.
Our Top 3 Things to Do & See on The Isle of Bute:
#1 – Explore the port town of Rothesay
Rothesay is one of those towns you can just get totally immersed in. It's bursting with history and charm. The Victorian seaside resort on the island's east side has many signs of its victorian heritage, such as its splendid Victorian frontage cradling the romantic Rothesay Bay, and its beautiful esplanade gardens. An ice cream is mandatory.
#2 – Pay a visit to Mount Stuart House
A 19th-century mansion with extravagant interiors and expansive landscaped and wild gardens. The Georgian architecture of the wings presents a striking contrast to the otherwise Victorian design, providing a completely unique architectural blend. Taking a moment to absorb the sheer beauty of the building is an unforgettable part of the Mount Stuart experience. And that's before you've stepped through the door.
Inside, design inspired by astrology, art and mythology dazzles. See a map of the stars on the ceiling of the Marble Hall. Take the spiral staircase to what is believed to be the world's first domestic heated swimming pool. This house is filled with innovations – from an early telephone system to the Victorian passenger lift.
#3 – Check out Rothesay Castle
You can now explore the impressive and now fully restored Rothesay Castle, its dungeons, thick outer walls and grand hall. Here, you can see Scotland's only circular curtain wall – the four projecting towers were added after the Norse siege of 1263.
Step inside the great hall in the gatehouse, restored in 1900, to see displays about the castle and its royal owners. Walk around the moat to view the stone curtain wall in all its glory – and, of course, the resident ducks.
Here's everything else:
Mount Stuart House | Ruth Slater Artist's Phonebox | Ascog Village | Kingarth Ruins | Kilchattan bay | Port Bannatyne Marina | Inchmarnock Island | Bute Highland Games
Our Top 3 Places to Eat on The Isle of Bute:
#1 – The Courtyard Cafe | Mount Stuart , Rothesay
The Courtyard cafe sources the freshest local produce for their kitchen team to work their magic.
Their suppliers include their very own Mount Stuart Kitchen Garden team who work tirelessly to grow all of our fresh fruit and vegetables, Bute Cheese Co. for cheese produced using Milk and Cream from McAlister's Dairy and Smoked Fish from Ritchie's of Rothesay, who use a kiln which dates back to 1888! They also source all of their beef and lamb from MacQueens butchers who only use produce from island farms. Finally, all of their Fair Trade Tea and Coffee is supplied by Coffee Conscience.
The Courtyard Cafe and Bakehouse team bakes and cooks from scratch. They only use quality locally sourced ingredients to create the delicious hearty soups, fresh sandwiches, salads, hot 'Bute Bakes', and irresistible scones that they have become so well known for.
#2 – Ritchie's of Rothesay | Montague St, Rothesay
The finest smoked fish in Scotland, apparently.
Ritchie's history, traditional methods, and original recipe celebrate the island's traditions and heritage. It's this mix of old and new thinking that helps make them so distinctive, with the firm coaching apprentices in traditional styles of food production but also encouraging them to apply these techniques to exciting new concoctions of their own creation.
#3 – Harry Haw's | High Street, Rothesay
TripAdvisor's #1 of 20 Restaurants in Rothesay
Think restaurant quality, nothing frozen, great & tasty casual dining. Harry Haw's aim to provide the best in GRUB on the Isle Of Bute. Recently reimagined, they are now a mash-up of Grab&Go lunches & snacks, HOT Soups, 'Shake It Up Salads', Wraps, Rustic Baguettes, Coffees.  Then if you need more & substantial feeding they have Cocktails in a Can, Beers, Wines to go with their best POSH Pizzas, Lip Lickin' Fried Chicken, Chooky Bites, Chilli, Lasagne, Awesome BIG Burgers and much more.
Our Top 3 Places to Stay on The Isle of Bute: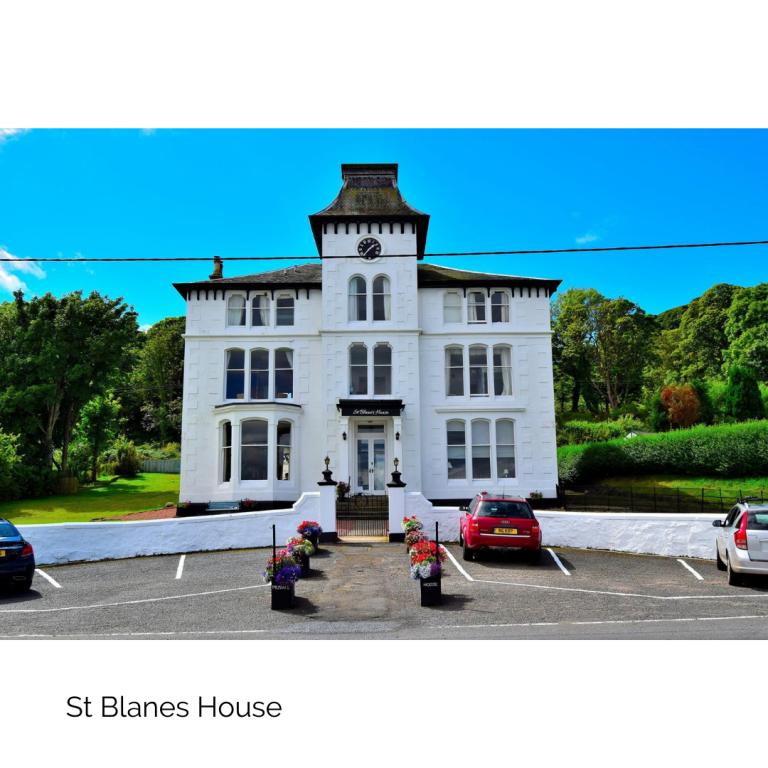 #1 – Quien West | Mount Stuart, Rothesay
Quien West is a stunning holiday cottage situated on the west coast of Bute overlooking Scalpsie Bay with the beautiful island of Arran forming a spectacular backdrop.
Situated up a farm track and on a gently sloping hillside, the property has a private patio area with outdoor seating. It has been furnished and decorated to a high standard with fabrics from renowned Bute Fabrics providing a colorful touch throughout.
Quien West offers accommodation for up to six guests, in two double bedrooms and one twin and provides immaculate and abundant living space for family holidays, corporate weekends, wedding parties and relaxing breaks.
#2 – The Glenburn Hotel | Mount Stuart Road, Rothesay
If you fancy something of grand spendour, The Glenburn Hotel is your top choice.
The hotel is set in a prime position atop delightful terraced gardens and was originally constructed in 1892 as a hydrotherapy retreat. It commands fabulous views overlooking Rothesay Bay and the Cowal Peninsula. Within the hotel, you will find 119 bedrooms including the chance to upgrade to a Superior Room for an even more comfortable stay.
#3 – St Blanes House | Kilchattan Bay
I love how this one is an openly self-proclaimed 30-person party house. Most accommodation providers have strict policies against this, but if you're looking for a big gaff, here's your pick.
Ideal for large family gatherings and celebrations, this spacious, detached holiday house on the Isle of Bute was previously a hotel and occupies a prime position on the water's edge, with spectacular views of the sea and the surrounding islands, showing the west of Scotland at its very best.
---
You are here. Feel free to skip through:
---
ROUTE 5: THE CUMBRAE
Distance: 10 Miles
Time: 1 – 2 Days (at least 45 minutes drive time)
For: Outdoorsy Types, Wildlife Watchers & Gin Connoisseurs
Check out The Coig's Interactive map of Route 5: The Cumbrae
The Isle of Cumbrae is known as Scotland's Most Accessible Island. At only an 8-minute ferry ride over from Largs on the North Ayrshire coast, you'll be on island time before you know it. The island is essentially a big 10-mile round loop, and is known as a cyclist's paradise.
You can knock this one out in a day if you're in a rush, or you can set the clock back to island time and stay for a few more. There's surprisingly loads to get up to, as you'll see below.
Our Top 3 Things to Do & See on The Isle of Cumbrae:  
#1 – Cycle the whole way round!
Don't forget your bike! A cycle round the outer circuit is an absolute must. The views across the clyde to Arran, Bute, Wee Cumbrae and the North Ayrshire Coast are nothing short of breath taking.
If you need a bike, luckily there are a few bike hire options in the main town, such as Mapes Cycles. Check out our full Guide to Cycling in Millport, Isle of Cumbrae.
#2 – The Cumbrae Rocks – Crocodile, Lion & Indian Rock
While you're exploring the island, see if you can spot all three 'Cumbrae Rocks' – Crocodile Rock, Lion Rock, and Indian Rock. These unique rock formations are something totally unique and something you just won't find anywhere else. Lion Rock has been in existence for 65 million years!
Check out our Cumbrae Rocks blog.
#3 – Visit The Isle of Cumbrae Gin Distillery
You might be thirsty after all of that exploring. The Cumbrae Gin Distillery is distinctively positioned as being one of the few all-female-owned gin distilleries in Scotland, drawing representation from the UK, Canada and the USA. 'NostalGin' is the signature gin and celebrates the strong emotional connection and nostalgia Millport holds in so many people's hearts.
Why not jump in for a tasting session (starting summer 2021), take a wee bottle home as a souvenir (trust me, it's unreal), or just to say hi to the lovely ladies.
Here's everything else:
The Glaidstone Viewpoint | Watersports in Millport Bay | The Wedge – The 'Narrowest House in the World' | The Cathedral of The Isles – The Smallest in Europe | The Isle of Cumbrae Gin Distillery | Lion Rock, Crocodile Rock & Indian Rock | Cycling Around the Whole Island | Wildlife Spotting | Wee Cumbrae Day Trip Sea Tour | Millport Calander Events
Check out our blog on Unique Things to Do and See in Millport, Isle of Cumbrae.
Our Top 3 Places to Eat on the Isle of Cumbrae
#1 – Brewbaker Cafe |  17 Stuart Street, Millport
An mazing bakery with fresh, tasty homemade goods. At Brewbaker, you can expect fresh food that is made with love. The café is fairly new to the Island and has quickly became one of the best places to eat in Millport!
Whether it's bread, quiche, cookies, cakes, tarts, bagels or muffins – you'll be sure to find some seriously delicious home baking. The best thing to do is just show up and check the blackboard to see what is fresh out of the oven!
Our recommendation: The chocolate brownie. It's undefeated. Wash down with a Brewbaker Latté.
#2 – The High Tide Cafe | Fintry Bay, Isle of Cumbrae
A sunset cafe with stunning views out over the Clyde to Arran and Bute. You'll find the Fintry Bay Cafe completely secluded on the West side of the Isle of Cumbrae and it's an obligatory stop if you're cycling around the island.
On a warm summers day it's the perfect spot for a break to enjoy an ice cream, milk shake or cold drink. They also have a great selection of fresh baking as well as soups, sandwhiches, wraps and toasties.
#3 – The Round Island Cafe | 51-52 Stuart Street, Millport
A fresh, modernised cafe which serving brilliant coffee, lunch and baked goods. The Round Island Cafe has a wonderful, warm welcome and many describe it as a wee Island gem. On the menu there's a selection of toasties, baguettes, baked potatoes, salads and soups.
They serve cracking homemade specials and all the baking is fresh too. You can even get an amazing Afternoon Tea! (the scones are home made and are to die for).
Our Recommendation: Their smoothies are the best. I'd recommend one of their Green smoothies – who knew blended broccoli could taste so good?
Check out our full blog on Places to Eat in Millport, Isle of Cumbrae.
Our Top 3 Places to Stay on the Isle of Cumbrae
For a tiny wee island, there is plenty choice to get your 40 winks in. Here are our Top 3.
#1 – Jacks Alt Stays – Alternative Eco-Cabins. Coming Autumn 2021.
That's us! You didn't think we were going to leave ourselves out, did you?
The Isle of Cumbrae happens to be where we are setting up our Alternative Eco-Cabins, later this year! Our unique concept combines quirky interior design, eco-consciousness, the great outdoors, and stunning scenic views, with all your mod cons thrown in too.
We're talking hot tubs, BBQs, wood-fired stoves, and cosy Netflix nights – all in a stunning island setting and powered by 100% renewable energy. Each cabin has its own story, interior theme, and one-of-a-kind wall mural.
Check out our Unique Tourist Accommodation Concept Here
#2 – The Bothy  | Figgatoch Farm, Cumbrae
Figgitoch Farm is situated on the beautiful Isle of Cumbrae with fantastic views of the Firth of Clyde. It's the perfect place for relaxing, walking, cycling, golfing, painting, or just chilling out. The bothy is a quaint, private & exclusive farm cottage which has been lovingly restored to a high standard, complete with a private garden and patio.
#3 – The College Guest House | Millport
The College is a Visit Scotland 3 Star Guest House. It is located next to Britain's smallest cathedral, The Cathedral of The Isles. Both were built at the same time in 1851 by the architect William Butterfield. The College was originally built for students of theology in the Scottish Episcopal Church.
The College was refurbished recently and now allows visitors to enjoy a unique combination of modern luxury and homemade meals in a building full of history and character.
Check out our full blog piece on Places to Stay in Millport, Isle of Cumbrae.
---
Jacks Alt-Stays – Alternative Eco-Cabins | Coming Autumn 2021
Check out our Next Generation Tourist Accommodation Concept and sign up to be the first to hear about our official launch!
Sign Up:
---
You are here. Feel free to skip through:
---
Well, there you have it… 5 Routes. One Great Adventure.
As soon as travel restrictions allow, hit that road and explore The Coig. For now though, here are some 'visual best bits' for you to enjoy.