Thinking about a trip to Millport on the Isle of Cumbrae, and looking for things to see and do? Well, you're in right place…
Here are all of the best and most unique things you can do on 'Scotland's Most Accessible Island'!
---
Please note that during the winter months, some of the local business close or reduce opening hours. It's always best to check online or phone ahead (you can always rely on the trusty pubs though!)
---
Feel free to skip right through: ⤵️
---
Millport: Here's What's in Store 🎥
The Glaidstone Viewpoint 🔭
360-degree panoramic view around the island? Now you're talking.
You can find the Glaidstone (also pronounced 'Glaid-stane') at the very top of the island, which is at a height of 417 feet (127m) above sea level. To put that into perspective, a Munro is any mountain in Scotland over 3,000 feet – so it's certainly no challenge to you Munro baggers out there, but a stunningly scenic walk up, nonetheless!
It's well worth the jaunt up to the top as the uninterrupted panoramic views across the River Clyde are unreal. You can find the Glaidstone as part of the Inner Circuit Walk and it takes about 40 minutes to reach the island's peak, starting off from Millport town.
Once you're up there, you'll see the neighbouring Clyde islands of Wee Cumbrae, Arran, and Bute, and back across to the mainland coast of North Ayrshire. On a clear day, it's nothing short of spectacular and you might be able to see as far south as Ailsa Craig.
Load up the route to the Glaidstone on your Google Maps app Here.
Back to Menu ⤴️
---
Isle of Cumbrae Distillers 🍸
Fancy a wee G&T after a long day of exploring the island? Well, our good friends at Isle of Cumbrae Distillers have got you covered.
Isle of Cumbrae Distillers is was started by a unique team of 5 full and part-time "Millportonians", distinctively positioned as being one of the few all-female distilling teams in Scotland, and the only international women's team, drawing representation from the UK, Canada, and the USA.
The idea began to blossom during Thursday quiz nights at Millport's 'Twa Dugs' bar, but quickly developed into the Isle of Cumbrae's first-ever distillery. The distillery was officially launched in September 2019 and, since then, has been a roaring success.
The team named their flagship gin "NostalGin" as it embodies the heritage of Millport as well as the Scottish Island experience. The gin itself has flavours of lavender, fresh island bramble and a hint of sweet orange.
They released their second gin – "Croc Rock" – in April 2021, appropriately named after the island's iconic Crocodile Rock. Then came "Restoration Gin" in November 2021, a percentage of profits go towards the regeneration of Millport's beloved Town Hall.
Currently, the lovely group have their store open in Millport town and have been running gin tastings and tours since Summer 2021. They also run seasonal events such as cocktail-making, lamp-making, and other workshops – so keep an eye out!
Here's a video of our recent visit:
Isle of Cumbrae distillers have JUST launched their latest edition – 'Maura' in June 2022, their first batch selling out in less than an hour!
You can find the Isle of Cumbrae Gin Distillery Here.
Back to Menu ⤴️
---
Lion Rock, Crocodile Rock & Indian Rock 🦁
The Isle of Cumbrae is home to a collection of quirky rock formations which can be found dotted around the island. Over the years these have become iconic Cumbrae landmarks, and they're bound to catch your eye as you're out walking or cycling.
The most recognisable out of the trio is the 'Crocodile Rock' which has been around for over 100-years! It is also considered to be one of Scotland's "quirkiest, best-known landmarks".
Croc rock's origins have a somewhat… interesting story to tell. Check it's, and the other rocks', story in our full blog post, The Cumbrae Rocks. We'll also share their locations around the island.
Back to Menu ⤴️
---
The Jack's Alt-Stays Experience
You didn't think we'd leave ourselves out, did you?
We've JUST launched bookings for our One-of-a-kind Cabin Concept in Millport.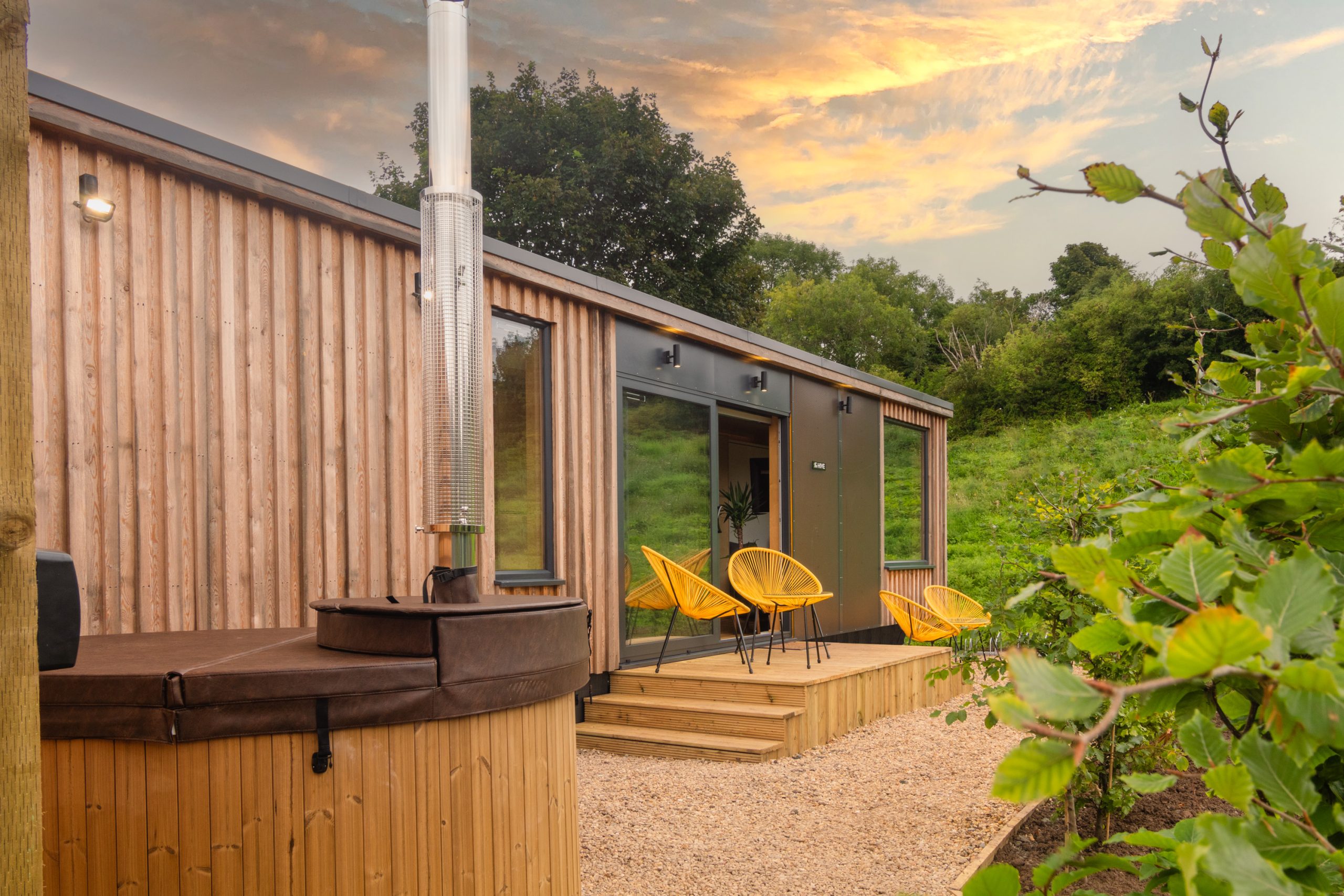 Welcome to the next generation of self-catering accommodation in Scotland.
We think of our one-of-a-kind Cabin Concept as a crossroads where quirky interior design meets eco-consciousness, in a stunning island setting.
Bookings are now OFFICIALLY LIVE! 🚀
Back to Menu ⤴️
---
Planning your visit to the Isle of Cumbrae? 📝
This blog post is part of our 'Ultimate Guide' to the island. Check it out by clicking the link below:
---
Watersports in Millport Bay! 🏄‍♂️
The Isle of Cumbrae offers brilliant opportunities to enjoy getting out on the water! Millport is incredibly popular with the likes of Stand Up Paddleboarding, Sea Kayaking, Snorkelling, and day Sailing.
Why not rent a kayak from 'On Yer Bike' and explore Millport bay?
With the sparkling water and beachfront lined with palm trees (actually 'New Zealand Cabbage Plants'), you'll feel like you're exploring an island paradise. You can paddle along the beach and out to the 'The Eileans' which are the two, small islets in the bay, offering a year-round home to Millport's resident seal colony.
---
💡 Top Tip – Make sure to stay safe whilst enjoying watersports! Millport Bay is sheltered and protected. As you head further out, you're exposed to elements such as currents and wind, as well as other boats. Check out the likes of the Scottish Canoe Association and RNLI for safety tips, as well as the Met Office for the weather.
---
Want to know the best part? You can find seals that live on The Eileans most of the year! They're amazing to watch from the kayaks so make sure to paddle out and pay them a visit.
Kayaking in Millport is suitable for almost all ages and the shop says, "as long as you can swim, anyone can hire our Kayaks". Life jackets are included with the hiring.
Back to Menu ⤴️
---
Cycle Around The Whole Island 🚴‍♀️
Cumbrae was made for cycling, and I'm not just saying that…
You won't find many islands in the world that come in the form of a perfect 10-mile circular cycling route. So get that helmet on and hit the road!
You'll find a couple of different cycling route options on the island, but the best is just to cycle right the way around.
But… clockwise or anti-clockwise? 🔄
Well, that's the big question.
Scott Ferris of Mapes Cycle Hire would always recommend going around anti-clockwise. That way, and if you're starting from the Cumbrae ferry slip, you avoid the ferry traffic that heads straight to the town, and you can relax on the long way around the north and west side of the island.
By going anti-clockwise, you can stop in at the Fintry Bay Cafe at the three-quarters(ish)-round point for an ice cream and a juice, giving you that well-deserved, energy boost through the final stretch towards Millport town.
If you're looking for tips for cycling on the island, I'd recommend checking out our full Guide to Cycling Around the Isle of Cumbrae.
Needing to rent a bike? You have the options of Mapes Cycle Hire, or 'On Your Bike' for flexible bike hire that won't break the bank.
💡 Top Tip – If you're a group of 3+, why not try the 4-person, QUADRICYCLE!? – it's a fair challenge but some laugh!
Back to Menu ⤴️
---
The Cumbrae Sensory Trail 🥾
The Sensory Trail takes you around Cumbrae's 10-mile coastline, giving you the opportunity to delight in the island's nature, wildlife, sandy bays and pebble beaches, sea life, and beautiful scenery. 
There are five Sensory Point Markers on the trail where you can just pause in peaceful and calming surroundings. They look like this:
These are at five coastal locations around the Island namely, Farland Point (1), Ballochmartin Bay (2), White Bay (3), Fintry Bay (4), and Sheriff's Port (5).
With the help of the audio guide below, you can see, taste, smell, touch and listen to aspects of Cumbrae and relax and unwind through this enjoyable and invigorating sensory experience. 
You can cycle, walk or drive around the Trail. All markers are near the roadside, apart from Farland Point, which is a short, but level walk. 
Look out for the ball at the top of the Sensory Point Markers – touch all five and take with you the gift of luck from the Islanders! 
Introduction
1. Farland Point
2. Ballochmartin Bay
3. White Bay
4. Fintry Bay
5. Sheriff's Port
Back to Menu ⤴️
---
The Wedge 🧀
The Isle of Cumbrae is home to what was crowned "The Narrowest House in World".
The front of 'The Wedge' only measures 47 inches and it has a place in the Guinness Book of Records for being the narrowest ever recorded home. Well… it did until a house in Warsaw, Poland, named the 'Keret House' stole the title in 2008, at 32 inches wide.
So, Millport's Wedge has now claimed the title of 'Britain's Narrowest House'.
See what they did with the last letter 'E' there? ⤴️ That tickles me every time…
The house gets wider as you move towards the back and is uniquely shaped like a wedge of cheese, hence the name.
Despite the tight squeeze, The Wedge boasts beautiful sea views and it's right in the middle of Millport town – so no complaints on location!
Unfortunately (as it's someone's home) you can't actually go inside, but make sure you keep an eye out for this bizarre, wee house when you're in town!
Back to Menu ⤴️
---
The Cathedral of the Isles ⛪️
For a wee town, on a wee island, Millport has a few 'wee' claims to fame…
The Cathedral of the Isles is actually the UK's smallest cathedral
You can find the Cathedral tucked away in the trees just behind the town of Millport. The grounds and building itself are beautiful, so it's definitely worth the short stroll up from the shorefront to see.
Inside you'll also find The Cloisters Tea Room, where you can enjoy freshly baked cakes, scones, savouries and sandwiches in the tranquil setting of the Cathedral.
Back to Menu ⤴️
---
💡Top Tip – Leave nothing but footprints!
Let's keep Scotland's landscapes litter-free. It should go without saying, but if there's not a bin nearby, do the right thing by taking it with you. Also, please use recycling points where available.
---
Take a Cruise on the Waverley! 🚢
Dating back to 1945 when it was originally built, The Waverley is the last seagoing paddle steamer in the world!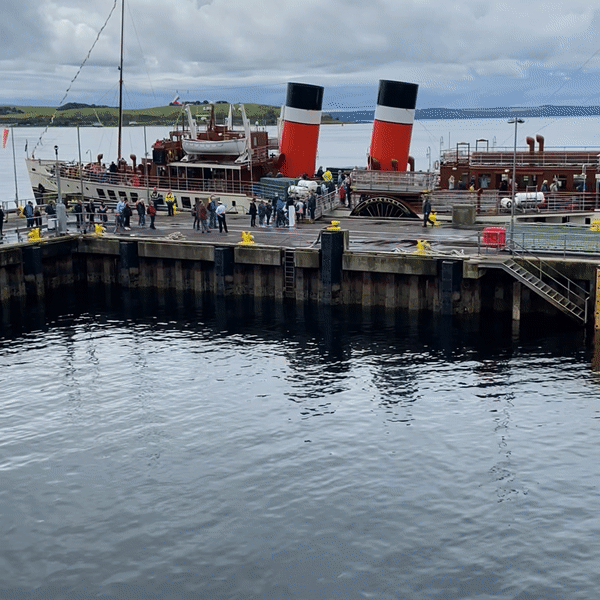 The Waverley worked a happy working life up until 1974, until she was given a new career path offering regular trips around the Clyde Islands, The Western Isles, and across the UK. At this point, it quickly became one of Scotland's most beloved and best-known tourist attractions!
Celebrities such as Sir Billy Connolly certainly enjoyed sailing "Doon The Watter", and often speak fondly about their experiences on The Waverley. Here's a video of him making a tribute to the paddle steamer in his song "Clydescope":
After a £2.3 million re-vamp at the start of 2020, The Waverley returned to provide post-Covid voyages and has been touring about during the summer seasons ever since. On-board the ship there's catering available including tea & coffee, hot & cold food and a bar lounge serving cold refreshments.
Day trips leave from many different locations including Largs, Millport and Glasgow. Click here to check for 2022 excursions and plan your trip!
---
💡Top Tip: If you do choose to cruise, make sure to get yourself down to the engine room to see the giant triple-expansion steam engine in action!
Back to Menu ⤴️
---
The Garrison House 🏛
Down the road from The Cathedral, you'll find the gothic-style Garrison House.
This one has a pretty unique story…
The Garrison house was built in 1745 by Captain James Crawford. It was originally built as the residence for the Captain himself, and his officers of the Revenue Cutter Ship, The 'Royal George'.
The Royal George Ship was strategically stationed at Millport and played a key role in enforcing customs and excise on the ships passing through the Firth of Clyde. The Ship was also hot on the heels of smugglers who attempted to smuggle all sorts of contraband up the Clyde.
The land that The Garrison House sits on was owned and leased out by the Marquis of Bute back in the day, for the small price of one white rose, to be paid yearly on the 11th of July (I wish my rent was this cheap). If you look to the grounds you'll see the front garden still has white roses in it to this day.
Today, the Garrison House hosts a cafe, museum, and has some lovely gardens to walk through, or even find a spot for a picnic.
You'll also find a pretty impressive model railway, based on Millport (with a slightly exaggerated rail network).
Back to Menu ⤴️
---
Wildlife Spotting 🐬
Fancy yourself as an aspiring David Attenborough? Well, you're in luck.
The island is a paradise for nature lovers and wildlife watchers with over 125 species of birds, seal colonies, porpoises, and basking sharks.
Around Cumbrae's coast, it's quite common to see grey seals and harbour porpoises. If you're lucky, you may even be lucky to see Minke whales, basking sharks, and common dolphins.
View this post on Instagram
💡 Top Tip – You can often see porpoises from the ferry over to the island, so keep an eye out!
You'll also see a huge variety of birds around the island's coast. Around Millport itself it's you'll see ducks, oystercatchers, red-breasted mergansers as well as the usual gulls. Just make sure they don't steal your chips!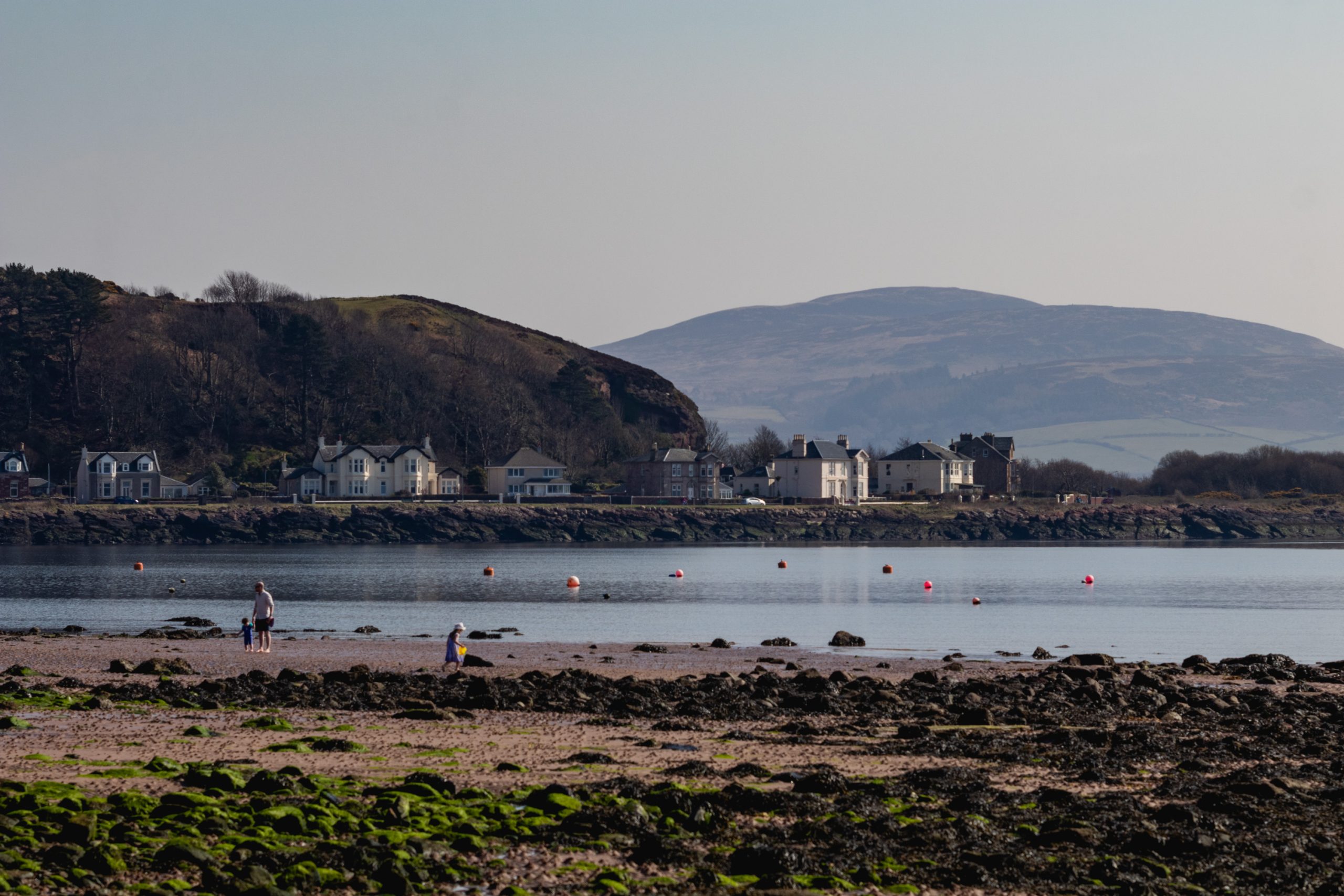 A great place for fishing and spotting wildlife is down at Farland Point. Check out how to get there by reading our Best Walking Routes on the Isle of Cumbrae blog.
Back to Menu ⤴️
---
Field Studies Centre (FSC) & Aquarium 🐡
If you just can't get enough of the wildlife, then check out the FSC and its Robertson Museum & Aquarium!
Previously the University Marine Biological Station, the centre is now an intriguing museum and aquarium showcasing the native marine life and habitats found around the island, and it's history. There are expert staff, interactive displays, and even touch tanks too!
Recently refurbished, the aquarium experience is a great one for the kids (and you big kids too!).
Opening hours are Monday – Friday from 11am – 3pm.
Back to Menu ⤴️
---
Wee Cumbrae Boat Tour 🛥
Fancy exploring an uninhabited island? Well…
Clyde Charters have gained permission to land day trip passengers onto the magnificent place that is Wee Cumbrae.
Daniel hopped on one of the very first boat trips here. Check out his Wee Cumbrae TikTok video that went viral!
At the moment Clyde Charters are only setting off from Largs Marina, but we're talking with them to arrange a Millport pick-up, possibly in 2022!
There are lighthouses, castles, cairns, caves, and abandoned forts. This is a must-see place for hillwalkers, bird spotting, photographers, and all other outdoorsy types.
You'll also have an opportunity to see lots of amazing wildlife on this tour, including Cumbrae's own resident dolphin!
Why not read Daniel's blog about his experience going on the Clyde Charters Voyage.
'Jet Black' is another provider of boat tours to Wee Cumbrae, and around Cumbrae and Bute. Tony's the guy that runs these, and does so on a very much bespoe basis. Give us a shout if you fancy that, and we'll put you in touch with Tony.
Back to Menu ⤴️
---
Golfing in Millport 🏌️‍♂️
I challenge you to find a golf course with a better outlook than at the Millport Golf Club. Seriously, what a view:
This special golf course is often described as a 'hidden gem' by visiting golfers and it's one of the best ways to take in the surrounding beauty of the island.
Meander around the well-maintained course as you enjoy stunning views across to the Isle of Arran, Bute, and the Ayrshire coast.
During the summer season, full catering and bar facilities are available. Visitors can also organise catering packages including breakfast, lunch, and dinner.
Don't fancy the full 18-holes? Not to worry, there's always crazy golf on the Millport promenade.
Back to Menu ⤴️
---
Fancy a Unique Stay on The Isle of Cumbrae?…
We've JUST launched bookings for our One-of-a-kind Cabin Concept in Millport.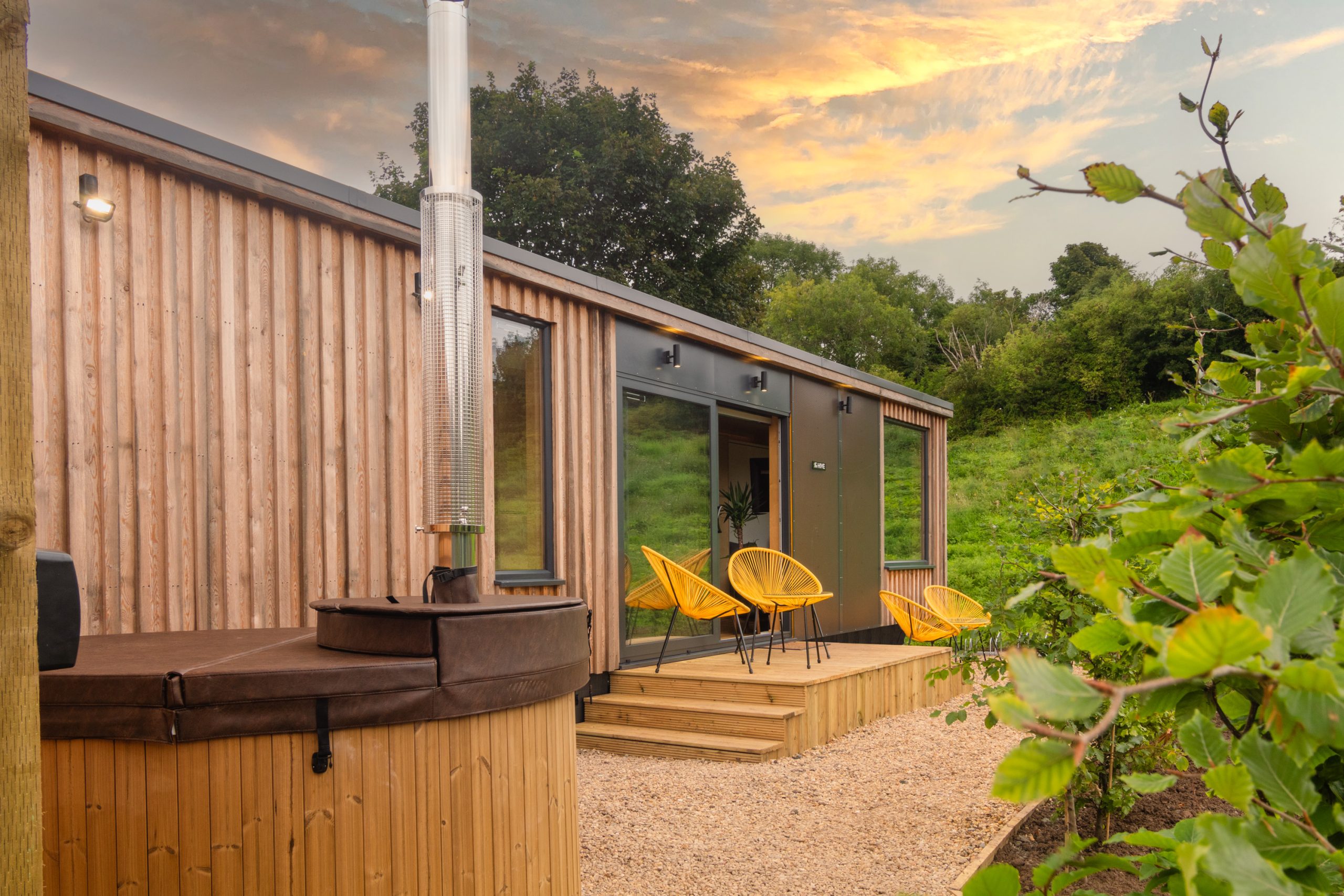 Welcome to the next generation of self-catering accommodation in Scotland.
We think of our one-of-a-kind Cabin Concept as a crossroads where quirky interior design meets eco-consciousness, in a stunning island setting.
Bookings are now OFFICIALLY LIVE! 🚀
---
Millport Calender Events 🤠
If you're lucky enough to visit on one of the many event weekends, you're in for a treat. From the Classic Car event in early May, to the Scooter Rally in late August, these are some pretty unique events you'll find in Millport.
The Island's flagship event is the Country and Western Music Festival in September where thousands of revelers descend onto the island in fancy dress for live country music, lively bar atmospheres, and fun activities for kids.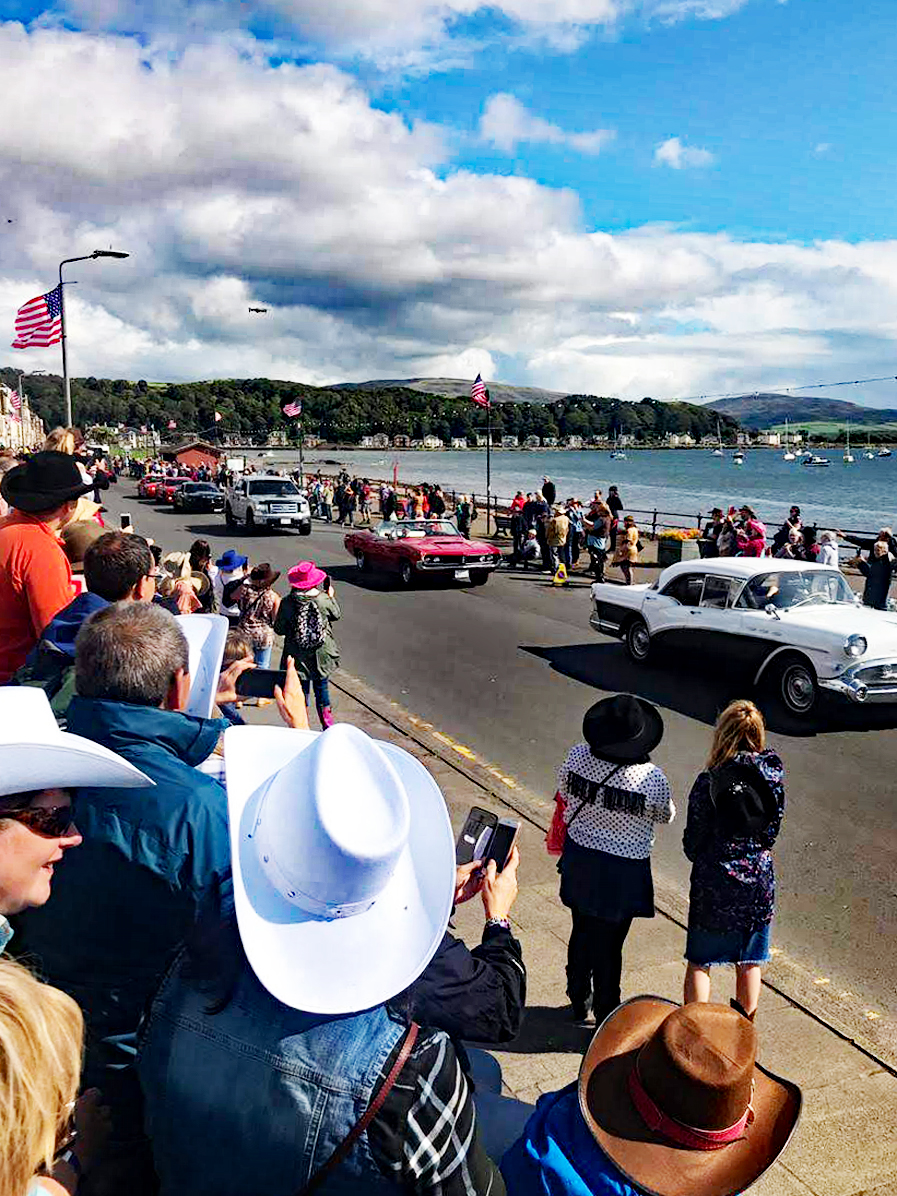 If you're more of the artistic type, the Cathedral of the Isles runs a Classical Guitar Retreat in July a brand new Opera Retreat Festival in 2022, and you'll find several "plein air" painting events.
There's also the September Weekend fireworks, and if you're feeling wild, the January 1st Loony Dook to obliterate your Hogmanay Hangover.
Back to Menu ⤴️
---
Geocaching 🧭
Here's a way to have some fun while you're out exploring the island – Geocaching!
Geocaching is a real-world treasure hunting game where participants navigate to coordinates in order to find treasure, or the "geocache". Geocache come in all sorts of different shapes and sizes, and can be anything from boxes, to plastic containers, to film canisters.
Inside the geocache, you'll find a logbook to sign and some treasure! Take a bit of treasure and replace it with something of your own, to mark your visit.
There's plenty of geocache to be found on the Isle of Cumbrae, so grab your smartphone and get searching! Click here for more info.
Back to Menu ⤴️
---
Millport's German WW1 Cannon  💣
Here's one that's unique.
While exploring the West Bay area, you might notice a particular anomaly in the wall? Indeed, there's a Cannon embedded in the wall…
…Well, it's actually a German Howitzer 150mm field gun which was manufactured in Munich for use by the Germans in WW1.
There were originally a pair of these guns in Millport, located around here in the West Bay area. But how did they end up here? (Take this story with a pinch of salt…)
Well, back in 1919 Millport Burgh was selected, along with many other Scottish burghs, to be given captured German ordnance as a form of memorial from WWI. This act by central government proved to be very unpopular as the public felt they were an unwelcome reminder of the war. Largs had actually been given a machine gun that was in such poor condition they sent it straight back!
So what happened to two guns in Millport's West Bay? Well as I said, people just didn't want them here. So, one "disappeared", which roughly translates to 'launched into the Clyde', and the other was buried, and since then, the seawall was built above it. The ground has since weathered and it sits partially exposed, resulting in another unique thing for Millport's visitors to come and see.
Back to Menu ⤴️
---
Kelburn Castle & Country Centre 🏰
Now, technically you won't find this place on the Island, however, we couldn't resist adding it to our 'Unique Things to See & Do' list.
You'll find Kelburn Estate across the water, just on the edge of Largs town, and since it's so close, it's definitely worth a visit as you pass by.
At Kelburn you can expect woodland walking routes, waterfalls, and a (very) colourful castle. It is great fun for all ages, whether you're a family looking for a day out, or a couple looking for an adventure.
Grab those walking boots and get ready to explore the wonders of the enchanted forest. Once you're finished, you can stop off at the on-site café for some food and refreshments.
Check out some of the best things to see and do in Largs.
Back to Menu ⤴️
---
So, there you have it…
All of the best and most unique things to see and do on Millport, Isle of Cumbrae!
Oh, and lastly. Although we encourage you to get out there and explore, please remember one thing…
…Once you get off that ferry, you're officially on island time. You've arrived on the Isle of Cumbrae, where the clocks run a little slower.  Make sure to switch off for a while, enjoy being away from it all, and most importantly, RELAX.
Have a great trip!
---
Ultimate Guide to Millport, Isle of Cumbrae:
For everything you need to know about planning your visit to the island, check it out our full guide: