After a long and difficult two years of travel restrictions and uncertainty, it's super exciting that we can finally get back out there and explore the wonders Scotland has to offer. As we do so, it's a great time to really reflect on how we can do this responsibly – to be a 'Responsible Tourist'.
Here are 10 ways to be a Responsible Tourist in Scotland, this Summer:
1: Leave Nothing but Footsteps 👣
Let's keep Scotland's landscapes litter-free by binning it. It should go without saying, but if there's not a bin nearby, do the right thing by taking it with you, and of course, use recycling points where available.
Even better – leave the place in a better state than you found it if you can.
This is your opportunity to get your good deed of the day in. Add in an extra few bits of litter to your own clean-up. It'll all add up to a clean and tidy Scotland for everyone to enjoy!
We touch on this in one of our business' four founding values, which is to;
"Respect Your Backyard – Leave nothing but footsteps. Always respect your surrounding environment and leave it a little better than you found it."
See Jack's Alt-Stays' Values here
2: Choose a Sustainable Travel Option 🚴‍♂️
Being a responsible tourist is far more than keeping places tidy. It's also an opportunity to do our bit for the wider climate crisis.
Instead of the car, why not opt for a greener staycation travel option such as train travel? If you're visiting an island, why not ditch the car on the mainland and make the most of the public transport links?
Alternatively, why not take it slow and explore by bike or foot? In my opinion, that's the best way to soak in your scenic surroundings. Good for the planet, and great for your health.
Check out Millport, the island of 1,000 bikes.
---
VisitScotland – #RespectProtectEnjoy Campaign Video
---
3: Support Local Business – Shop Local 🛍
Small, local, tourism-dependent businesses have been hit particularly hard by the pandemic. Here's how to support them as they re-open and recover.
If you fancy a coffee, why not stick your few quid in a local family-owned café's till, rather than Costa's or Starbucks'?
Now that I mention that, don't be afraid to spend a few quid, whether it's in the local bakery, craft shop, or distillery. Who knows, you could discover a hidden gem you wouldn't have otherwise!
Choose restaurants that use local produce. Not only are you supporting the local restaurant and the family running it and the staff they've given a job to, but you're supporting all of the local businesses up the supply chain, behind the scenes.
Check out the Best Places to Eat in Millport, Isle of Cumbrae.
4: Choose a Sustainable Place to Stay 🌎
Choose overnight digs that have their eco-credentials in place.
Even something as simple as them using eco-friendly cleaning materials, or using a sustainable linen supplier shows they've thought about their environmental impact.
Perhaps they've even earned their Green Tourism Gold Certification. Look out for this badge on their website:
Knowing you've made a conscious decision as a responsible tourist to stay eco, you can rest easy and stay with environmental peace of mind.
I suppose this is a good time to let you know about our Unique Cabin Concept in Millport.
They're built locally from sustainable materials, are powered by 100% renewable energy and we'll have a tree planted for every booking made, through our partnership with Ecologi.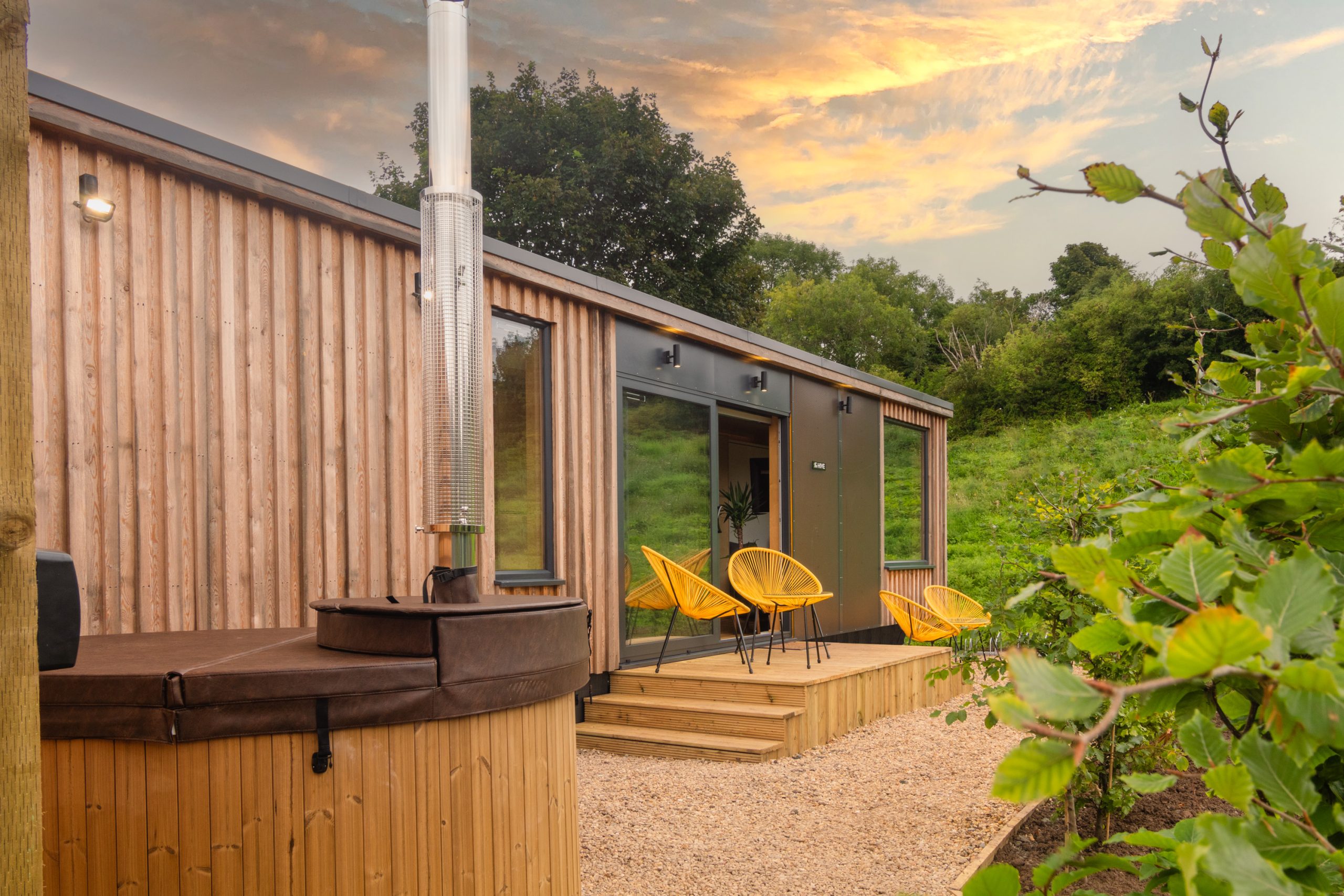 Welcome to the next generation of self-catering accommodation in Scotland.
We think of our one-of-a-kind Cabin Concept as a crossroads where quirky interior design meets eco-consciousness, in a stunning island setting.
Bookings are now OFFICIALLY LIVE! 🚀
---
5: Be a Responsible Walker / Dog Walker 🐾
Stick to the trail and follow the signs. The National Trust for Scotland charity puts a lot of work into maintaining our woodland pathways, so they are safe for us all to use. To avoid eroding them, try to stick to the official routes where possible.
If you're walking your furry friend, it makes sense to always have a lead handy and be aware of any livestock around.
Now, I know many dogs don't need kept on the lead most of the time (mine certainly doesn't!) but do keep one handy and use it if you're walking by any livestock – especially in calving/lambing season!
6: Waste Not, Want Not. ♻️
Staying in self-catering accommodation? Only bring the provisions you need to try and minimise food waste. Even though you are in holiday mode, do bring your best practices at home on your trip with you.
Again, go for some local produce to have the best local experience!
I suppose this could be extended to energy use too. Have you been guilty of leaving the light and/or heating on in your accommodation while heading out to explore? I think many of us have been.
Every little carbon emission avoided eventually adds up. Only use the energy you need, and you can sleep easy, knowing you've done your bit for the planet.
7: Shop Eco/Ethical 🌱
Now, I mentioned shopping local above, but go even further and shop eco/ethical.
Loads of local shops in destinations around Scotland take pride in offering some fantastic eco and ethical products.
Whether the local business is a Living Wage employer, or sells FairTrade, Vegan, eco-friendly, or recycled/plastic-free products, make your pound work not only for you, but for the environment and community too.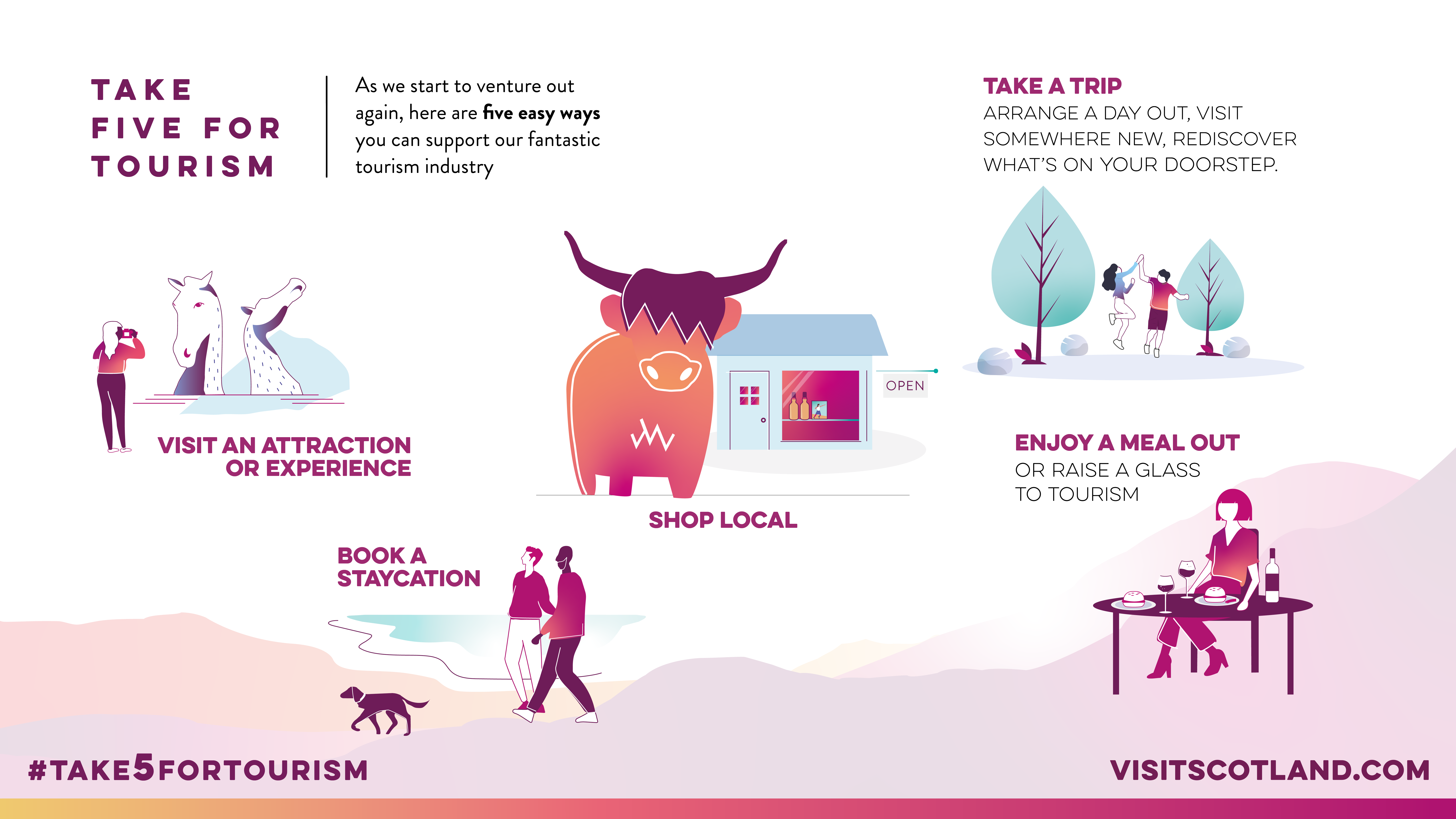 8: Consider Donating to a Local Cause 🎗
Leave a small but lasting legacy of your visit.
Many of the small communities you visit will have local fundraising initiatives on the go. Keep an eye out for posters or donation tins in shops etc. This could be a great alternative way for you to leave the place you visit in a better way than you found it.
9: Before you visit, do your homework 📖
This might be an obvious one, but the more you learn, the richer the travel experience you'll have. Trust me, you'll discover wee gems, you would never have come across otherwise!
Embrace the local culture & learn more about it. Isn't that what travelling is all about?
Check out our blog on Unique Things to See & Do in Millport, Isle of Cumbrae.
Finally, 10: Hands, Face, Space 😷
Although brighter days are now ahead of us, we are still not out of the woods yet.
It's important that alongside our extra freedoms, we take the responsibility of not bringing the virus to the often remote communities we visit.
Always follow the government guidelines around travel and household mixing for the area you are traveling from, traveling through, and traveling to.
Let's all do our bit to keep this virus at bay and keep tourism safe and open for good. Please also follow the instructions in shops, accommodation and shared spaces.
---
There you have it – 10 ways to be a responsible tourist in Scotland.
If you got this far, thanks for checking out the blog!
I'm Daniel Jack – the person behind this blog, and one of the cousin duo behind Jack's Alt-Stays (That's me on the left 👇)
I'll leave you with my thoughts on responsible tourism…
I'd say being a responsible tourist is to have some amazing and unique travel experiences without harming the environments and communities that we visit and protecting them for generations to come.
In my opinion, it's all about respect – Respect for people, places, and the environment.
Responsible tourism is more than just reducing our negative impact as we explore Scotland. It's about seeing tourism as a force for good.
It's about focussing on how we not only maintain, but improve places for people to live and visit, around the whole of Scotland…. about respecting our environment, addressing climate change and protecting our cultural heritage and everything around it. Responsible tourism is welcoming everyone to Scotland with open arms, regardless of age, race, gender, religion, sexual orientation or level of ability. It's about making sure that tourism in Scotland is inclusive and accessible for all.
Most importantly of all though, it's about sustainably rebuilding our tourism industry, and the rural, tourism-dependent, often family-owned businesses within, after the devastation caused by the global pandemic over the last couple of years.
#RespectProtectEnjoy
---
Check Out:
---
VisitScotland's Visitor Pledge
To finish, why not save this image for the next time you're out exploring Scotland?