Being an environmentally focussed business, we thought long and hard about our choice to advocate the use of wood-burning hot tubs.
Wood burners are charming, smell great, and have an amazing aesthetic, but are they eco-friendly?
Well, the short answer is – yes! The key is being responsible, sensible, and sustainable in your burning practices.
What type of fuel should I use? 🪵
You might be thinking that the obvious answer here is, well… wood?
Turns out, there's loads of different biomass fuel options out there, some of which are better than others, depending on your requirements.
As a business, we've been round the houses (and then some) when it came to choosing the right type of fuel for our hot tubs. For us, we needed something that was fit-for-purpose, highly energy efficient, and kept our carbon emissions to a minimum.
We looked at all sorts of fuels, from eco sawdust briquettes to kiln-dried logs, and even re-purposing waste wooden pallets. There are also other environmentally friendly options such as soy logs and compressed paper bricks.
There's pros and cons for all of these, but ultimately, we chose to go for what we believe to be the best and most environmentally friendly option – Coffee Logs (more on these shortly).
Wood fuel at a glance 👀
For a long time, we were sold on using kiln-dried logs for our wood fuel. When managed properly, it's a fantastic option.
The moisture content in kiln-dried logs is very low (under 20%), meaning less CO2 emissions, less smoke, and an all-round cleaner fuel. Furthermore, if sourced from sustainable forests and local suppliers, you can manage your wood burning practices responsibly and sustainably.
Saying that, there is still a carbon footprint associated with the kiln drying process, as the moisture in the freshly cut logs is essentially "cooked off" at a high temperature. As an alternative, you could use seasoned logs, however this requires a fresh wood source, storage space and a fair amount of time.
If you do choose wood fuel, the key to sustainability is by creating a 'closed carbon cycle'. Carbon is a pollutant and is a product of the lifecycle of a tree. When trees are growing, they absorb carbon, and they release carbon when they rot or when they are burned.
If carrying out truly sustainable practices, enough trees should be re-planted to absorb (at least) the carbon released from the wood fuels.
Coffee Logs ☕
So, after exploring our options, here's where we ended up – Coffee Logs.
These fantastic wee logs are designed for wood burners, and believe it or not, reduce greenhouse gas emissions.
Yep! Coffee logs are essentially a product produced from 100% waste coffee grounds generated by cafes. All these coffee grounds would otherwise be going into landfill where they would emit methane, a greenhouse gas 25x more potent than carbon dioxide.
Each log is the equivalent of about 25 cups of coffee – that means 400 cups per bag! They're also super energy efficient and have fully recyclable packaging, so tick all the boxes with their eco-credentials ✅.
Here's a quick snapshot:
♻️ Coffee Logs are made in the UK, from recycled UK coffee grounds.
You might find the best possible wood supplier, but if it turns out it's shipped over from elsewhere in Europe, then that's no use to you!
Bio-Bean also transport all their Coffee Logs using DPD – a carbon neutral courier service.
🔥 Coffee Logs burn 20% hotter than kiln-dried wood.
This is due to their high calorific value and low moisture content (10%).
Less moisture = more efficient & less emissions
📦 Coffee Logs are packaged in 100% plastic-free and fully recyclable packaging.
When exploring options, we once ordered a sample pack of 'eco wood-briquettes' from 60-miles away, but they showed up to my front door comfortably wrapped in layers of non-recyclable plastic…
Lesson learned, I guess.
Do they work in practice? 🤔
So, equipped with all our research, Coffee Logs seemed like a no brainer 🧠
All sounded good on paper, but do they work in practice?
When it came down to the testing in our wood-fired hot tubs, it's safe to say the Coffee Logs lived up to expectation.
Our first impressions were how light the logs were, as well as the hint of coffee you could smell as you opened the bag. When burning, it didn't smell of coffee, but they gave off some nice, natural aromas.
The most impressive thing about it was the heat up time. We found that we could heat up our hot tub to temperature in less than 2 hours and 30 minutes. When compared to kiln-dried logs, this was about 15–30-minutes quicker.
The Coffee Logs were also brilliant at retaining heat and seemed to keep the water at temperature for a longer time. As an added bonus, there was also remarkably less ash and mess left over from the Coffee Logs, so it felt like a cleaner fuel.
Overall, our trial was a huge success, and we felt confident that we'd found a fuel which was both highly efficient, and gave us the feel-good factor of using a product which is made from 100% waste.
What type of wood-burning appliance should I use? 🔥
If you're going to choose to burn any fuel, it's only right that you chose a modern and efficient wood burner.
In general, enclosed wood burners are engineered to get the maximum amount of energy, and thus heat, from your fuel. In fact, when compared to open fires, they are dramatically more efficient and release up to 10 times fewer emissions!
For us, we use a company called Skargards to supply our wood-fired hot tubs. They are the very best in Swedish hot tub manufacturing and are built sustainably for efficiency and durability.
Check them out:
We also chose to use purchase their 'insulated cover' which accelerates the heating process by up to 30% in winter and preserves the heat after use for the next day.
The efficiency of the hot tub and the heat retention of the insulated cover is very noticeable.  We've previously put the insulated cover on after a full night's use and found that the water is still at a welcoming 35 degrees the next morning!
This means less fuel used, and an easy heat up for the next day – nice one.
---
Fancy a dip in one of our tubs?
We've JUST launched bookings for our One-of-a-kind Cabin Concept in Millport.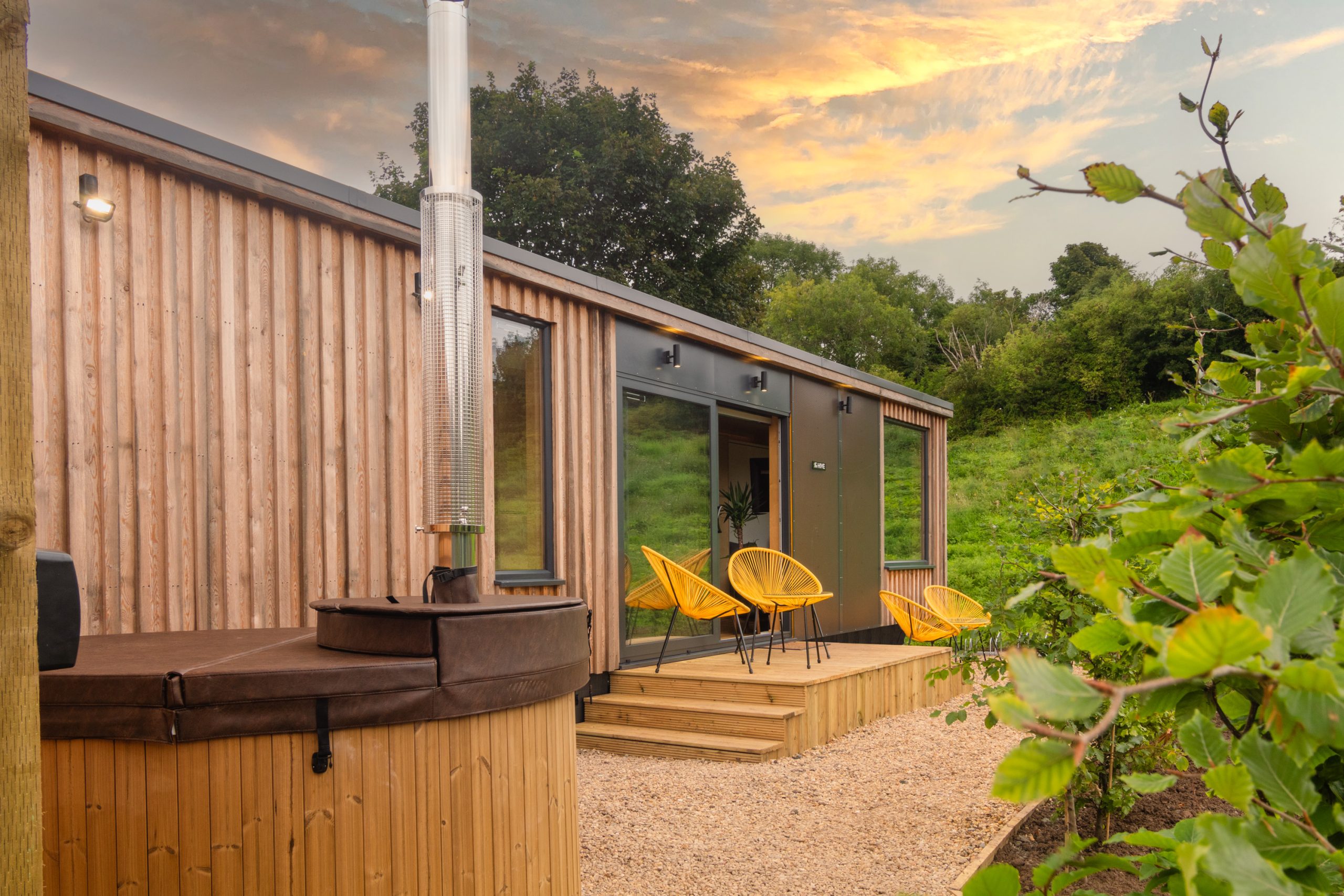 Welcome to the next generation of self-catering accommodation in Scotland.
We think of our one-of-a-kind Cabin Concept as a crossroads where quirky interior design meets eco-consciousness, in a stunning island setting.
Bookings are now OFFICIALLY LIVE! 🚀
---
Why not electric hot tubs? ⚡️
This is something we get asked quite often. Again, there are pros and cons to both options.
One of the deal breakers here was the heat-up time. Wood-fired hot tubs can reach temperature in 2-4 hours. Electric hot tubs can take 8-12 hours from, which for our use case as short-stay tourist accommodation, simply didn't work.
The only alternative to avoid the heat up time would be to keep the hot tub "switched on" at all times, which a lot of people do in domestic settings. Of course, this is just churning through masses of electricity.
Ultimately, we just found it difficult to justify electric hot tubs for our use case. Besides, they also don't have the same natural charm and aesthetic as the Skargards tubs do 😉
How are we aiming to achieve a 'closed carbon cycle'? 🌎
From the outset, we've been determined to create a genuinely sustainable business.
Firstly, we recognise that we're producing carbon through things like Coffee Log fuel and ferry travel. Secondly, we look at how we can reduce, then off-set our carbon footprint.
Through our partnership with Ecologi, we currently donate a set amount each month to fund carbon capture and reforestation projects around the world. 
Further, with the help of Ecologi, we're vowing to plant a tree for every single booking at Jack's Alt-Stays!
Check out our impact so far:
2 YEARS

of Climate Impact

39 TONNES

of CO2e Avoided

2546 TREES

In Our forest
To find out the 11 ways we're doing our bit for the planet, check out our Climate Action Plan.
So, there you have it…
If you're like us and care about the environment, but also love the warmth and aesthetic of a charming wood burner, then not to worry!
The fact is, burning wood comes with a lot of responsibility. Wood burners are brilliant, but it's important to do your research.
To summarise, you should use responsible practices, choose sustainable suppliers, and always think about the bigger environmental picture.
With proper practices, it's easy to make your wood fuel an environmentally-conscious fuel.
---
Who are The Jacks?
We're two cousins with a passion for adventure, quirky stays, and the environment. 
We've JUST launched bookings for our One-of-a-kind Cabin Concept in Millport.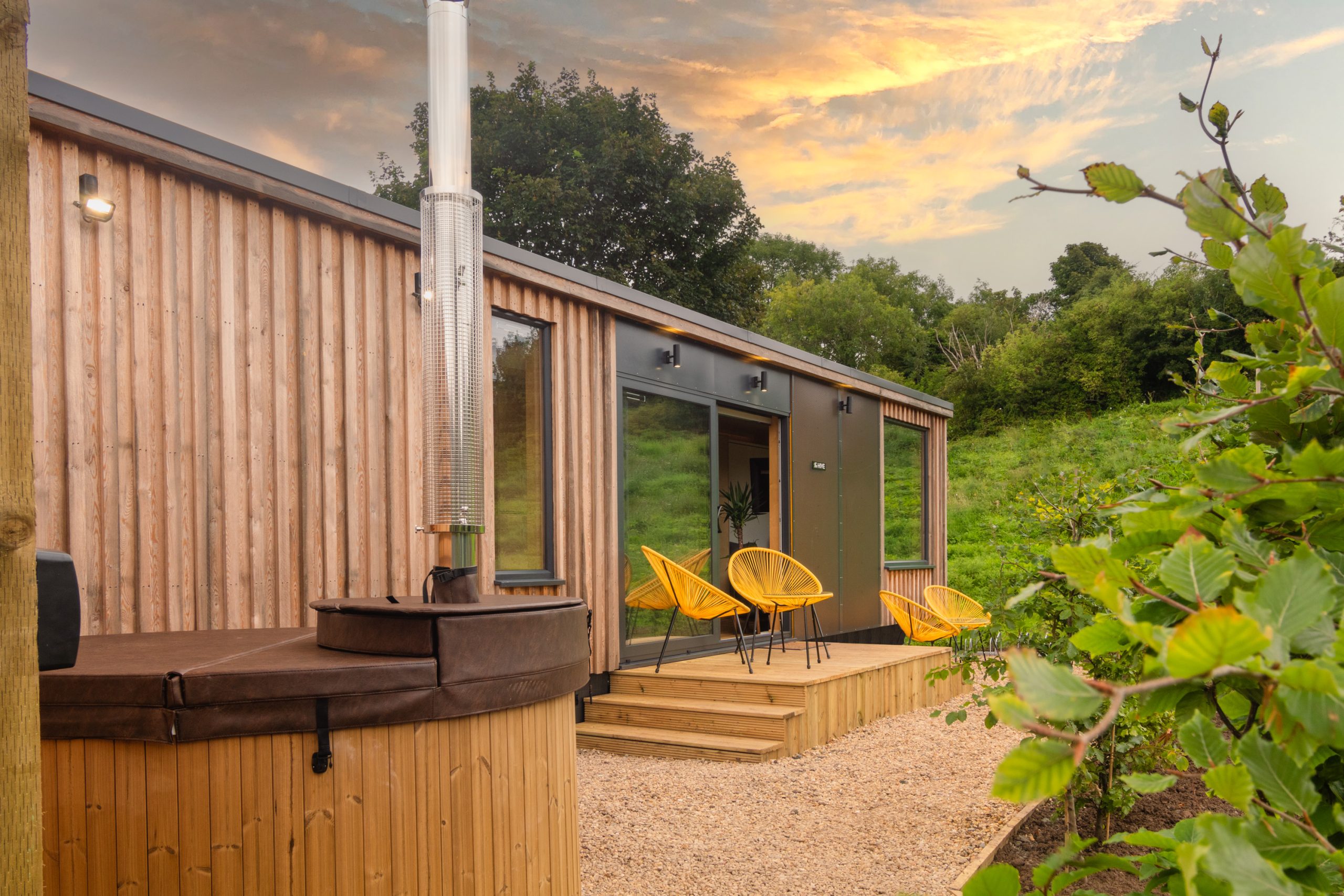 Welcome to the next generation of self-catering accommodation in Scotland.
We think of our one-of-a-kind Cabin Concept as a crossroads where quirky interior design meets eco-consciousness, in a stunning island setting.
Bookings are now OFFICIALLY LIVE! 🚀