So, IT BEGINS – we're officially on the road to our first site of Cabins. How exciting!… but also kind of terrifying.
All I can really say is, we've got a hell of a long way to go. As I write this, it's currently the 3rd of May 2021 and things are just starting to kick off. We've finalised the architects drawings, we're in the midst of securing the land and the foundations of our very first cabin are currently being built.
Up until now, it's pretty much been a year full of endless planning. But now, the wheels are fully in motion, and there's no going back…
So you can follow along at home, Daniel and I will be taking the cameras with us and documenting the whole journey. Expect loads of exciting video content and all sorts of updates on the build process as it unfolds.
To make things easy, everything will be posted right here in this blog post. We'll also let you know by e-mail and on our socials when there's an update. Sound good? Great.
Feel Free to Skip Right Through:
Not on the mailing list? Sign-up here:
---
Part 1: The Journey Begins
3rd May 2021
So before we get into the build, let's just take a minute to set the scene. What's the story and how did we get to where we are now?
Well, for those who don't know, myself (Adam Jack) and my cousin (Daniel Jack) are the two guys behind this Cabin concept. We share a passion for adventure, quirky stays and the environment. We've also always had a dream of starting up a family business.
Last year, Daniel and I both lived in Glasgow and we'd spend nights sitting in my flat, drinking Tennent's lager and brainstorming business ideas… because that's where all good ideas begin. 🍻🧠
We realised one night that we'd stayed in all sorts of weird and wonderful places on our travels, from converted shipping containers to glamping pods, but nothing had quite hit the spot when it came to the perfect night away.
It wasn't long before we decided that we were on a mission to shake-up Scotland's tourist accommodation game. Gone were the days of dusty B&B's, carbon churning hotels, and basic glamping pods which (let's be honest here) are nothing but a bed in a shed. 🛖
After a full year of planning, we've now just hit the 'go' button on the build of our first cabin. From there, the ultimate goal is to build 5 cabins in total, and plonk them all on a scenic site on the wonderful Isle of Cumbrae. We're aiming to launch our business at the beginning of 2022.
So yeah, that's you pretty much up to date with the story so far. To hear more about the cabins, our story, and our plans, you can check out Episode 1 of the Build Journey Series below:
---
Part 2: The Foundations
17th June 2021
There's no going back now… the build is officially underway!
From the beginning, Daniel and I have been keen to keep everything local and sustainable with our business. Of course, it all starts with the cabins themselves.
To bring our concept to life we teamed up with local architects, Stewart Associates, and local builders, System 5.
The whole thing started by taking our poorly drawn concept images and a tonne of different ideas to the professionals. We worked very closely with the architects and after months of iterations, we finally managed to create the perfect design.
With the technical designs complete, it was time to get the builders involved. Over the last month (or so) there's been all sorts of logistical planning and ordering materials, but we're finally at the stage where the cabin is starting to be built. 🛠
The best thing about keeping everything local is being involved in the process every step of the way. We're lucky to live a short commute away from the workshop, so are always down to see how things are progressing.
To date, we've constructed the steel chassis frame and the wooden foundations of the cabin have been put in place. I'd say we're about 10% of the way to a final cabin, check out how it's looking:
The road ahead involves getting the cabin structure in place, with the walls and roof panels. After that, it's all about the electrical instalments, getting the windows and doors put in, and starting to build out the rest of the features.
All going well, we should be looking at the Jack's prototype cabin in 12-weeks time. Watch this space!
---
Part 3: Shaping Up
23rd July 2021
Things are starting to shape! Quite literally…
We started with a steel chassis,  which was pretty much the foundations, and over the last 5 weeks we've built up to something which resembles a cabin.
Once we had the sides up, it was a case of fixing the roof panels in place and making sure we had a structure that was water-tight. As you can imagine, this was a pretty important step. Even though it's currently summertime, we can always count on some trusty West of Scotland precipitation…
Next up, it was time to get our larch cladding finish onto the exterior of the cabin. This really started to bring the cabin to life…
Aaaand, that's pretty much where we're at just now. Next steps include installing doors, windows, electrics, and eventually kitting out the inside of the cabin – exciting stuff!
We're feeling proud to now have a structure that has been locally designed and built. Furthermore, with sustainable and locally sourced materials (wherever possible).
Our environmental impact is something we always consider at Jack's. We've been making conscious decisions when it comes to the structural timbers, cladding, wall finishes, and many of the fixtures and fittings.
You can read all about our environmental efforts in our concept blog here. 🌿
Here's Episode 2 of our Cabin Build Journey YouTube Series:
---
Part 4: Fixtures & Fittings
25th August 2021 
Okay, so the 12-week prototype was quite a bit ambitious…
Our first cabin is also a prototype, so as you can imagine, it's been a bit of an iterative build process so far.
Also, the reality is we've been working hard behind the scenes on securing the land, our planning permission etc. and (honestly) there's still a hell of a lot that can still go wrong with our start-up…
So we're kinda… well, not in a HUGE rush to commit to building the next 4 cabins. Saying that, once we've ironed out these final risks of the business set-up, we'll be full steam ahead. 🚂
Anyway, back to the cabin build. Up until now the inside of the cabin, as you can imagine, has just been one big, empty space.
Of course, before we could build out the interior, we had to get all the electrics installed. ⚡️
Thankfully, we've been busy working with the builders in recent weeks to finalise socket, light switch, and LED lighting placements, and we've just had the electricians in to get everything installed.
As you can see below, we sorted out the interior of the cabin a sleek, birch plywood finish and started to build out the partition wall between the bathroom and living area:
This was the first time we could stand in the cabin and get a real feeling of what the final outlay is going to be like. We're so happy with the feel of it and can tell it's going to be the perfect balance of spacious and snug.
With regards to the external, the big windows were next to arrive which look great and got installed pretty quickly! We had a temporary door on for a week or so, but it wasn't long until we got our shiny, new sliding door put in place. 🚪
---
Part 5: We Have Colour!
6th October 2021
That's right, last week we managed to give "The Hive" cabin its first bit of personality with a splash of paint. 🎨
Check it out:
If you didn't know, each of our cabin themes will be based on a colour, and (you guessed it) "The Hive" is based on the colour orange. 🐝
We don't want to go overkill on the interior colour scheme. In fact, the idea is to use a lot of black, white, and wooden finishes for the interior, with hints of the theme colour throughout.  Anyway, more on all of that once we get to the interior design stage….
In other news, this has left the exterior of the cabin is starting to look pretty polished! Take a look:
Of course, the orange colour looks pretty bold at the moment, but it will look a lot more muted once we get our perforated aluminium sheet over the top of it. With a bit of help from our Instagram followers, we chose a sheet with hexagonal shaped holes (very fitting to the theme), and we look forward to getting these fitted soon!:
As an update on the inside, we've just managed to get the plumbing installed for both the bathroom and kitchen space. The warehouse is also packed out with the contents of the cabin. I'm talking the kitchen, the bathroom, the bed, the flooring panels, the bathroom multi-panels, and the water boiler.
The next step is a whole load of installations to bring the interior to life! Stay tuned.
Here's Episode 3 of our Cabin Build Journey YouTube Series:
---
Part 6: Kitchen in!
18th November 2021
So, over the last 6-weeks as we've started on the bathroom and fully kitted out the kitchen! 👨🏻‍🍳
Before we get into that, I should probably show you how the aluminium sheeting installation went:
As you can see, we also added some exterior spotlights to finish it off – looking sleek!
Next up, we had the kitchen. When deciding which one to go with, we needed something that would fit the bill for a couple or small family group staying in the cabin for up to a week, so a kitchen that was fully equipped, yet compact and stylish.
We chose Elfin Kitchens to supply our kitchenette. These guys supply micro kitchens to all sorts of glamping pods, converted shipping containers and student accommodation, so they were a great fit. The kitchen has a nice matt black finish, which contrasts really nicely with the bright birch ply walls, and fits perfectly with The Hive's orange, white and black colour scheme, so we're so happy with the result.
We've also seen our surfaces start to come together as the flooring in both the bathroom and living space, as well as the bathroom wet walls, have all been installed. 
The material that these surfaces are made up by is called Multipanel. They're essentially interlocking panels that are FSC Forest Friendly certified, durable, watertight, and easy clean which fits the bill for us. As with all material suppliers we scrutinised their eco credentials, and we're confident we've made another genuinely sustainable choice for our floor and walls.
The only problem was… it was realllllly expensive. There are for sure cheaper options for flooring and walls out there, but I suppose sometimes you need to make economic compromises for the environment. Such is life…
Another HUGE piece of news happened recently – we finally got the results of our planning application! 👨‍💻
Check out how we got on below:
Here's Episode 4 of our Cabin Build Journey YouTube Series:
---
Part 7: Kitting Out The Interior
22nd December 2021
This month we've seen some HUGE progress as we've fully kitted out 'The Hive' cabin! I'm talking 95% complete. 📈
Let's see how things have been progressing…
Firstly, we needed to get a solution for the rest of the cabin furniture. We could have looked at different suppliers for this, but we decided to build these bespoke-ly and in-house at the warehouse. The benefit of this is that we could maintain the certain aesthetic which is created by using the light birch plywood, and we could carefully craft all of our cupboards, dining table and storage solutions down to the millimetre. 📏
Throughout the cabin we've made the use of clever design to make space saving and storage solutions. Probably my favourite part of the whole cabin is the fold-up dining table, which simply pops up if you're looking to sit up, or drops straight down if you'd like a bit more space. Once folded upright, it also reveals a clever storage space which has been incorporated into the underside. 
Next up, we began to create a group of hexagonal shelves above the bed. 🛑
This is an idea we've had since the beginning and it was so fun to watch it finally come to life! Of course, 'The Hive' has to be full of bee, honey and hive related elements, and this was going to be one of our focal points. 🐝
By the way, if you want to read about all how we're really bringing 'The Hive' to life, you can read about the cabin experience in our 'Concept Deep Dive' here. 
Anyway, back to the shelves. Again we originally looked at some off the shelf options for this (see what I did there), but a bespoke build just seemed like the way to go. We started to plan out at first, thinking about how to maximise the wall space with the perfect amount of shelving. 
Since it was above the bed, it was important to get these at the correct height and depth on the wall, to create the right aesthetic (also because our insurance policy doesn't cover us for guests smashing their heads when they get up for the toilet in the middle of the night). 
We made all the shelves at different depths, to give a sort of 3D effect, and once they were all build, we started to get them up. Here's how it went: 
Combined with the LED strip light, we were chuffed to bits with how it turned out. So much so, that we got a team photo with the final product weyyheyy: 
We also started to fully kit out the bathroom space around point. We installed the infrared heated mirror, towel rail, shower, toilet, and sink, and we couldn't be happier with the final result. 🛁
We know how important a quality bathroom is in self-catering and our brand-spanking-new design certainly fit the bill. Check it out: 
Other than that, we had a few finishing touches such as the remainder of the bespoke furniture, folding wallbed, LED sign and Infrared Panel Heaters. It's safe to say we we're BUZZING with the finished product. 🐝
Here's how it looks:
Aaaand just like that, there you have it – 'THE HIVE' cabin!
All that's left is to add our after this update 'soft furnishings', so stuff like cushions, bedding, ornaments. Oh, and probably the most exciting part of the cabin – the artists wall mural. Stay tuned!
---
Part 8: Finishing Touches
Coming soon!
If you want to be first to hear about our launch plans, sign-up to our mailing list below:
---
Fast forward to today, and we're LIVE!
Ok, we've got a bit of catching up to do on this blog, but here's the final result: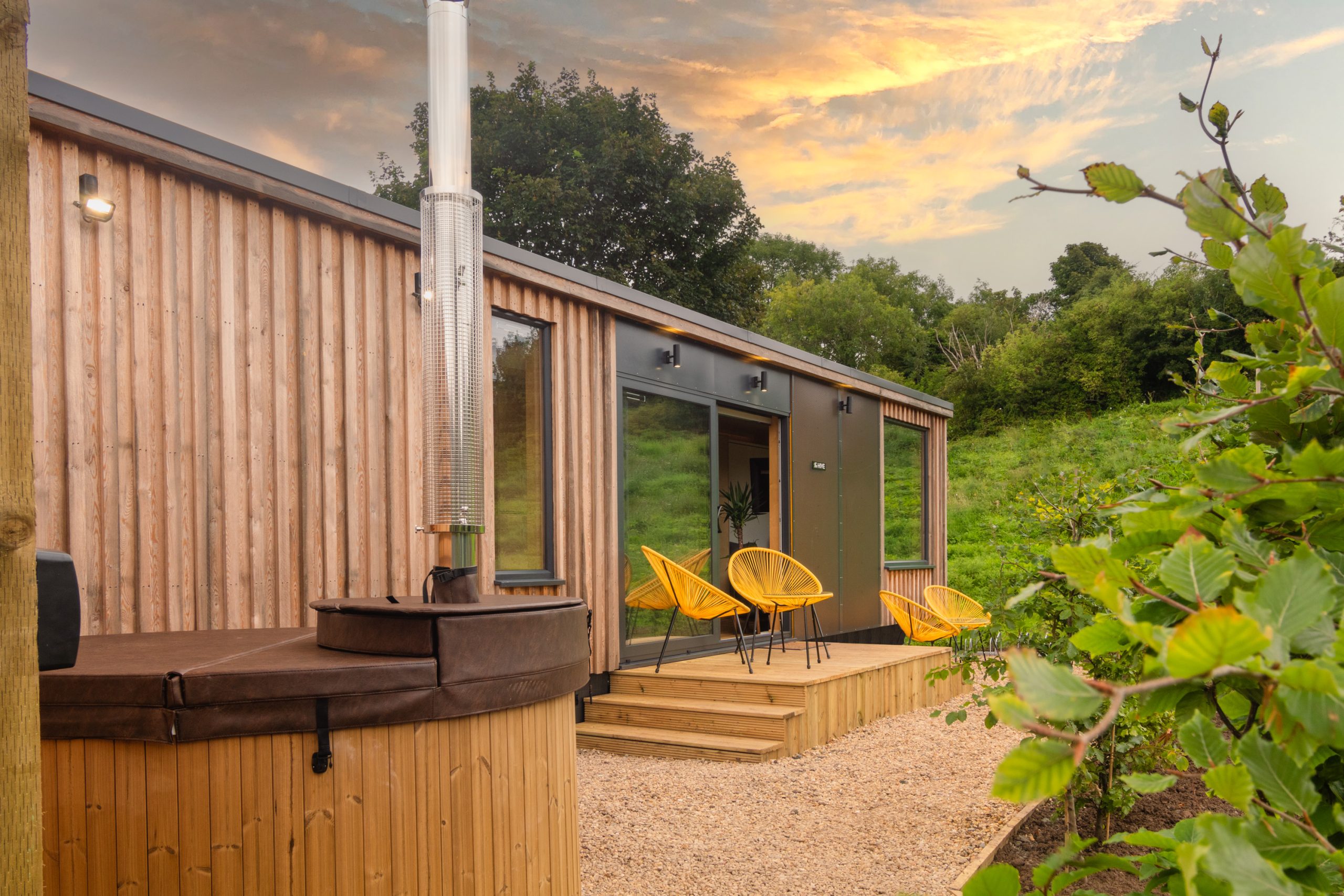 Welcome to the next generation of self-catering accommodation in Scotland.
We think of our one-of-a-kind Cabin Concept as a crossroads where quirky interior design meets eco-consciousness, in a stunning island setting.
Bookings are now OFFICIALLY LIVE! 🚀