So… you're thinking about doing the North Coast 500, but want to see all the Best & Most Unique Airbnb's along the way? Good news, you have come to the right place.
The North Coast 500 is packed with hidden cabins, glamping pods, hot tub stays and all sorts of quirky accommodation which are bound to make your trip one to remember.
I love weekends away and I am always looking for my next staycation. Over lockdown I have also become a serial window shopper on Airbnb. From all my research, I've made a list of the 7 of the Best and Most Unique Airbnb's on the North Coast 500.
So, whether you are looking to 'book now' or plan ahead, this blog should give you some inspiration. Let's take a look at some of my favourites:
---
1. Tigh Na Mara
"Coastal retreat with stunning views"
Check out the Tigh Na Mara cabin. If you are a couple looking for a Highland escape, this place is pretty perfect. I mean, just imagine waking up to views like this every morning:
At the Tigh Na Mara cabin, you can immerse yourself in contemporary living whilst enjoying the surrounding beauty of the Summer Isles.
During the high season, this place is rented out for a week at a time, so it's not for those looking to rush round the North Coast 500 route in a few days. Kick back, relax and use this unique cabin as a base camp to explore the north west Highlands.
Inside you can expect a completely modernised cabin equipped with open living space and a wood-burning stove. Prepare to cosy up on the couch and take in those views through the sliding glass doors.
---
2. North Coast 500 Pods
"Luxury North Coast 500 Glamping Accommodation"
Looking to ditch the tent for the night and upgrade yourself to a glamping pod? Well, look no further than the North Coast 500 Pods.
You'll find this group of 5 glamping pods in a secluded area of Lochinver and only a 2-minute stroll away from the famous Achmelvich beach. The area around here is stunning and the beach is a serious contender for the best on the North Coast 500 route.
Inside the pod, you'll find an en-suite shower, a fully equipped kitchen, and an Amazon Alexa for all your music needs. To be honest, my favourite part about this place is the common area which has lots of bean bags and a high spec BBQ. Check it out:
---
3. Sea-View Lodge 21
Check out the Sea-View Lodge 21. These stunning, sustainably built cabins are located at John O'Groats – the most north-easterly point of mainland Scotland. The cabins boast modern architectural design and large glass fronts which allows visitors to maximise the incredible views towards the Orkney Isles.
The surrounding area of John O'Groats has amazing wildlife and outstanding scenery, making these cabins the perfect hub for exploring. Keep an eye out for puffins and check out the dramatic cliff edges of the Duncansby Stacks.
The cabins themselves sleep up to 6 people in 3 bedrooms, so they are perfect for those travelling in groups and families. As expected, they come with all the desired amenities including a kitted-out kitchen and all sorts of TV entertainment.
---
Not quite NC500, but…
We've JUST launched bookings for our One-of-a-kind Cabin Concept in Millport, Isle of Cumbrae!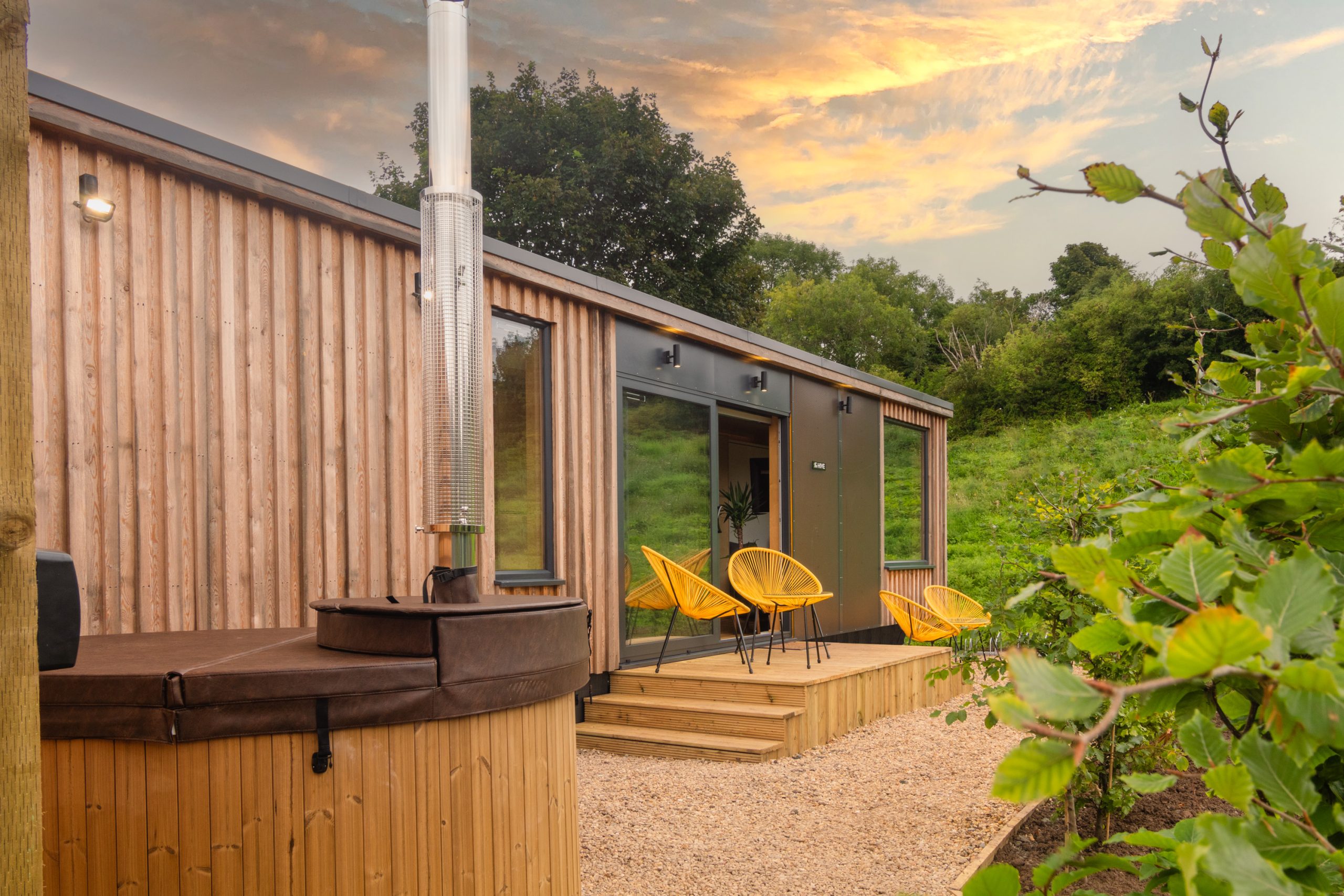 Welcome to the next generation of self-catering accommodation in Scotland.
We think of our one-of-a-kind Cabin Concept as a crossroads where quirky interior design meets eco-consciousness, in a stunning island setting.
Bookings are now OFFICIALLY LIVE! 🚀
So yes, not quite North Coast 500, but less than 1 hour and 30 minutes from Glasgow, and I couldn't help but cheekily squeeze it in here!
We've combined quirky design and eco-consciousness to make our cabins. Each comes with its own story, individual theme, and one-of-a-kind wall mural.
---
4. Rua Reidh Lighthouse
Now I maybe cheated, this one isn't on Airbnb… but there's no way I could leave it out! How do you feel about a weekend in a converted lighthouse? Talk about a unique stay…
You can find the Rua Reidh Lighthouse tucked away in one of the most remote locations on the north-west of Scotland. A stay here offers an abundance of wildlife, breathtaking coastal views, and a real opportunity to experience the tranquillity of a secluded part of Scotland.
The lighthouse was built in 1912 and is now owned and ran as an accommodation business by a mother and son duo. If you're looking to book a stay, you'll find both self-catering and B&B options.
---
5. The Old Tea Shop
Now this one is certainly on the quirky end of the spectrum – The Old Tea Shop. This quaint wee cottage is full of character and (as the name suggests) it was converted from an old tearoom.
You'll find this charming cottage between John O'Groats and Thurso, making it the perfect stopover if you're jumping on the Orkney ferry. It's also a cracking spot for exploring some of the most northern areas of Scotland.
Inside the cabin has a traditional feel and there are all sorts of wonders to discover. The listing has rave reviews on Airbnb and guests seem to love the abundance of thoughtful touches, the wood-burning stove, and its cosy feel.
The place even comes with its own back garden equipped with plenty of garden furniture and a sunken, wood-burning hot tub – nice one. Check it out:
---
By the way…
I did the North Coast 500 back in Summer 2019 with my girlfriend and I'll tell you what, a bit of forward planning goes a long way.
Why not check out my "North Coast 500 Adventure" blog to read about all the best things to do as well as some hidden gems I found along the way.
---
6. Croft 103
Forget the best and most unique accommodation on the North Coast 500, this place is as good as you'll get in the whole of Scotland.
The Croft 103 can be found carved into the landscape and overlooking the waters of Loch Eriboll. The place is bold, unique, and has been meticulously created by combining the absolute best in craftsmanship and cutting-edge contemporary design.
From the distinctive exterior shape to all the interior details, it truly is a modern architectural masterpiece. Inside the cottage is spacious and there's plenty of natural light let in through the large windows.
In the living space, it is all open plan with beautiful furniture and a modernised kitchen. The bedroom can be found adjacent to a bathroom which is equipped with a large walk-in shower and bathtub.
There's even a second bathtub outside which can be found on a secluded area of the patio! Catch me in here drinking a glass of wine:
Now there is no debating it, this place doesn't come cheap. At a 7-day minimum booking, you're looking at over £2,500 for a visit.
I guess that's just the price you have to pay for this type of quality, but is it worth it? Well… you tell me.
---
7. The Hideaway
There's something quite charming about "The Hideaway". It's a lovely wooden cabin which is tucked away in the trees, overlooking the bay of Lochinver and the Assynt mountains.
The cabin has a lovely interior space with a king size bed and some comfy armchairs. There's also a big TV and a quality kitchen and bathroom. Everything you need for a short stay.
To be honest though, the decking is my favourite part. Out here you'll find an electric hot tub, wood-burning stove, deck chairs and a high-quality BBQ. I can just picture myself enjoying a summers day here with a cold beer in hand. Bliss.
To top it all off, the place has a 1-night minimum stay, so it's perfect for those who are on the move and doing the North Coast 500 road trip.
---
So, there you have it…
That's the Top 7 Most Unique Airbnb's on the North Coast 500. As expected, it was a pretty mixed bag!
Now I hope that reading this blog has fueled you with some road trip planning inspiration. Who knows, maybe you'll find yourself sleeping in an Old Tea Room for the night?
To be honest, regardless of where you rest your head, you'll enjoy every second of your NC500 road trip. Just remember that a cool place to spend the night can make your trip that extra bit special.
Check out:
---
Fancy a Unique Stay on The Isle of Cumbrae?…
We've JUST launched bookings for our One-of-a-kind Cabin Concept in Millport.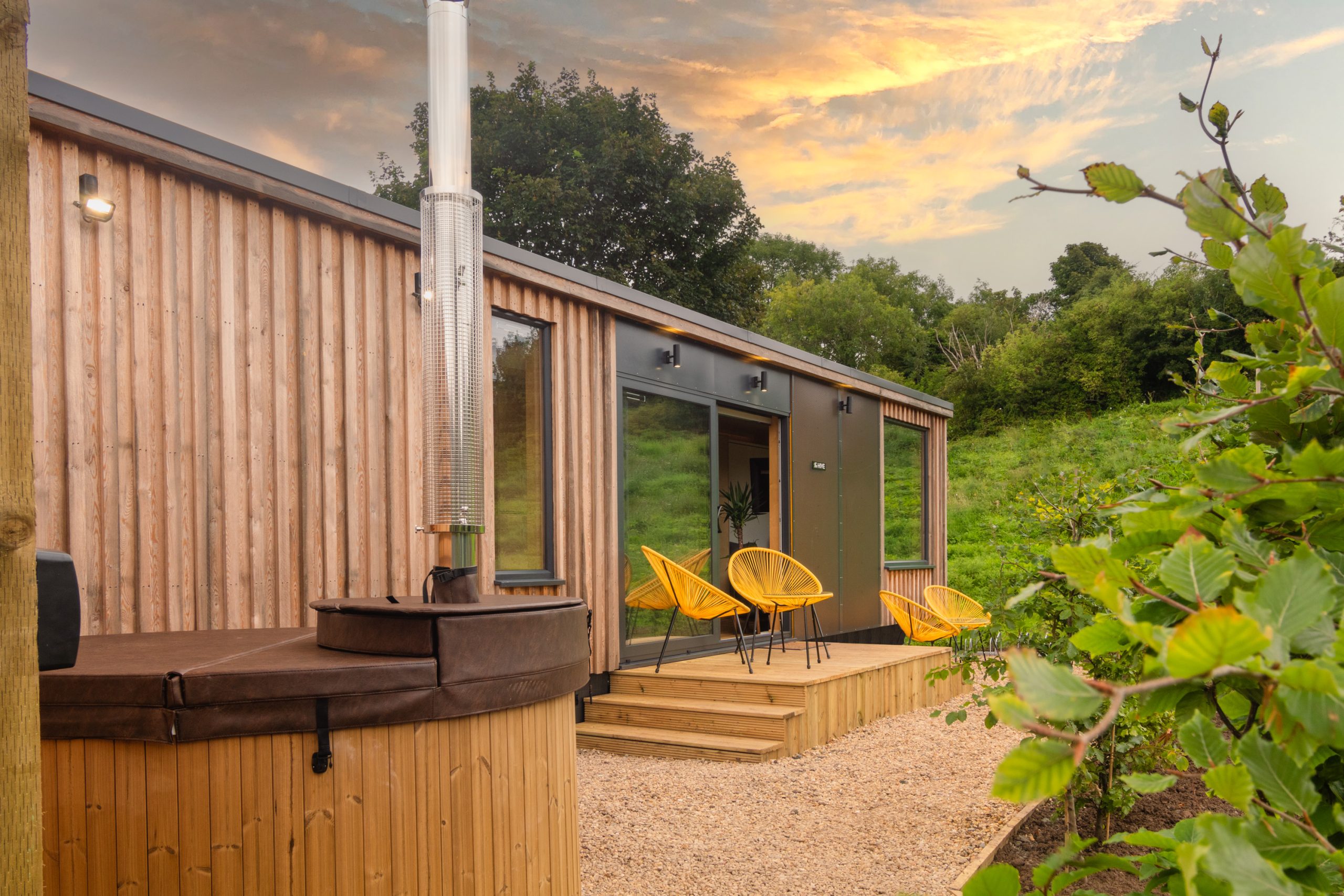 Welcome to the next generation of self-catering accommodation in Scotland.
We think of our one-of-a-kind Cabin Concept as a crossroads where quirky interior design meets eco-consciousness, in a stunning island setting.
Bookings are now OFFICIALLY LIVE! 🚀