HEY! – Adam here. 
…bringing you the blog for this week and talking about my experience of the North Coast 500 Road Trip, my top tips, and a hidden gem I found along the way.
Like many of you, I can't get enough of the Scottish outdoors. We're surrounded by such amazing landscapes and when we're lucky enough to be blessed with good weather, there's genuinely nowhere else in the world I'd rather be.
You don't need to head abroad to have a belter of a holiday and since it looks like we'll be living in a Covid-19 world for the foreseeable, why not use this time to plan out your next staycation in Scotland?
Who knows, maybe reading about my experience will give you some much-needed inspiration. I did a ton of research before going on the North Coast 500 and found some amazing stuff along the way, so if you're thinking on venturing up to the North Coast of Scotland in the future then stay tuned.
To quickly set the expectation, this blog isn't going to be your "NC500 bible" or one of these "step by step guide for the NC500", there's plenty of those out there. I just want to share my experience with you and hopefully, you'll take on a few of my recommendations – you might just read about a hidden gem that you'd never thought about before!
---
Here's a taste of what's to come.
Feel free to skip right through!
Black Isle Brewery
Fairy Glen Trails
Chanonry Point
Cromarty to Nigg Ferry
Dunrobin Castle
Kirkton Farm Buggy Tours
Golden Eagle Zip Line
Smoo Cave
Sango Sands Oasis
Achmelvich Bay
Lochinver Larder
Ullapool Seaside Town
Inverewe Gardens
Sands Caravan and Camping
Badachro Inn
---
THE ROUTE: EAST TO WEST
516 miles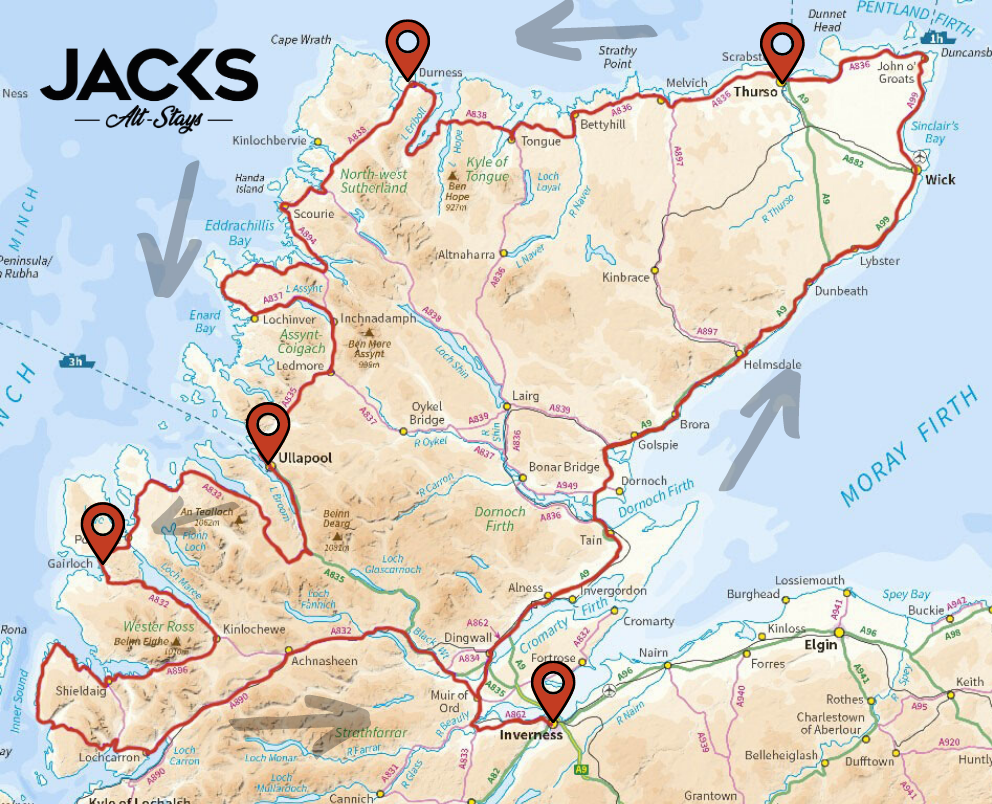 So, to set the scene, my girlfriend and I did the North Coast 500 over 5 days in the summer of 2019.
We started our route in Inverness (bright and early as we stayed there the night before) and we'd decided to follow the route from East to West, purely because the views and landscapes in the West are far better – always leave the best till last! From then on, our next 4 overnight stops were in Thurso, Durness, Ullapool, and Torridon.
We set off in my Volkswagen Polo which was absolutely jam-packed with all our stuff. I could spend all day telling you about everything we brought but that might even be worthy of a blog of its own. Just trust me when I say we'd thought of everything that we'd possibly need, from an inflatable couch to a frisbee (which unfortunately turned out to be a boomerang in the end and pretty useless).
Anyway, here's an idea of what we got up to along the way:
TOP TIP: Take your time – There's so much to and explore that you could easily do the North Coast 500 over two weeks, it just depends on how much driving you want to do. I'd suggest 4 days as a minimum but if you've got the extra time, use it!
---
LEG 1: INVERNESS -> THURSO
110 miles
Black Isle Brewery
Despite its name, the Black Isle is actually a peninsula and is one of the main areas to explore on this stretch of the route. When you're here, you've got to stop by the Black Isle Brewery to taste the organic, homegrown beer of the highlands. On the site, you'll find amazing beer, Hebridean sheep, and an organic vegetable garden.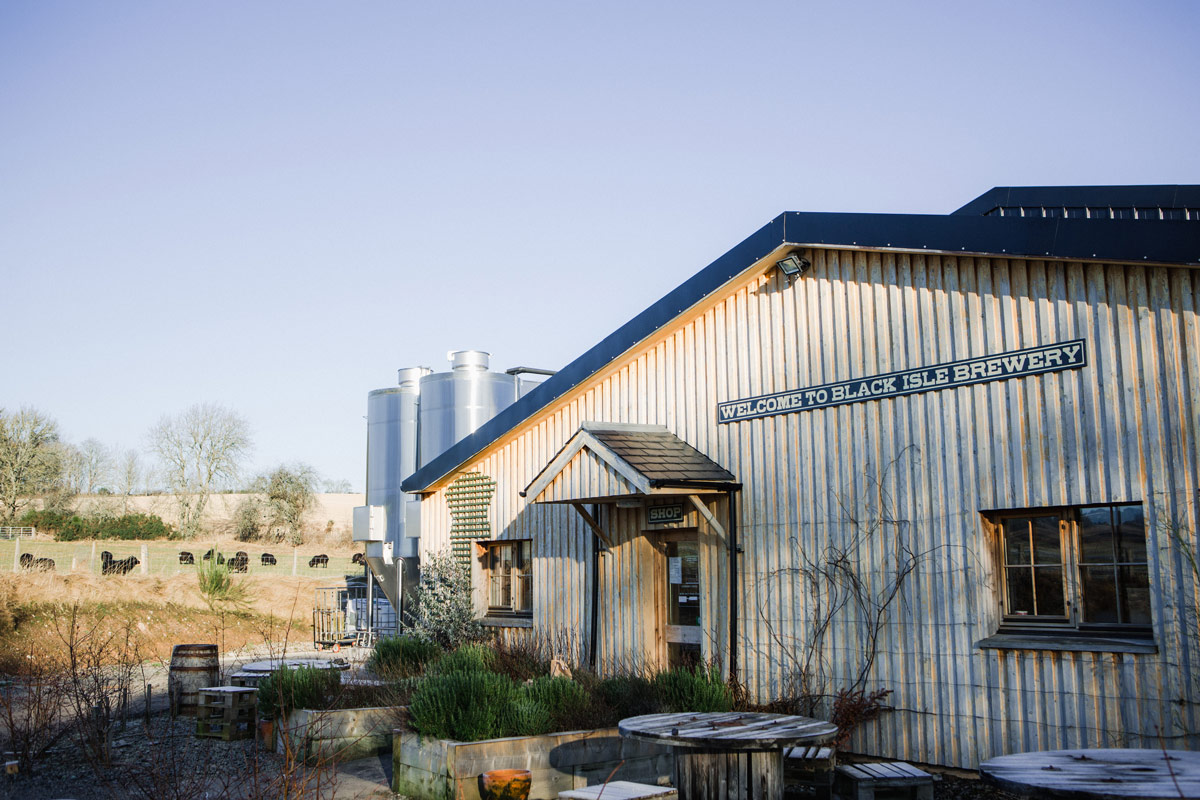 The Brewery does daily tours and has a nice wee gift shop if you want to take home some souvenirs – we ended up buying a bunch of beers to keep in the car and drink throughout the rest of our trip!
Also, check out this cosy, wood-crafted shepherds hut you can stay in if you fancy hanging around for longer than a short visit (if it wasn't a 2-night minimum stay we'd have been all over it).
Fairy Glen Trails
This was the first outdoor activity we did throughout our North Coast 500 road trip and is a fantastic one for appreciating the outdoor beauty along the route. The trail itself is a 1-hour stroll through the calming, wooded glen and features two picturesque waterfalls – ideal if you're looking to surround yourself in nature without committing to a long hike!
Chanonry Point
Less than 30 minutes in the car from Inverness and you can reach Chanonry Point, one of the best dolphin spotting locations across the whole of Scotland. Visitors can enjoy looking out for dolphins and seals from the pebbly beach and there's also a spectacular lighthouse that overlooks the coastline – a perfect photo-taking opportunity as you can see below.
---
By the way…
Not quite NC500, but my cousin Daniel and I have JUST launched bookings for our One-of-a-kind Cabin Concept in Millport, Isle of Cumbrae.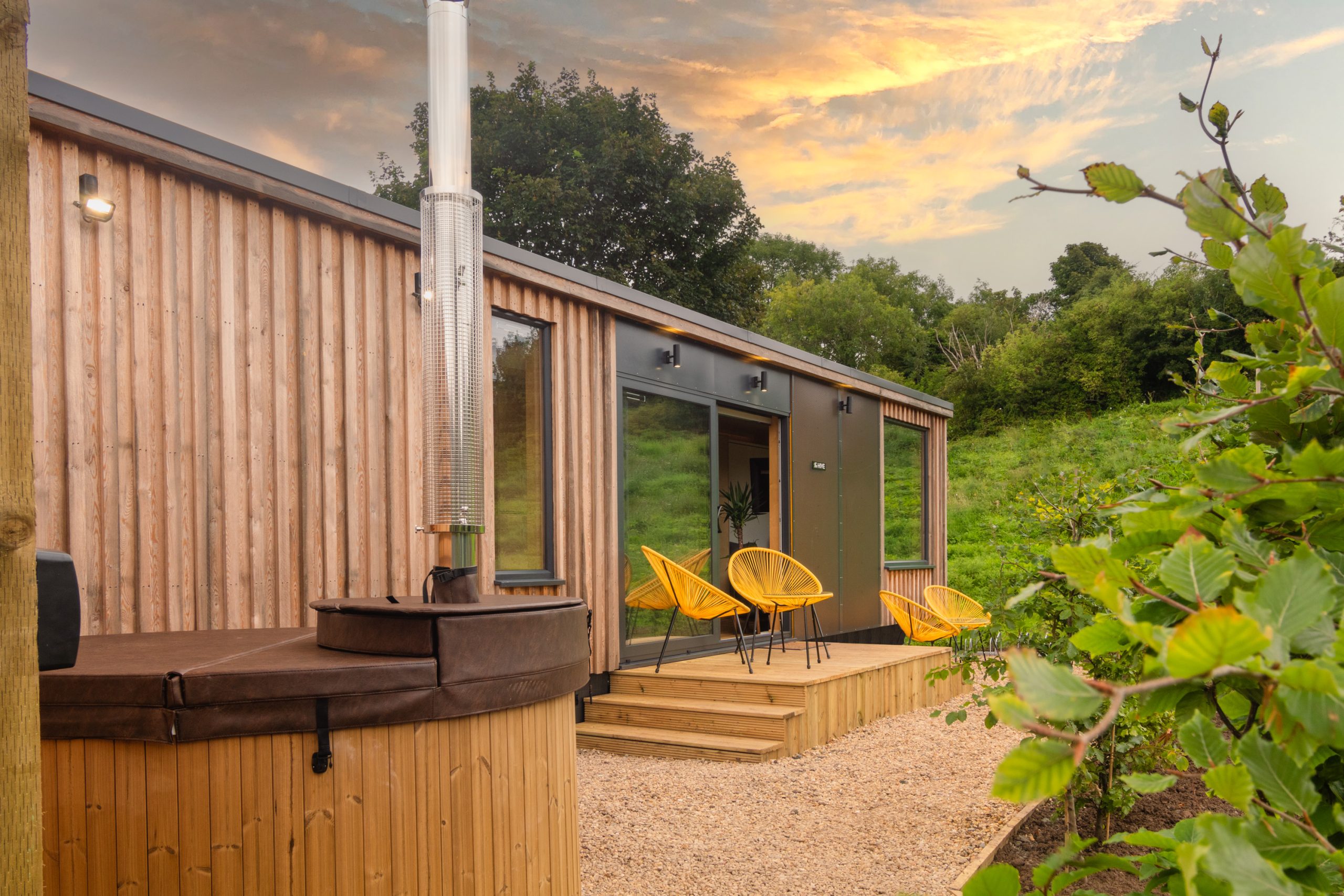 Welcome to the next generation of self-catering accommodation in Scotland.
We think of our one-of-a-kind Cabin Concept as a crossroads where quirky interior design meets eco-consciousness, in a stunning island setting.
Bookings are now OFFICIALLY LIVE! 🚀
---
Cromarty to Nigg Ferry
I got this recommendation from a friend who lives up in the Highlands and it's a great one if your dolphin spotting was unsuccessful at Chanonry Point. Going slightly off the official North Coast 500 route, although without missing anything too important, you can take the short trip from Cromarty towards the oil rigs of Nigg. It's quite a novelty going on the small ferry (which only has space 2 or 3 cars) and, on a clear day, you might just be lucky enough to be joined by some dolphins.
There's also a brilliant wee coffee shop called Slaughterhouse Coffee which is right next to the jetty. Perhaps contrary to the name, the owners are incredibly friendly so pop in for a coffee and say hi as you wait for the ferry 😊
Dunrobin Castle
This is a must-see stop as you approach one of the most North Easterly points of the country. What can only be described as a magnificent, Hogwarts-esque Castle is situated just north of the village of Golspie. The castle dates back to 1401 and you can explore the interior if you pay the £12.50 entry fee.
To be honest, we were just more interested in the gardens which were free to wander around and enjoy. The gardens are incredibly beautiful, well maintained, and perfect for a picnic, not to be missed if you're passing on a nice day!
---
LEG 2: THURSO ->

 

DURNESS
71 miles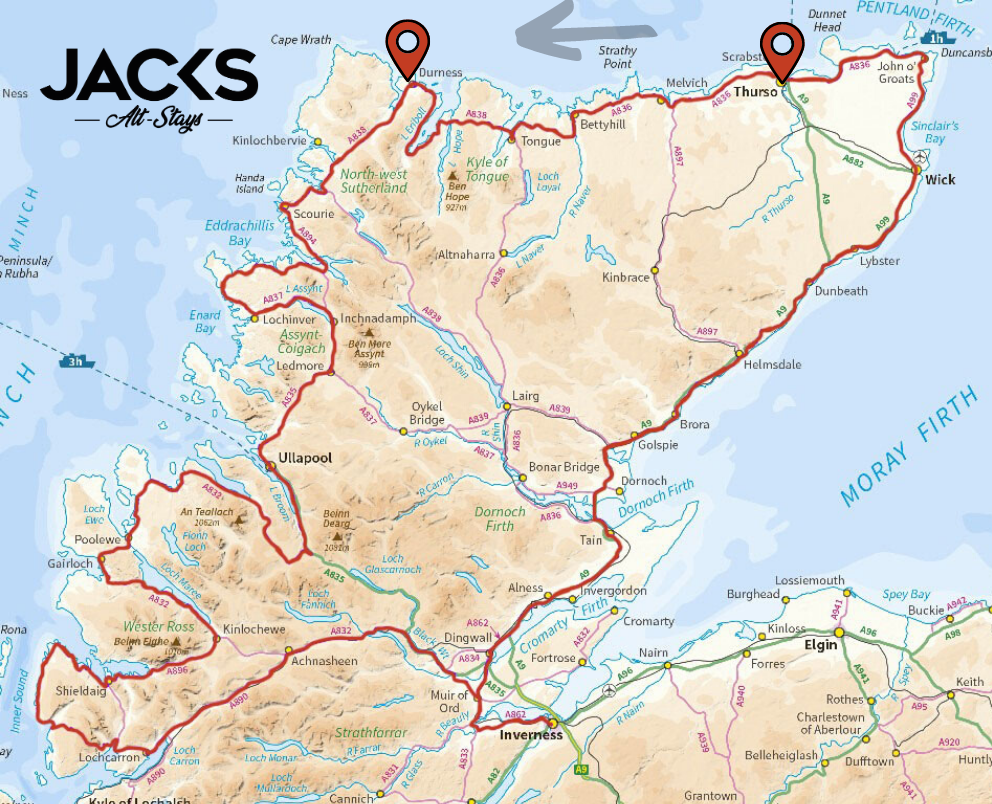 Kirkton Farm Buggy Tours
As I was doing my research for the North Coast 500 I found a random Instagram post about this place and I couldn't be happier that I stumbled across it. Owned by a very welcoming family, you can take an off road, guided tour of the Kirkton Farm on a brilliant 4-wheel drive buggy.
The farm boasts wild deer, lots of cows (including big hairy highland coo's), pygmy goats, ponies, sheep, and the friendliest bunch of sheepdogs you'll ever meet. Getting up and close with the animals was definitely the highlight for us – we got some puppy cuddles, bottle-fed the lambs, and watched the goats in their playground.
TOP TIP: Call/e-mail and book ahead – we showed up unannounced and I think we were lucky in the end to get to go on the tour.
Golden Eagle Zip Line
This is one for the thrill-seekers and those who love a good scenic landscape – the Golden Eagle Zip Line! You can find this belter of a spot just outside Durness and I challenge you to find me a zip line in a more impressive rural setting than this. What better way to take in the coastal views than whilst hurtling down at 40 mph and 40 meters in the air?
Smoo Cave
This is a pretty popular tourist destination around the North Coast 500 route however I thought it'd still be worth mentioning as it's not to be missed. Smoo cave stands at a towering 50 ft which makes it the largest coastal cave in the UK. Inside the cave, they run boat trips and you can find a massive waterfall that drops into the depths of the cave.
The boat trips run between April and September however I can't comment on what they're like as all tours were cancelled due to weather the day we were there – how sad! Either way, definitely worth stopping by to see this geological phenomenon 😊
Sango Sands Oasis
Now if you're looking for a campsite up in the North West then trust me, you want to stay here. The campsite sits on the top of the cliffs and looks down over the beautiful bay with panoramic views of North Minch. The beach itself has wonderful golden sand and is scattered with large rock formations, creating quite a spectacular scene. There's an on-site bar & restaurant so you can get a good feed after a long day and if you're brave enough you can even take a dip in the sea.
---
LEG 3: DURNESS ->

 

ULLAPOOL
68 miles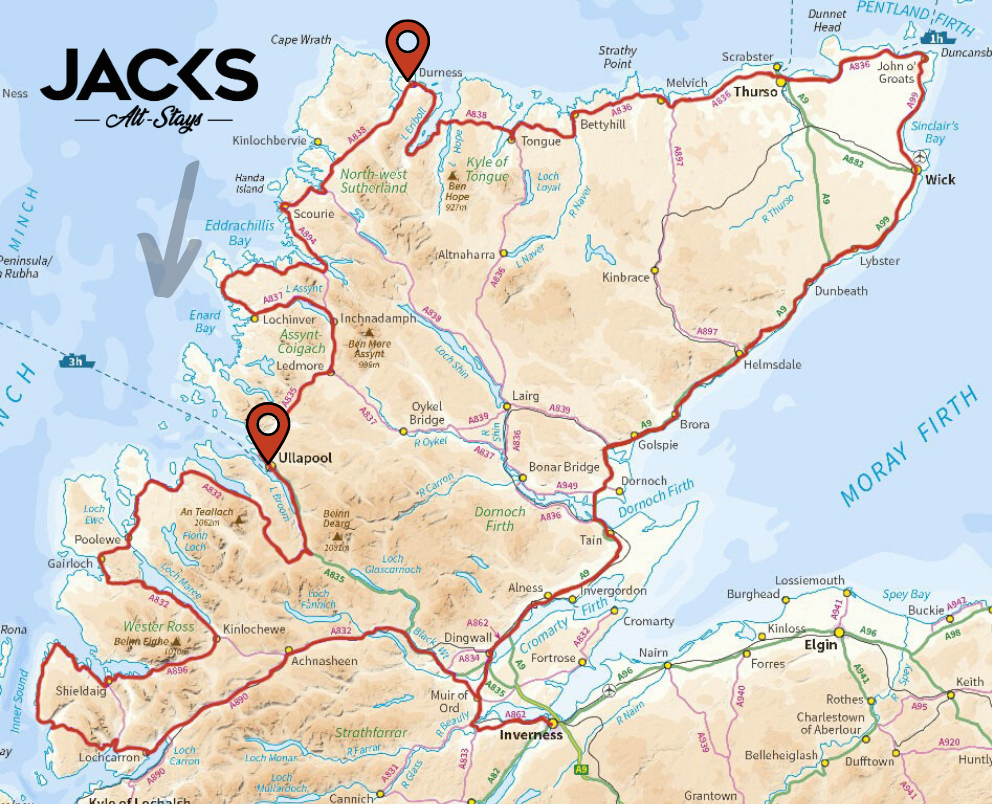 Achmelvich Bay
Here's another contender for one of the top beaches to visit along the route – Achmelvich Bay. There's not really a whole lot to comment on apart from the fact that it's a stunning, white sandy beach – what more do you really want?
It's popular for fishing, water sports and there are some nice walking/hiking routes nearby. If you fancy staying the night, there are caravan, camping and glamping options and they also have a belter of a fish & chip shop.
Lochinver Larder (Pie Shop)
Now this recommendation is one for the foodies and, to be honest with you, it is probably the best thing I ate throughout the road trip. Off the back of a recommendation, we were on a mission to find an infamous 'Lochinver Pie' however I'd forgotten the name of the place that sold them (I know, very helpful).
Thankfully, shortly after driving into Lochinver we stumbled across a massive green sign which read "PIE SHOP" – that'll be that then. The place is actually a sit-in restaurant and the food looked brilliant however, as you know, we only had eyes on the pies. They had a great mix of savoury and sweet pies available for takeaway and they had everything from Lamb to Rhubarb & Strawberry. I settled for a Chicken & Chorizo pie in the end and I'll tell you what, it was unbelievable. Check out this golden-brown goodness:
Ullapool Seaside Town
Whether you're looking for somewhere to rest your head for the night or just passing through, you need to stop to take in the beauty of Ullapool – a cracking little fishing town with picturesque views over Loch Broom.
This was the one night we decided to take a break from the camping & glamping, and we stayed a night in the Argyll Hotel which had unbelievable views over the loch. To our pleasant surprise, the hotel ended up being a lively wee place and seemed to have live music or some form of entertainment on most nights of the week – would recommend!
Check out the view:
---
LEG 4: ULLAPOOL -> GAIRLOCH
Inverewe Gardens
This is a pretty unique place in Scotland as it's situated where the gulf stream meets the Highlands, creating a climate that can support the growth of rare species of plants and trees. You can enjoy relaxing on the grass and exploring the different scents, shapes, and colours of the gardens. It's another place which is ideal for a picnic so you can either bring one with you or buy something from the on-site café. Also, the gardens aren't the only things which are thriving here, the grounds are home to 'Scotland's Big 5 in Wildlife' – red squirrels, red deer, otters, seals, and golden eagles – so keep your eyes peeled!
TOP TIP: Avoid Midge Bites! – Don't get caught out. Check out our Scottish Midge blog for everything you need to have a bite-free trip!
Sands Caravan and Camping
Now, this is another campsite which I couldn't speak higher of. The site is situated on the most incredible beach and the spaces to pitch tents are tucked in nicely behind the sand dunes.
We had the best time here in the roaring Scottish sun (not a joke, we were lucky to be there on one of the hottest days of the year) and we finished our night with a fire on the beach.
There are plenty of facilities including a restaurant, bar and a wee shop for groceries. You can also rent lots of equipment (bikes, fishing rods etc.) for activities at reception – we ended up renting a kayak and journeyed out to a neighbouring island which was great fun!
---
Fancy a Unique Stay on The Isle of Cumbrae?…
Not quite NC500, but we've JUST launched bookings for our One-of-a-kind Cabin Concept in Millport.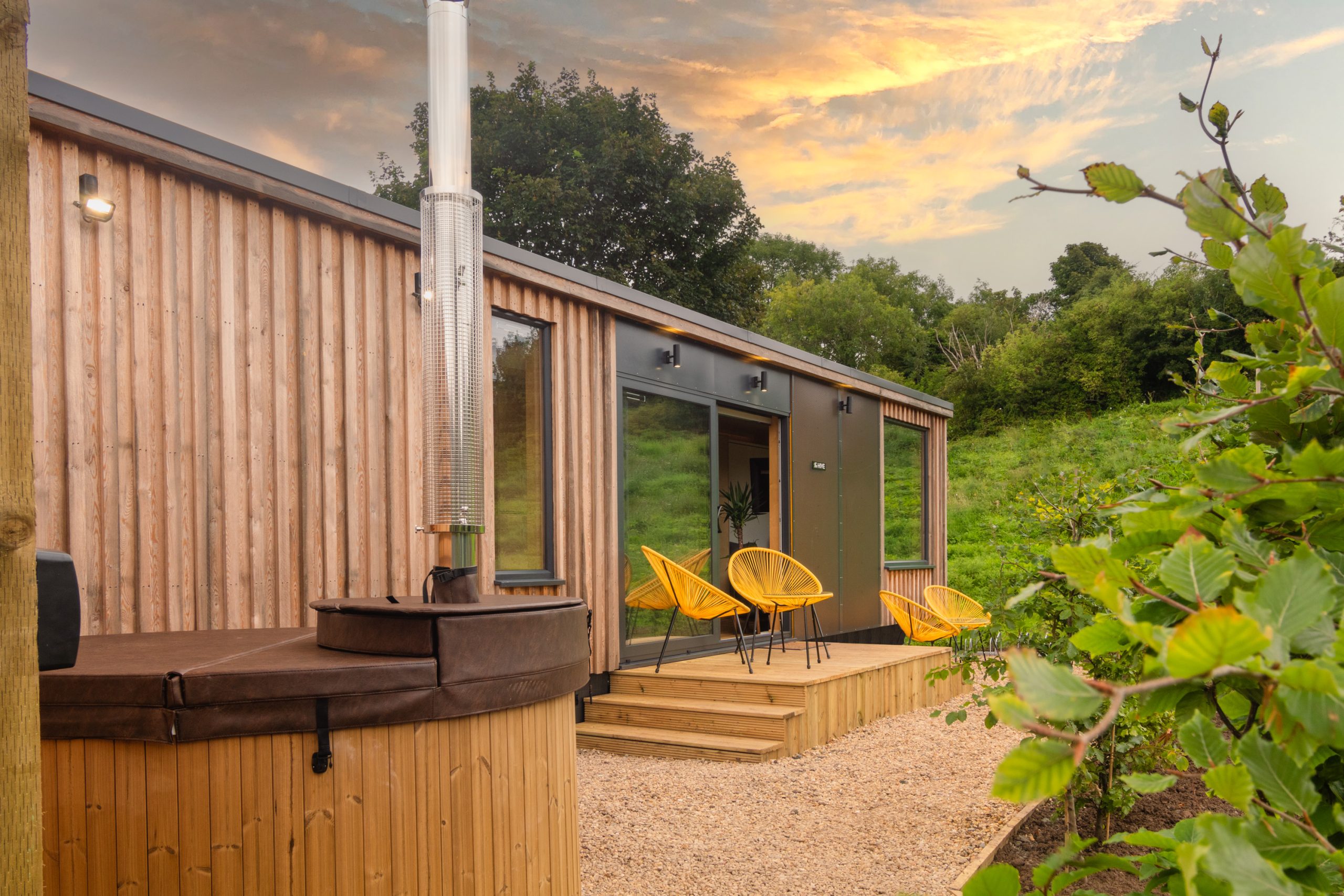 Welcome to the next generation of self-catering accommodation in Scotland.
We think of our one-of-a-kind Cabin Concept as a crossroads where quirky interior design meets eco-consciousness, in a stunning island setting.
Bookings are now OFFICIALLY LIVE! 🚀
---
Badachro Inn
So this brings me on to my last recommendation – The Badachro Inn. This brilliant wee spot is family-owned and the food, drink, and location combine to make it a very worthy pitstop. The bar/restaurant sits in a sheltered part along the banks of Loch Gairloch and it has an outside decking with fantastic views across the water – some would say the perfect spot for a pint on a nice day!
---
…and there you have it.
So that pretty much sums it up – my North Coast 500 road trip experience in a nutshell! As I said in the beginning, this wasn't meant to be the most informational blog or an "everything you need to know" guide although I hope it's provided you with some good recommendations for when you travel up to the North Coast of Scotland.
Got any questions about anything I've written about? Drop a comment below or give me a message on Instagram. I'm always happy to chat.
Cheers!
Adam
---
Check out:
Deep Dive: The Jacks Alt-Stays Concept
---
---