The Most Unique Airbnbs that Scotland has to offer…
Hey folks, Adam here!
I've stayed in re-purposed shipping containers, glamping pods, and camped in the valleys of Glencoe but there are all sorts of weird and wonderful places to stay in Scotland that I've never visited.
I love nothing more than a good weekend away in a quirky stay, and since we're in lockdown, I've been doing a lot of window shopping on Airbnb.
From my research, I've made a list of 6 of the Best and Most Unique Airbnbs in Scotland. Maybe this will give you some inspiration as you plan your next trip! Whenever that may be…
1. Hobbit Hideaway
Fancy a weekend away which is straight out of a fantasy book? Well, the Hobbit Hideaway might just be the perfect place for you.
This unique, handcrafted cabin is nothing short of magical and is described as a "natural home" as it is built using locally sourced, recycled materials. Inside you'll find some seriously quirky & clever architectural design including a spiral skylight and space-efficient bunk beds.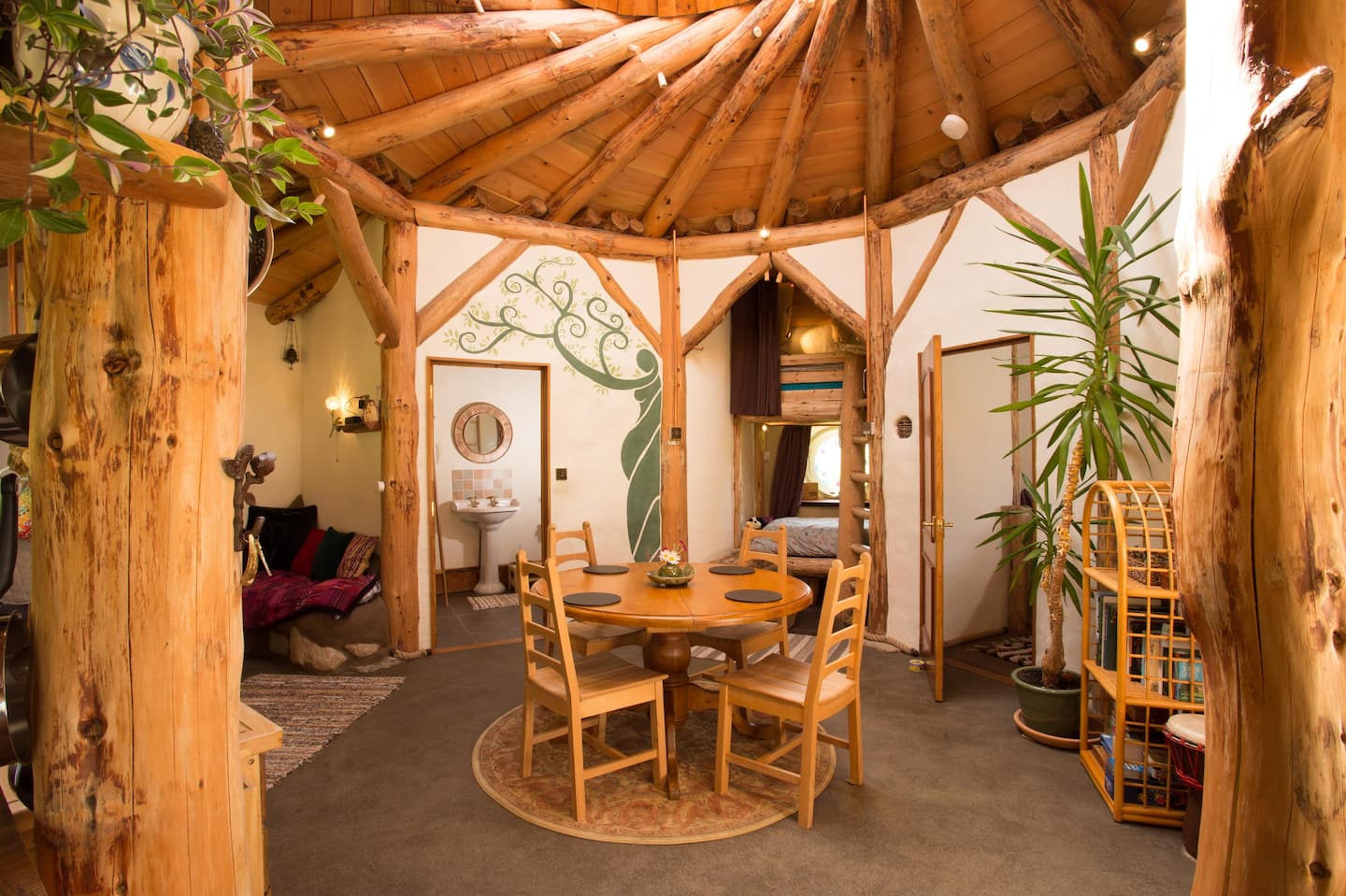 As part of your stay, you have access to your own enchanted fairy glen, firepit, and surrounding gardens. You can even help yourself to fresh fruit & vegetables to cook dinner – pretty cool!
The owners say that the Hobbit Hideaway was "handcrafted with love" and describe it as the perfect place for a weekend escape. To be honest, it's easy to see why!
To stay here it's £190 per night and there's a 3 night minimum stay.
2. Drimnin AirShip 002
If you don't know about the Drimnin Airship, then get to know.
This stylish, unique pod has become iconic in the world of quirky Airbnb's and certainly makes our list for the best in Scotland.
A trip to the Drimnin AirShip promises an escape from reality and space which is full of character. The AirShip boasts stunning views across to the Isle of Mull which you can see through the "dragonfly" panoramic windows.
The cabin comes kitted out with a fully equipped kitchen, comfy bed, and contemporary living area. In my opinion, the best part is the inside wood burner which you can fire up and get cosy next to after a day of exploring.
The Drimnin AirShip is another 3-night minimum and it costs £150 per night to stay.
3. Drimnin PilotHouse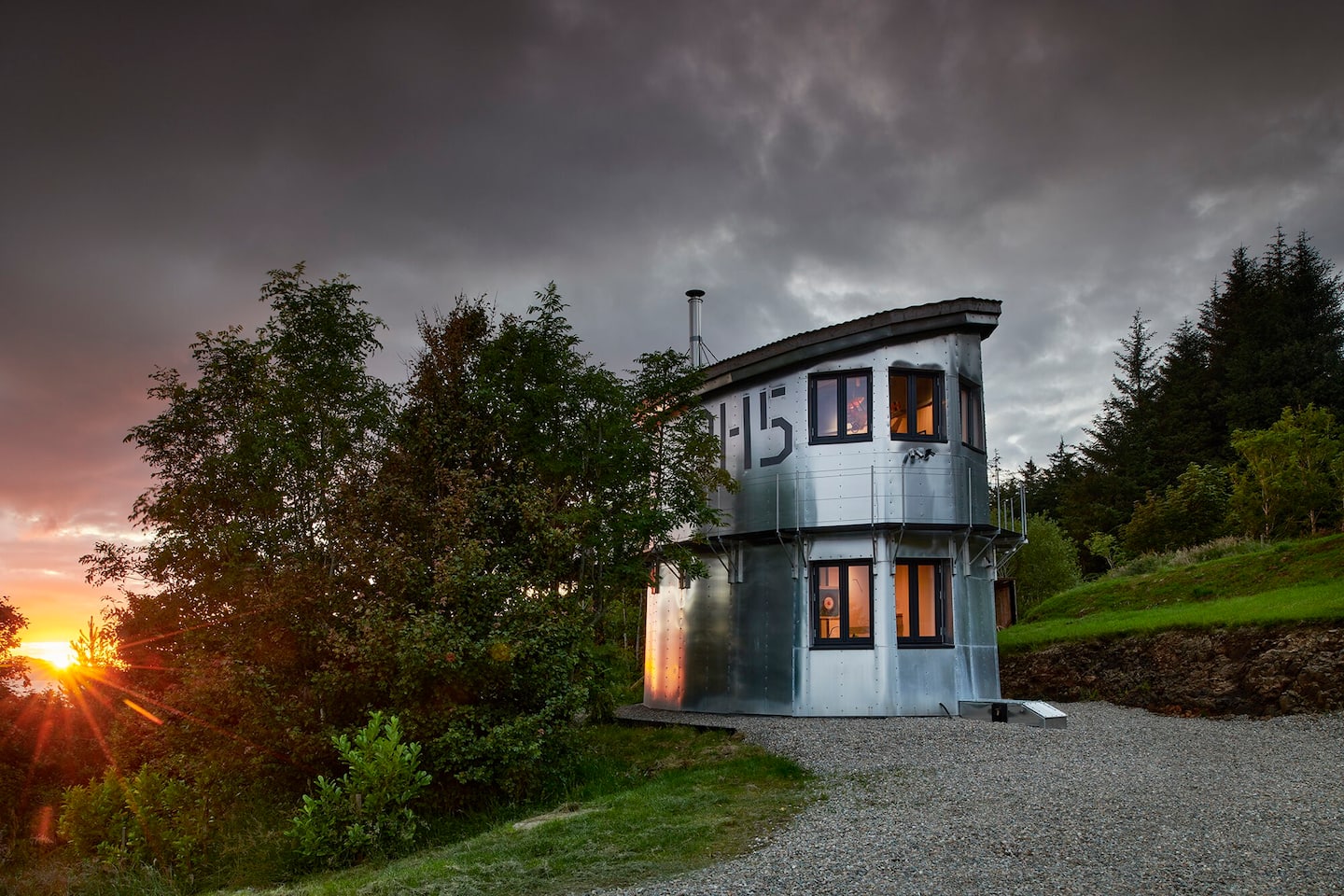 Wanted to stay in the AirShip but all your dates were fully booked? Not to worry. This one sure fits the bill for one of the most unique Airbnbs in Scotland.
Due to the roaring success of their first creation, architects, Roderick James, and Amanda Markham decided to bring another one of their brilliant ideas to life – a cabin named 'The PilotHouse'.
You can find the PilotHouse on the same 4-acre site as the AirShip, meaning it comes with the same breath-taking views across the Sound of Mull. It also comes with that same wood-burning stove, stylish interior, and impressive architectural design.
The exterior of the PilotHouse is built from aluminium sheets and it comes with an incredible wrap-around balcony where you can really take in those views.
Similarly to the AirShip, you can stay here for £150 per night with a 3-night minimum stay.
4. The 'Otter Cabin' 
The 'Otter Cabin' gives you a chance to stay on a secluded island for a weekend. Talk about a unique stay!
When staying here, you can expect a well-equipped cabin and stunning views across the water. The Airbnb also comes with its own private hot tub, so you have everything you need for the perfect weekend away.
Kick back, relax and enjoy being away from the rest of the world. The owners describe the cabin as a "nature observatory" and they even have a designated spot for seal and otter spotting – unreal!
The Otter Cabin has a 2-night minimum and costs £150 per night.
---
The best is yet to come…
Oh, you didn't think we were going to leave ourselves out did you?
Although it's not quite made the top 6 list yet…
We'll be launching our Alternative Eco-Cabins on Isle of Cumbrae, just off the Ayrshire coast, in late 2021!
Check it out:
All systems are go for us at the moment getting ready for launch. You can find out more about the concept here.
Why not sign up to be the first to hear about our launch and for free stay giveaways?
---
5. Stella the Luxury Airstream
How about a chance to stay in 'Stella', the completely modernised and renovated 1973 Airstream? Stella has officially retired from the road trips and has since found her forever home as an Airbnb in Perthshire.
Now I've actually seen an Airstream on Airbnb before however for some reason, this listing really stood out to me. But what makes it worthy of my top 6 list, I hear you ask?
Well, to be honest… it just ticks all the boxes. Quirky design, sleek interior, beautiful surroundings, firepit, private hot tub, and comfy chill-out area. In my opinion, it's got all the ingredients for a perfect listing.
If you want to stay in Stella the Luxury Airstream, she's yours for £170 per night. There's also a 2-night minimum visit.
6. Helicopter Glamping 
Now lastly, but not least, we have Helicopter Glamping. When it comes to "The most unique Airbnbs in Scotland", I think it would be difficult to leave this one off the list (even though they're technically not an Airbnb listing).
'Helicopter Glamping' is one to add to the bucket list and you can make booking inquiries directly on their website.
Apparently, the owners bought this decommissioned Royal Navy helicopter in an online auction for only £7,000! Since then, they managed to transport it home to Stirling and convert it into a snug space equipped with a mini kitchen, shower room and enough beds to fit a family of 5.
My favourite part is the converted cockpit which is now a seating area to drink champagne – not bad, right?
If you want to stay here it'll cost you £170 per night for two adults. Children are also £10 a head per night.
So, there you have it…
6 of the 'Best and Most Unique Airbnb's in Scotland'. Hopefully this gives you some food for thought and you can get organising your next trip (post-lockdown, of course).
Check out: