For a wee island that's only 10-miles round, there's plenty of choice when it comes to accommodation in Millport.
From the 'budget option with the sea views', to the 'farm cottage with Ayrshire coos', there's a huge variety of places to stay in Millport.
Cumbrae is known as Scotland's Most Accessible Island. At only an 8-minute ferry ride over from Largs which is only 1-hour from Glasgow, it truly is 'Island time in no time'.
It's a fantastic option for a quick and easy-to-reach island getaway for those looking to escape from the hustle and bustle of every day life, to somewhere where the clocks go a little slower for a few nights.
Here are 13 places you can stay in Millport, Isle of Cumbrae:
---
The Bothy – Private & Exclusive Cottage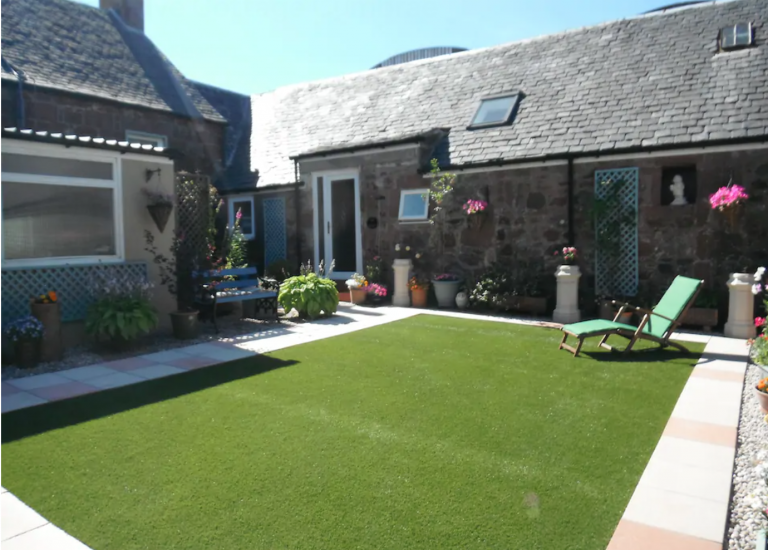 Figgitoch Farm is situated on the beautiful Isle of Cumbrae with fantastic views of the Firth of Clyde. It's the perfect place for relaxing, walking, cycling, golfing, painting, or just chilling out. The bothy is a quant farm cottage which has been lovingly restored to a high standard, complete with a private garden and patio.
You can find The Bothy on Airbnb.
---
The College Guest House
The College is a Visit Scotland 3 Star Guest House. It is located next to Britain's smallest cathedral, The Cathedral of The Isles. Both were built at the same time in 1851 by the architect William Butterfield. The College was originally built for students of theology in the Scottish Episcopal Church.
The College was refurbished recently and now allows visitors to enjoy a unique combination of modern luxury and homemade meals in a building full of history and character.
You can find The College Guest House website here
---
Seal View
This ground floor villa has stunning views over the sea and is only 100 yards from the sandy beach with tropical palms fronting the promenade and yachts moored out in the sheltered bay.  This is accommodation in Millport town, with easy access to all the cafés, shops, bars, and bistros.
You can find the Seal View Villa on Airbnb.
---
Jacks Alt-Stays – Unique Cabin Concept
We've JUST launched bookings for our One-of-a-kind Cabin Concept in Millport.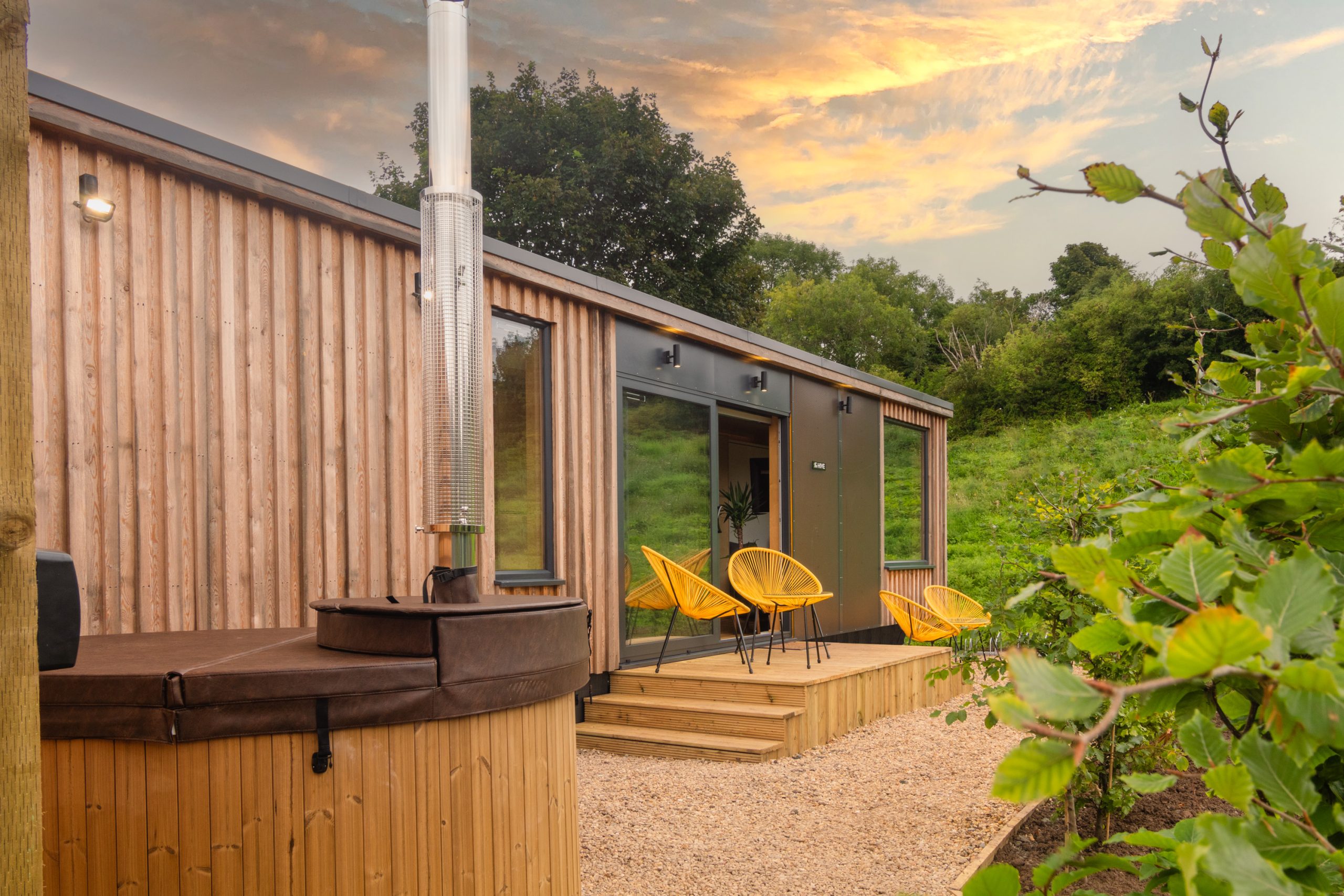 Welcome to the next generation of self-catering accommodation in Scotland.
We think of our one-of-a-kind Cabin Concept as a crossroads where quirky interior design meets eco-consciousness, in a stunning island setting.
Bookings are now OFFICIALLY LIVE! 🚀
The concept combines quirky interior design, eco-consciousness, the great outdoors, and stunning scenic views, with all your mod cons thrown in too.
We're talking hot tubs, wood-fired stoves,  and cosy Netflix nights – all in a stunning island setting and powered by 100% renewable energy. Each cabin has its own story, interior theme, and one-of-a-kind wall mural.
The cabins are perfect for couples and small families seeking a premium, relaxing island retreat. They're also located up College Street, just a short walk from Millport town.
---
Millport Beach Apartment
A newly furnished and decorated 2 bedroom flat on the seafront.  With spectacular sea views, this second floor flat has two double bedrooms, a large living area, a separate kitchen, and a bathroom with shower.
It's right above The Ritz Cafe, 1 min walk from Quay Head bus stop. On the second floor, the property is well equipped with little luxuries like Egyptian cotton 600 thread count bed linen and big fluffy towels. Perfect for families and couples.
You can find the Millport Beach Apartment on Airbnb.
---
Croc Rock Studio Apartment
Looking for delightful self catering accommodation in Millport Town? Well, The Croc Rock Studio might be the place for you. It is a ground floor apartment which has fantastic views across to Millport Bay. Look out the window from your comfortable armchair and enjoy amazing views towards the sea and beach.
The carefully designed studio has lots of thoughtful touches and is a place for peace and tranquility. It has also been described as the perfect place for artists and writers. There's no TV, however you can expect art supplies, super quick broadband, books and games. Plenty to keep you entertained!
Also if you're a responsible pet owner, then you're in luck – "nice dugs are welcome!".
If you'd like to book, you can message the lovely owner, Suki,  on the Croc Rock Studio Facebook page.
---
Millport Pier Hotel
The Millport Pier Hotel has undergone a total refurbishment to the Bar, Restaurant & Kitchen areas. When it comes to accommodation in Millport, the Millport Pier is the only hotel on the island!
A new wrap around beer garden offers outstanding views over the Newtown bay and a beautiful view south over Wee Cumbrae and Arran The Bar/Restaurant will offer a locally sourced freshly cooked menu with a range of fine wines, Scottish & International beers.
You can find the Millport Pier Hotel on Google.
---
The Nest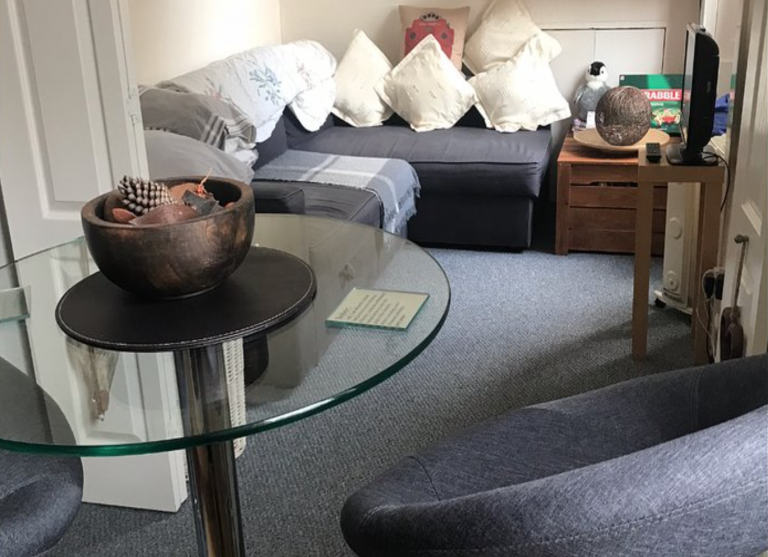 A Holiday studio apartment near to the golf club. The Nest is a small 1st-floor bedsit reflective of Millport's original accommodation, though lucky enough now to have an inside toilet!
This is one for the digital detoxers! No internet, no sky tv, no gas central heating, no washing machine! Just a place to rest called The Nest, after enjoying the beautiful peaceful island.
You can find The Nest on Holiday Lettings.
---
Top Tip: If you're looking for more options, check out the "Millport 'Staycation' Accommodation" group on Facebook. The group is for both advertising and finding holiday accommodation in Millport, Cumbrae!
---
Heaven above the Haven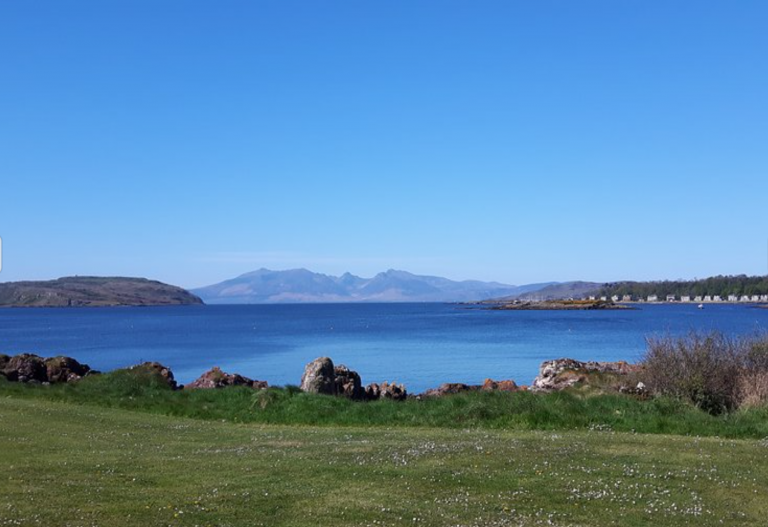 This is truly a little piece of Heaven in Millport. A three-bedroom flat sleeping 6 with stunning sea views overlooking the Firth of Clyde, across Millport Bay and towards the Isle of Arran in a peaceful and tranquil location at the edge of the town.
Ideally located just a short walk from the sandy beaches of Kames Bay and either a 15-minute walk or short bus journey to the shops of Millport town, Garrison House, and the famous Ritz Cafe.
You can find Heaven in Millport on Holiday Lettings.
---
Cosy Corner
This Millport Holiday Apartment features a private garden and is close to the beach. Complete with wood burning stove, the apartment has 1 bedroom, a flat-screen TV with satellite channels, an equipped kitchen with a microwave and a fridge, a washing machine, and 1 bathroom with a shower. Pets welcome.
You can find the Cosy Corner on Booking.com.
---
Planning your visit to the Isle of Cumbrae?:
This blog post is part of our 'Ultimate Guide' to the island. Check it out by clicking the link below:
---
Beside the Bay
This beachfront apartment was originally part of a small grocer's shop and is grade C listed. The building dates from the 1830s and has been carefully stripped back inside to provide a compact, quirky space to enjoy.
This self-catering Millport accommodation comes with a cosy wood burner looks out to Kames Bay, and on a summer morning, with the window open, you'll be able to hear the waves and the call of the seabirds.
You can find Beside the Bay on Booking.com.
---
Millport Holiday Park
Millport Holiday Park is a friendly, family orientated Static Caravan Park & Touring Site. It has a private play park, a games room, a coin-operated laundry & a coin-operated shower block. It is situated only a 5-minute walk from the main seafront of Millport and just a 2-minute walk from the Golf Club. It boasts fantastic views across the Firth of Clyde to Argyle, Bute & Wee Cumbrae. No dogs. Linen hire costs £15.
You can find Millport Holiday Park on Millport.org.
---
Rose Cottage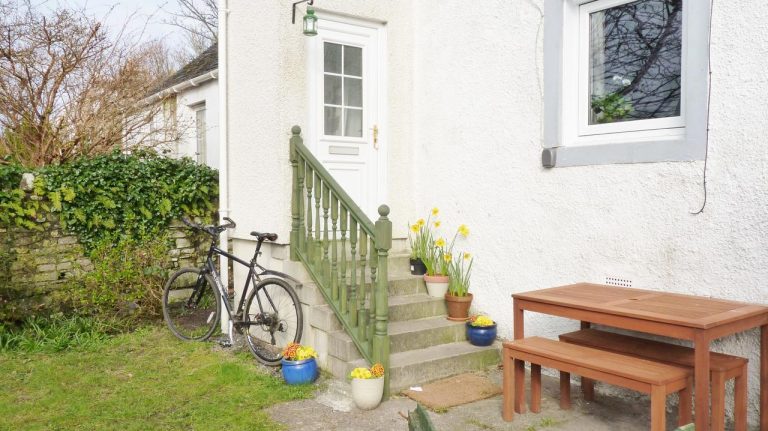 This is a unique and quirky Millport holiday cottage. Accessed from the road by a few stone steps, the cottage is tucked away behind other buildings, making it a quiet and peaceful haven. It has its own private garden, and we welcome up to two dogs- no extra charge!
You can find Rose Cottage on Booking.com.
---
So, there you have it…
13 of some of the best options for accommodation in Millport, Isle of Cumbrae.
Whether you're looking for self-catering accommodation, a hotel, a bed & breakfast, or perhaps even an Eco-Cabin, Millport has plenty to chose from.
So, what are you waiting for? Get yourself booked up and it'll be island time before you know it.
---
Ultimate Guide to Millport, Isle of Cumbrae:
For everything you need to know about planning your visit to the island, check it out our full guide:
---
Fancy a Unique Stay on The Isle of Cumbrae?…
We've JUST launched bookings for our One-of-a-kind Cabin Concept in Millport.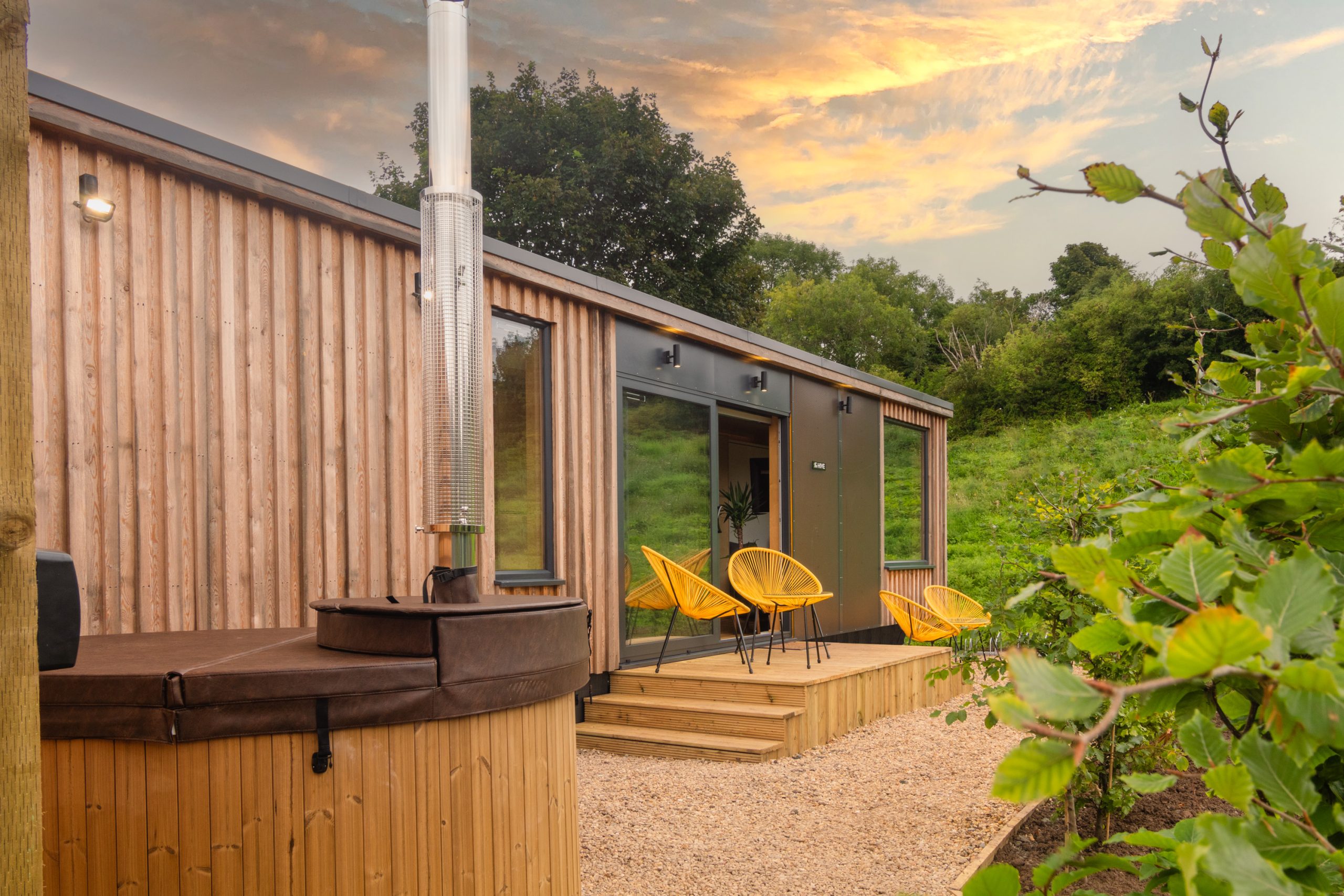 Welcome to the next generation of self-catering accommodation in Scotland.
We think of our one-of-a-kind Cabin Concept as a crossroads where quirky interior design meets eco-consciousness, in a stunning island setting.
Bookings are now OFFICIALLY LIVE! 🚀